This Mind-Controlled Game Previews VR's Unbelievable Future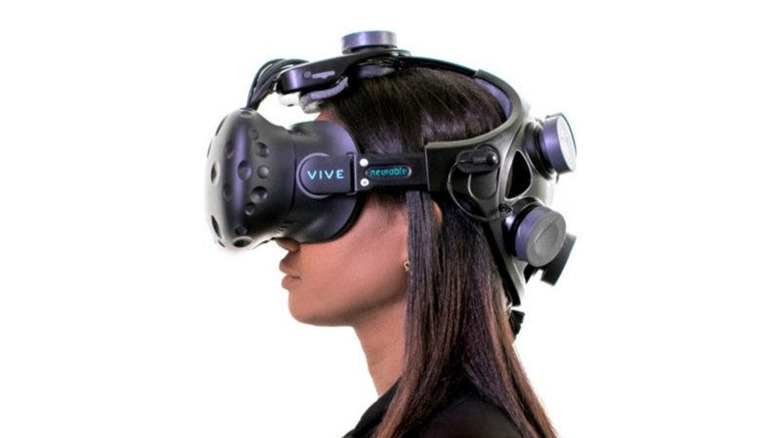 Neurable
Virtual reality as we know it is still a pretty young technology, but already there are companies looking to push VR to its limit. This week at the SIGGRAPH conference, a company named Neurable is showing off a new type of VR game that has some very exciting implications for the future of the platform. Instead of playing this game with a pair of VR controllers like the ones that come with the VIVE or Oculus Rift, you instead use your mind.
That's a little weird to think about, because controller-free VR typically has some other control method. This can be eye tracking or even basic controls built into the side of the headset (as is the case with the Gear VR), but here, there's no control scheme like that present. It's just you, a modified HTC VIVE, and your brain.
It's worth pointing out that Neurable isn't a game developer – rather, it creates brain-computer interfaces like the one used in its custom head strap for the VIVE. In blog post to Medium, Neurable explains that the game was made as part of a partnership with eStudiofuture. The title is called Awakening, and it revolves around players discovering that they have telekinetic powers and using them to escape their government holding cell.
A preview is available to check out at SIGGRAPH 2017 this week, and if you're attending the conference, you'll definitely want to have a look. The modified headband Neurable has developed houses a collection of different electrodes that read and "decode" brain activity, meaning that you can carry out actions in-game just by thinking about them.
It sounds like a fascinating demo, but Neurable views gaming as just the tip of the iceberg. It can see its interfaces being used in VR/AR systems that revolve around health and education, though it isn't hard to imagine many more video games using such interfaces in the future. If you're a fan of VR and what this entails, you'll definitely want to keep an eye on this, so stay tuned for more.