Why Ford's Push To Remove EVs From Dealerships Is Great News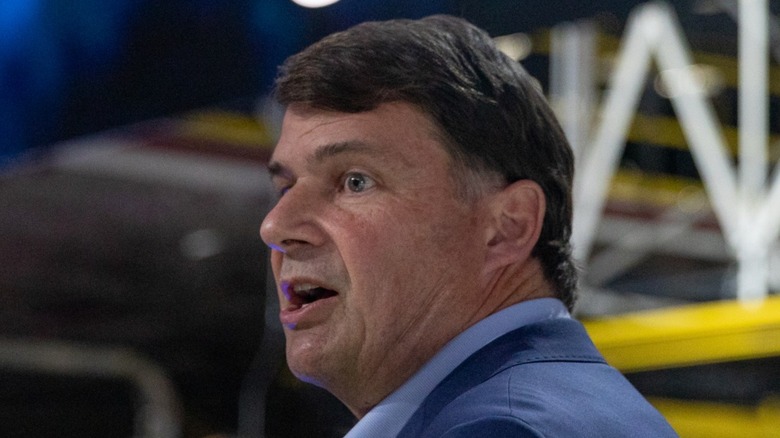 Bloomberg/Getty
Ford is planning on removing electric vehicles from dealerships in a relatively major adjustment that could prove to be a good decision for both the company and its customers. Ford's supply of electric vehicles hasn't quite kept up with the public's demand, resulting in a situation where traditional dealerships are cashing in on what consumers are willing to pay for the next-generation tech. Instead of allowing the prices of their vehicles to skyrocket before they reach the road, Ford has announced a plan to ease some of the tension.
The car manufacturer has thrown its weight behind electric vehicle manufacture over the last few years. In 2021, Ford outlined its "electric vehicle strategy" which included plans to invest $22 billion in electrification over four years. The company has also suggested that they're targeting carbon neutrality globally by 2050. From 2030 onwards, Ford intends to make all of the passenger cars it manufactures in Europe electric only. In the lead up to that, all of the European passenger vehicles Ford manufactures in 2026 and beyond could be "zero-emissions capable" if all goes to plan.
In the past few years, Ford has produced electric versions of some of its most popular models: the F-150 and the Ford Mustang. Electric Fords have also hit the commercial market, with an all-electric Ford Transit now being an option. As these models gain traction, Ford plans to make big changes to the way vehicles are sold to consumers, potentially removing the middle man in the process.
Ford has to go online
Speaking at an IBM conference, Ford CEO James Farley said, "We've got to go 100% online so that the inventory goes directly to the customer with 100% remote pickup and delivery." The electric vehicles sold over the internet would also have fixed prices, offering no room for negotiation but also likely undercutting the amount charged by dealerships.
This move would also protect customers from blatant price gouging, according to Farley. In a recent example of exactly the sort of price gouging Ford apparently hopes to avoid, a dealership was spotted attempting to sell the F150 Lightning — which has a starting price below $40,000 — for almost $150,000 (via Inside EVs). This isn't a one-off: multiple examples have surfaced of dealerships across the U.S. adding markups approaching $100,000 (via Motortrend). Ford has also threatened to fine dealerships that are taking advantage of the high demand by selling their demonstration vehicles.
Despite the online shift, Farley has no intention of dumping dealerships entirely. In the future he envisions, the Ford CEO believes his company "can do things post-warranty and remix the marketing spend to have a better experience." Farley also says his company is "working with dealers" on the plans.