Sony WH-1000XM5 Review: The Price Of More Clarity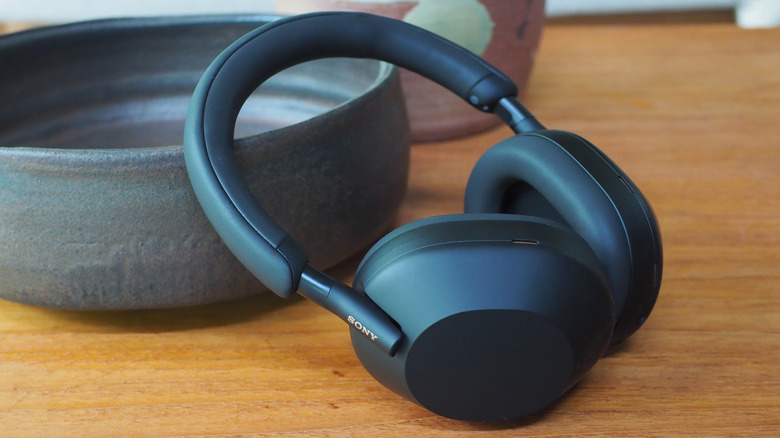 Chris Davies/SlashGear
We may receive a commission on purchases made from links.
With travel nearing pre-pandemic levels, and remote working showing no signs of going away for many people, active noise cancelling (ANC) headphones are arguably more relevant than ever before. The arrival of Sony's WH-1000XM5, then, is a big deal, not least because its predecessors have been widely credited with setting competitive fires under Bose and, in the process, kicking off a fresh round of wireless headphones wars. For 2022, the newest models raise the tech stakes and the price tag.
I'm a big fan of Sony's WH-1000XM series. The fourth-generation WH-1000XM4 headphones have been my go-to for travel since they launched at $349.99 in mid-2020; at the time they replaced their third-gen predecessors in my bag. Collectively they've logged hundreds of hours of use, much of that on flights, where they're prized as much for their ANC performance as their musical abilities.
A whole new style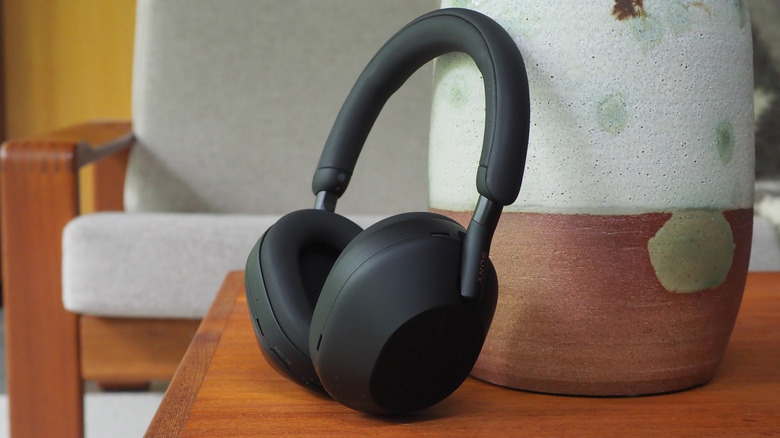 Chris Davies/SlashGear
Unexpectedly, the $399.99 WH-1000XM5 throw out the design language Sony has used for the past few years. Rather than the fairly chunky headband with its broad hinges and microphones highlighted with metal trim, Sony switched to something a little slimmer and more subtle. They're about the same weight — 250 grams versus 254 grams for the 1000XM4 — but they feel sleeker, while the wider ear cup padding helps spread the weight a little better.
My muscle memory isn't challenged: The physical buttons for power and ANC modes are still in the same place on the lower edge of the left ear cup, while the right cup's outer surface is still a touch-sensitive pad for playback and call controls. You also get Google Assistant and Amazon Alexa baked-in, and support for Sony's 360 Reality Audio, though to be honest I suspect you're like me and really are only concerned about two things. Active noise cancellation and music performance.
Active Noise Cancellation feels a little more magical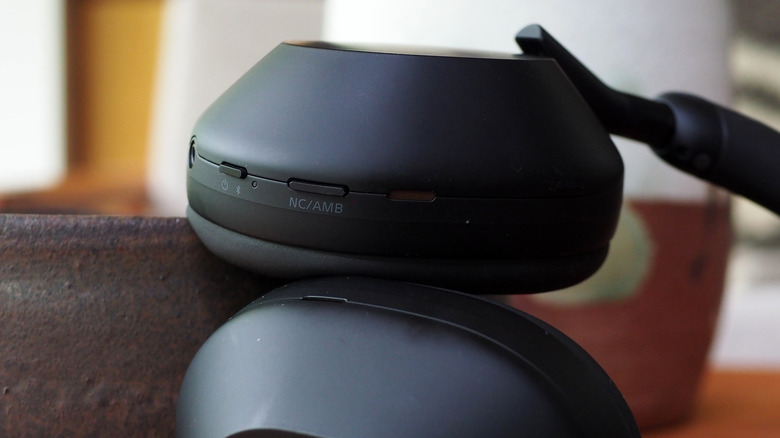 Chris Davies/SlashGear
Sony's big boast is that both aspects of that experience have been improved for this fifth-generation upgrade. For active noise cancellation there are now a total of eight microphones feeding two processors: the QN1 that it used in the old headphones, joined by the Integrated Processor V1 that debuted in the WF-1000XM4 wireless earbuds. In particular, Sony says, mid-to-high-frequency noises should be better ousted, helping with things like traffic and background speech.
Honestly, if the benefits over the 1000XM4 headphones don't blow you away, that's more down to the still-great performance of that old model. It's subtle, but the very slight hiss in ANC mode from the last-gen headphones is missing: it's hard to describe, but putting on the WF-1000XM5 feels like the true absence of sounds, rather than being aware that they're being electronically erased. Coffee shop chatter seems a little more tamed than before, too, and Sony also makes its optimization process automatic. Previously, you had to manually start that to accommodate things like cabin air pressure changes and whether you're wearing glasses which can affect the fit on your head. Now, the headphones adjust by themselves.
As we've seen before, there's a transparency mode that pipes through ambient sound so as to not leave you entirely isolated. It sounds a little less artificial than the old version. Touch-to-talk and automatic "speak to chat" modes are supported too — flipping between ANC and transparency depending on if you touch the right ear cup or start speaking — though I still find the latter a little awkward in practice. People just assume you're being impolite.
Smaller driver, broader sound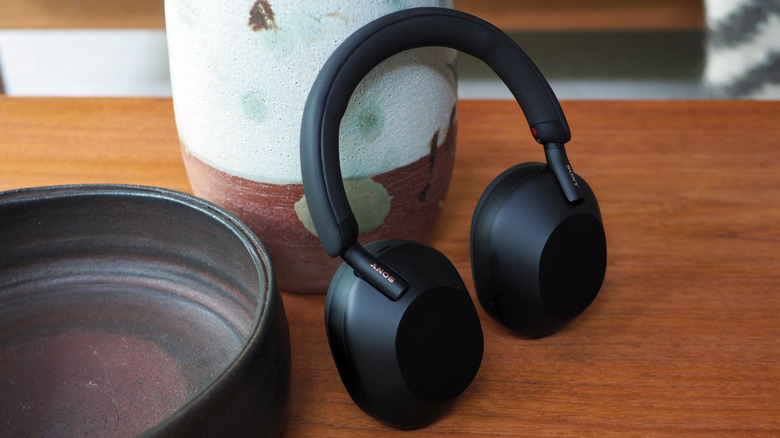 Chris Davies/SlashGear
For music, Sony's claim is that a smaller, 30mm driver makes for bigger control. That's particularly when it comes to high frequencies, along with pulling detail out of recordings. Even when used with an iPhone, which lacks the LDAC high-quality codec support that Android users can take advantage of, there's a noticeable improvement in clarity and balance.
The 40mm driver in the old headphones, in contrast, feels a little more bombastic. There's definitely more low-end, even before you dig into Sony's Headphones app and tweak the EQ, and some of the spaciousness and delineation of the sound are lost in contrast. It's definitely going to be a matter of personal taste — and will depend on the sort of music genres you're into — but the WH-1000XM5 sound more accurate overall.
There's still a 3.5mm input for the included cable, handy if you're using a device that still hasn't shed the headphone jack. Sony doesn't include a two-pin airplane adapter this time, however. You still can't use USB-C for audio, either, only for charging.
Good at voice calls, but still some grumbles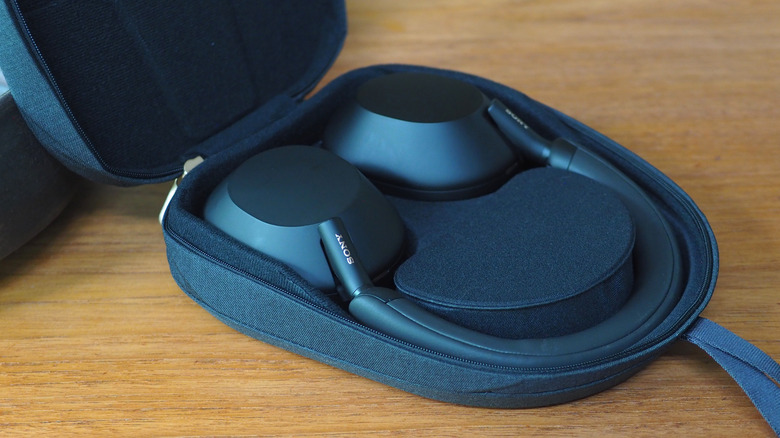 Chris Davies/SlashGear
Half of the total microphones are called upon for voice call duty, slightly more recessed into the casing for physical protection from wind noise, along with working with the new processors to better isolate speech from background hubbub. It's actually one of the areas where I — and the people I was calling — noticed a bigger improvement.
There's multipoint Bluetooth support as well, allowing you to simultaneously connect the headphones to two devices: a phone and a laptop, say. You can flip between them with a button tap, but they'll automatically switch to your phone if there's an incoming call. The downside is that you can't have multipoint and LDAC active at once.
That's not the only grumble. Getting going with iOS and macOS devices is more of a headache than it is with Android and Windows, where the WH-1000XM5 support Google's Fast Pair and Microsoft's Swift Pair systems; Sony is limited in just what it can do to overcome Apple's lumpy process for Bluetooth pairing of third-party accessories, of course. There's still no water resistance, either.
Frequent flyers may be frustated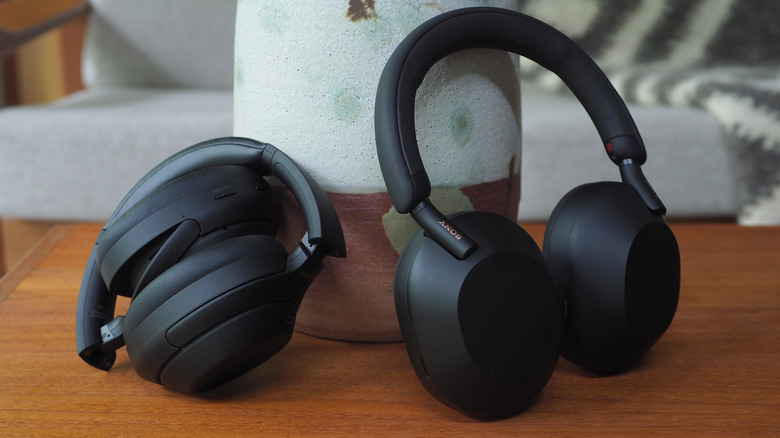 Chris Davies/SlashGear
My biggest issue with the WH-1000XM5 is likely to be one shared by other frequent-flyers. Sony's aesthetic change looks slick, but it removes the hinges that allow the 1000XM4's to collapse down into a relatively compact bundle. Instead, the new design sees the ear cups rotate so that the headphones are flatter overall, but the solid headband won't allow them to pivot in.
It means that, though individually the band and ear cups themselves are a little smaller than those on the old headphones, collectively they just don't fold down as much. That's not just a scale issue but one of avoiding damage: when the WH-1000XM4 are folded, I've felt pretty confident dropping them into my backpack without their case. The headband gives the inner ear cups some protection.
That's not something I feel confident doing with the WH-1000XM5, however, since there's nothing in the way of puncturing the inner ear cup fabric (and potentially damaging the drivers inside). Sony's case is a fairly sizable thing, too — flatter than before, but also longer — and though I like the new, magnetically-covered accessory pocket tucked in the middle, the end result still feels needlessly large in my bag.
Battery life is excellent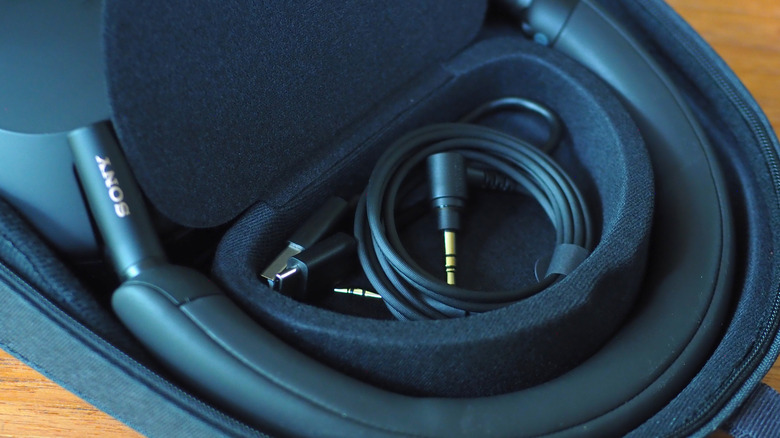 Chris Davies/SlashGear
At least battery life holds up. Sony quotes up to 30 hours with ANC switched on, or 40 hours with it off. Three minutes plugged into a USB-PD charger — which Sony doesn't include — is enough for up to three hours of playback. One of the things I've loved about previous generations of Sony's headphones has been the ability to do lengthy back-to-back trips without really needing to worry about running out of charge along the way, and the WH-1000XM5 don't change that.
As before, a sensor in the ear cups automatically pauses music playback when you take the headphones off, and resumes it when you put them back on again. It's one of those features you miss when you use headphones that don't include it.
Sony WH-1000XM5 Verdict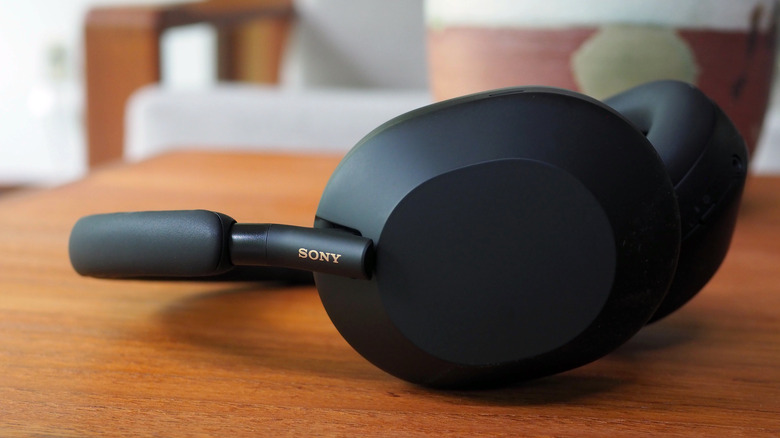 Chris Davies/SlashGear
Interestingly, the WH-1000XM5 join, rather than replace, the 1000XM4's. The former go on sale at $399.99; the latter remain on shelves for $50 less than that, though fairly regular promotions mean you can usually find them cheaper still.
As for which you should buy, that's not the clear answer you might expect. Yes, Sony's newest headphones have slightly better ANC performance, but the audio changes will definitely come down to personal taste and the styles of music you listen to the most. The updated design, meanwhile, feels sleek and sturdy, but can't match that of the old version for travel convenience. And both persist with the annoying Sony foibles, like no USB-C audio and no waterproofing.
Anyone thinking about upgrading from the fourth-generation can probably sit tight until generation six arrives, while Apple's AirPods Max still have the edge in premium feel (even if they're considerably heavier and more expensive in the process). Road warriors looking for the tidiest bag might want to stick with the old WH-1000XM4 for their compact folding, but if active noise cancellation is — understandably — your primary concern, then the Sony WH-1000XM5 have the edge.