This Astonishing Vision AMG Sports EV Will Somehow Spawn Production Electric Cars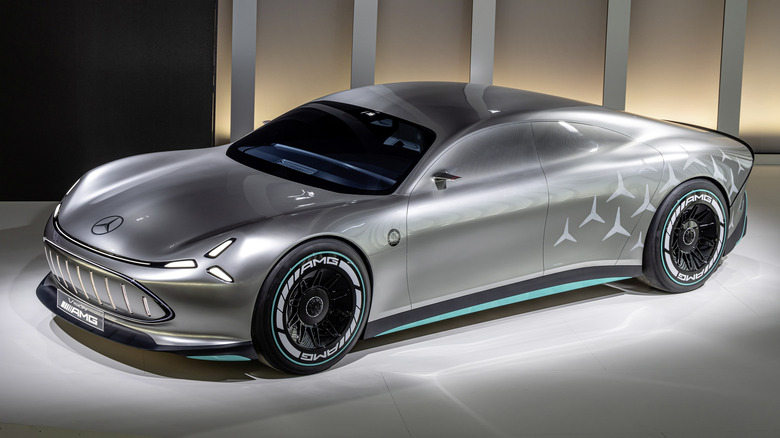 Mercedes-AMG
Meet the Vision AMG concept, a sign of good things from the three-pointed star, and a glimpse of the future of Mercedes-AMG driving performance. It will be all-electric, but we're glad beauty is also part of the plan. "AMG is reinventing itself," said Philip Schiemer, CEO of Mercedes-AMG GmbH. "The Vision AMG is an impressive embodiment of the brand's dual polarity – the interplay of beauty and the extraordinary."
The Mercedes Vision AMG has a smooth and svelte body style reminiscent of the Vision EQXX electric car. Earlier this year, the Vision EQXX traveled from Mercedes-Benz's Sindelfingen electric software hub in Germany to Cassis, France, on a single full charge, breaking records along the way. "The course has been well and truly set for an electrified future, and we've set the bar high," added Schiemer. Mercedes calls the Vision EQXX concept a "research vehicle" or a moving laboratory, but the Vision AMG is more than that.
From Gas to Electric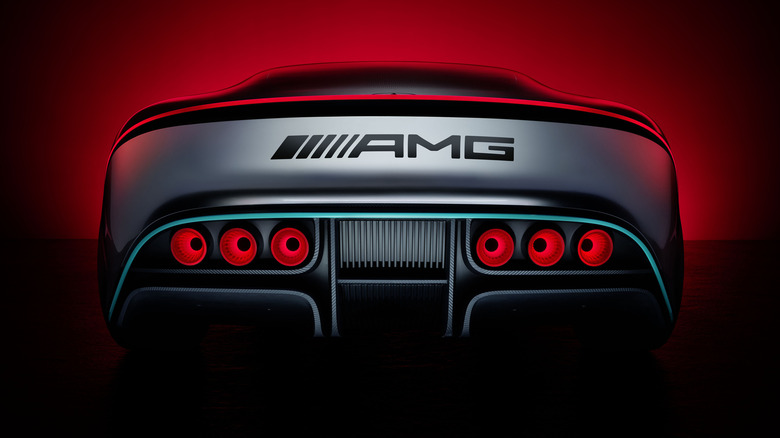 Mercedes-AMG
It's no secret that Mercedes-Benz's AMG performance division has been downsizing from high-strung, gas-fed internal combustion engines to lower-displacement mills infused with some form of hybrid or mild hybridization. The incoming AMG C63 S, for instance, will make do without its raucous 4.0-liter bi-turbo engine. Instead, it will have a 2.0-liter turbocharged four-cylinder engine and a mild-hybrid powertrain. The Manhart CR 700 is one of the last modified C 63 S wagons with AMG's muscular turbocharged V8 motor.
Meanwhile, the Vision AMG concept harks the beginning of a zero-emissions future without sacrificing style or the brand's hallmark "AMG driving experience." The Vision AMG has innovative axial flux motors (similar to Vision EQXX) developed by Mercedes subsidiary YASA. The brand claims its new electric motors are smaller, lighter, and produce more power than conventional electric motors. Mercedes-AMG did not mention motor outputs, battery sizes, or range numbers. Still, it did say Vision AMG's drivetrain would be "developed entirely from scratch," including a new high-performance, high-voltage battery, and a "revolutionary drive technology," said Mercedes-AMG.
Breathtaking Style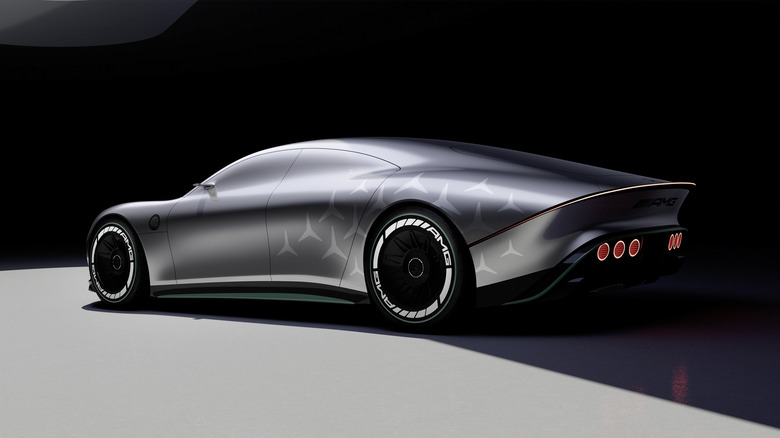 Mercedes-AMG
Mercedes-AMG aimed for a "monolithic sculpture" with its newest Vision AMG concept car, and it's why the vehicle has the absolute minimum joint and shut lines. The brand was so obsessed with making it seem the entire thing has spawned from a single piece of metal that Mercedes-AMG painted the rear and side windows in the same Alubeam silver as the whole vehicle. "With its contrasting modern surfacing and radical proportions, this car showcases the next design step, building on the Vision EQXX and moving further towards performance luxury," said Gordon Wagener, Chief Design Officer of Mercedes-Benz Group AG.
The concept's aggressive stance highlights a short front overhang, forward-mounted and rakish A-pillars, and a marginally longer and aerodynamically optimized rear overhang, a clear expression of Mercedes-AMG's Sensual Purity design language. Meanwhile, the roof tapers delicately towards the back, all the way to the trunk edge. Mercedes-AMG adds the concept has an active rear spoiler that automatically raises or lowers to improve downforce or reduce drag.
Racing-Inspired Detailing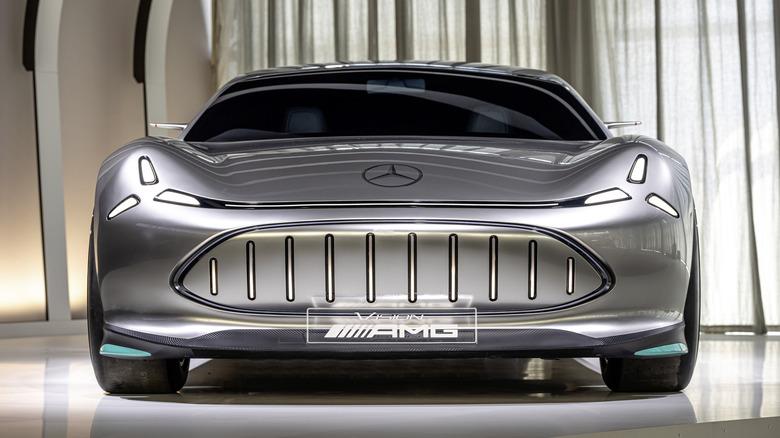 Mercedes-AMG
There's no denying the Vision AMG's eye-catching silhouette, but the body detailing is worth writing home about. It has what Mercedes-AMG calls a "star-shaped lighting signature" to give the concept a genuinely unique façade. The two inner "star headlamps" connect visually to a horizontal yet subtle light bar above the front grille. Speaking of the grille, the Vision AMG has a similar Panamericana grille shape. However, the blanked-out design has fancy vertical LED light strips to mimic the grille bars of gas-fed AMG models.
The rear styling is reminiscent of the Vision EQXX, but the Vision AMG has low-mounted taillights sitting above a black rear diffuser. Those gorgeous taillights resemble the jet engines of fighter aircraft in full afterburner mode. We're unsure if Mercedes-AMG was mimicking the look of exhaust tips with its new taillight design, but we're pining for this design idiom to make it in production guise. Of course, the silver paint and green detailing pay tribute to the highly successful Mercedes-AMG Petronas F1 team. Other unique details include 22-inch wheels with aero claddings and exposed carbon-fiber sections.
The Vision AMG concept rides on a new AMG.EA platform, a dedicated architecture for future all-electric AMG vehicles. It may be a concept for now, but you don't have to wait long for a taste of an all-electric Mercedes-AMG. The production Vision AMG variant could debut no later than 2025.