New BMW M4 CSL Is A Super-Rare Road Racer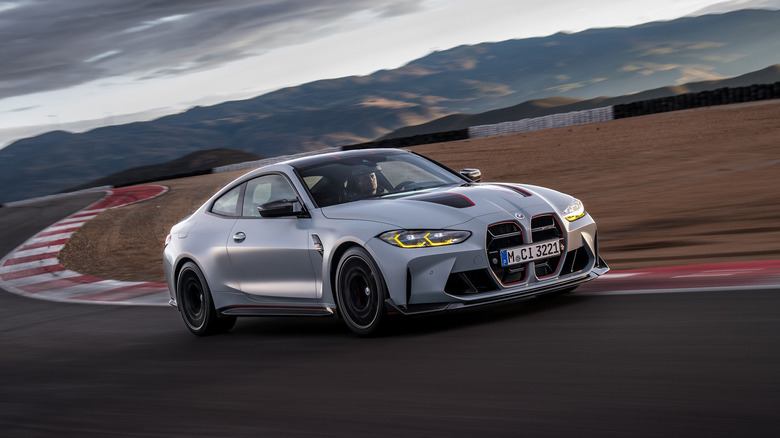 BMW USA
The 2023 BMW M4 CSL is only the third to wear the coveted CSL (Coupe Sport Leichtbau or Coupe Sport Lightweight) badge. The first-ever BMW 3.0 CSL that debuted in 1972 was a homologation variant of the racing model that won six European championships from 1973 to 1979. The most recent CSL in memory is the E46 M3 CSL. It debuted in 2003, and BMW only built 1,358 units, making the M3 CSL one of the most coveted E46 variants, if not the most brilliant E46 M3 ever.
And now we have BMW's third CSL car, and it's been quite a wait. The German automaker has extensively teased the M4 CSL since the beginning of 2022, and we're happy to report the newest and latest member of the CSL lineage stays true to the proven "lighter, harder, faster" mantra of its extreme-going predecessors. It also broke a lap time along the way — at no less than Nürburgring's Nordschleife circuit.
Commemorating 50 years of BMW M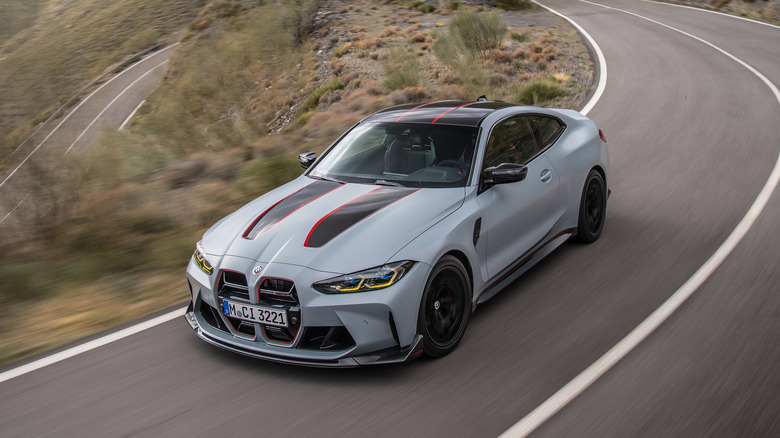 BMW USA
The refreshed 3-Series is not the only new Bimmer to receive its fair share of 50th-anniversary livery. You can think of the new BMW C4 CSL as the German automaker's golden tribute to its high-performance M division. Founded in 1972 to support BMW's entry into professional motorsports in the mid-60s to early '70s, the M badge has faithfully represented the pinnacle of BMW's engineering and racing prowess ever since.
The 2023 BMW M4 CSL starts with an M4 Competition RWD. Next, BMW tinkered with the stock 3.0-liter twin-turbocharged inline six-cylinder engine and added a new cylinder head with a 3D-printed core). It also has a forged lightweight crankshaft and a new indirect intercooler to unleash a higher 30.5 psi boost pressure (the M4 Competition runs on a 24.7 psi boost), adding 40 more horses to the stock 503-horsepower output.
The result is 543 horsepower and 479 pound-feet of torque, enough for the new M4 CSL to become what BMW says is the most potent road-legal M4 ever made. With all that power going to the rear wheels using a retooled eight-speed automatic gearbox, the M4 CSL scoots to 60 mph from a dead stop in 3.6 seconds, about 0.2 seconds slower than an M4 Competition xDrive but quicker than a stock M4 Competition RWD. The top speed is electronically-limited to 191 mph.
Lightweight Construction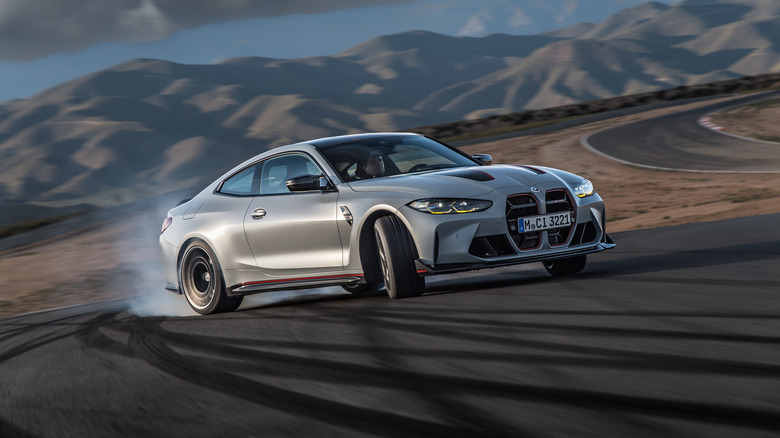 BMW USA
After unleashing more power under the hood, the most exciting part is the weight loss. The new BMW M4 CSL is 240 pounds (109 kgs) lighter than a stock M4 Competition, and it mainly has to do with the extensive use of carbon fiber reinforced plastic (CFRP). For instance, the double-bubble roof, hood, and trunk lid are CFRP, while the new front splitter (with red accents and CSL lettering) and full-carbon bucket seats help reduce weight further.
Meanwhile, the M4 CSL has lightweight alloy wheels (19-inch front and 20-inch rear) and a bespoke exhaust system with a titanium rear silencer and M quad tailpipes. Also standard are M Carbon ceramic brakes. Equipped with 15.7-inch front and 15-inch rear discs, BMW claims the carbon brakes are 31.5 pounds lighter than regular M compound brakes. BMW suggests that the M4 CSL tips the scales at 3,640 pounds (1,651 kgs) enabling an exceptional power-to-weight ratio of 6.7 lbs/hp.
Bespoke Underpinnings & Record-Breaking Credentials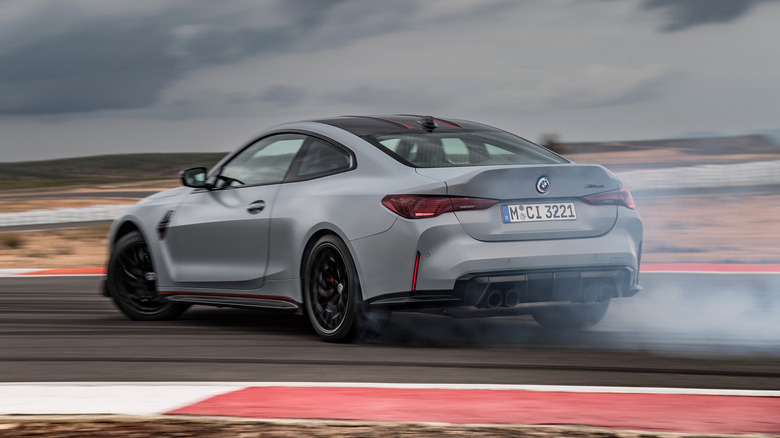 BMW USA
The 2023 BMW M4 CSL is essentially a street-legal track car, so BMW's M division made sure the chassis and suspension are worthy of merit. Riding on a double-joint spring strut front and five-link rear axle suspension, the M4 CSL has model-specific camber settings, electronic dampers, auxiliary springs, variable steering ratios, and anti-roll bars. It also has a 0.3-inch lower ride height than the M4 Competition. Bespoke features like cast aluminum strut braces under the hood, stiffer engine and transmission mounts, and a reconfigured M Traction control system were all tuned for better handling whether on or off the track.
It may sound like the BMW M4 CSL is a supercar-baiting, street-legal track monster at this point, and you won't be far off in that assessment. BMW has a new number to make the M4 CSL a certified record-breaker: 7:20.2. BMW took the M4 CSL for a test run around the Nürburgring's Nordschleife circuit, and it posted a lap time of seven minutes and 20.2 seconds, the fastest time ever for a series-production BMW.
Race-Ready Vibe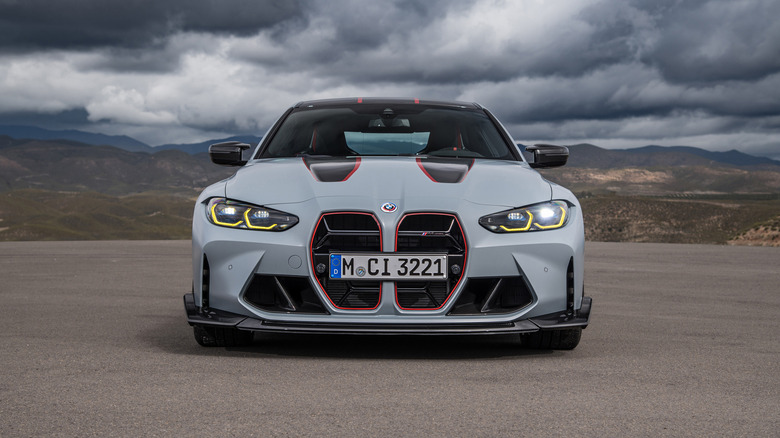 BMW USA
The 2023 BMW M4 CSL has no seats in the rear, but two M Carbon full bucket seats sit up front, developed exclusively for this model. BMW claims the fixed-position seats are 53 pounds lighter (24 kilos) than the stock seats in an M4 Competition, while heated and power-adjustable M Carbon bucket seats are optional. Also standard is a full CFRP center console, carbon-fiber interior trim, CSL badging, and an Alcantara-wrapped tiller with carbon-fiber paddle shifters.
Outside, the M4 CSL has BMW Laserlight headlights with distinct yellow driving lights to "evoke the look of GT racing cars," said BMW. Also unique are the M4 CSL's taillights, which feature woven glass covers and laser technology to project a distinctive lighting signature.
Production of the 2023 BMW M4 CSL begins at the brand's Dingolfing plant in July 2022, and the automaker is only making 1,000 units for global distribution. Pricing is set at $139,900 plus $995 destination.