Non-Tesla Supercharger Access Expands To Even More Rival Electric Cars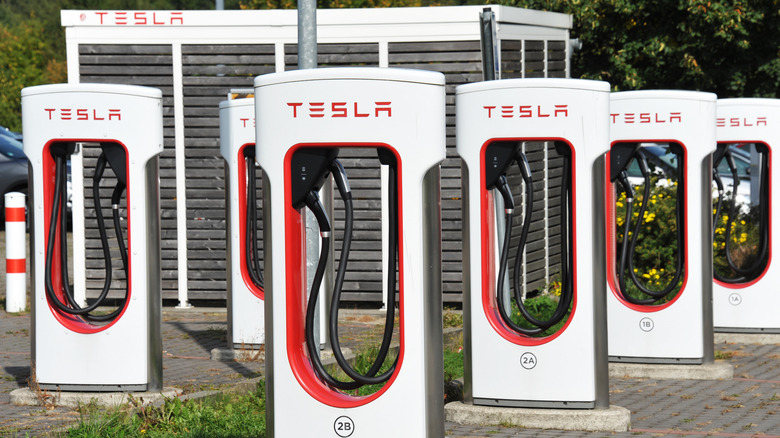 nitpicker/Shutterstock
Tesla Supercharger stations are now available to non-Tesla EV owners in even more countries in Europe. In late 2021, the automaker began trials for its Non-Tesla Supercharger pilot. This opened up charging locations to non-Tesla EV owners across select stations in the Netherlands. To take part in the pilot program, non-Tesla owners were still required to register for a Tesla account, but could access charging even without one of the company's own EVs. While Tesla confirmed it intended to expand the program to other countries down the line, it covered only ten cities at the time.
After three months, however, the program further increased its coverage to even more countries, including Norway and France. Despite Tesla's "aggressive" plans of expansion, it didn't details the locations where the program might be coming to next, nor did it give any time frame of when the changes will be happening. That is, until Tesla announced in a tweet this week that the program is already live in five more countries, namely Austria, Belgium, Spain, Sweden and the UK, bringing the total number of supported countries to eight.
Why do Superchargers matter to non-Tesla owners?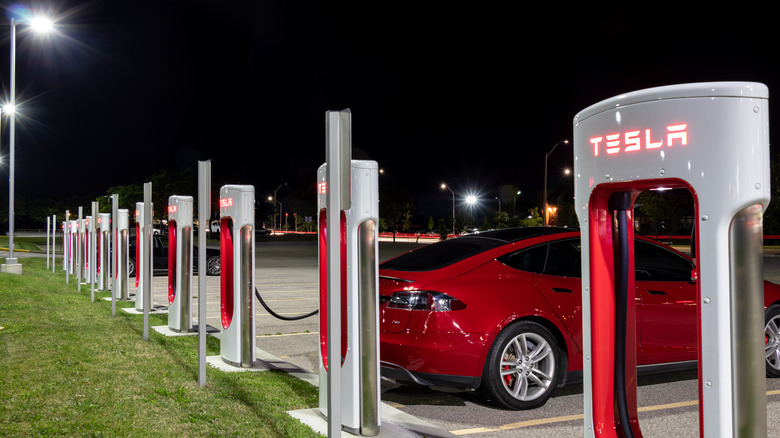 JL IMAGES/Shutterstock
One of the biggest hassles that EV drivers face is range anxiety, and not knowing where or how to top up can get even harder depending on their location. While there are already multiple EV charging stations littered across the globe, Tesla Superchargers still come with some advantages over the competition. For starters, Tesla has already put up more than 30,000 Superchargers worldwide, making them among the most ubiquitous EV charging stations readily available.
It's not just number, however, but location: Tesla's charging stations are typically conveniently situated in key places such as hotels and vacation spots, unlike competing stations that often suffer from inconsistency (via Techradar). Then there's the matter of reliability, as not all charging stations are regularly maintained, especially the ones located in more remote areas. Tesla Superchargers, on the other hand, undergo regular maintenance and are constantly monitored by service technicians, according to Tesla. This gives non-Tesla owners access to the same charging convenience that was previously only available to Tesla vehicles.
Superchargers come with caveats for non-Tesla drivers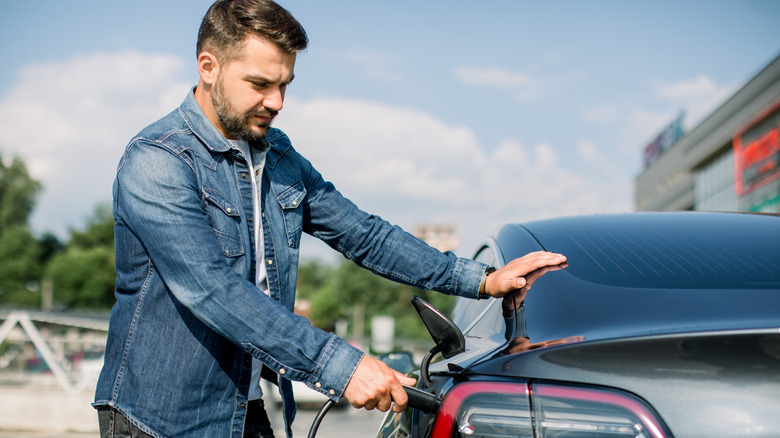 SofikoS/Shutterstock
Tesla Superchargers can be found in almost every major part of the globe, but only stations in select countries will be open to non-Tesla owners, for now at least. Tesla says it needs to limit access in order to "monitor congestion," and "assess feedback" from these selected sites first, before it can proceed with the program's expansion, according to its support page. Even if you do happen to be near a compatible charger — which you can locate in the Tesla app — non-Tesla drivers from the eight supported countries aren't quite out of the woods just yet, as there are other factors to consider such as pricing and EV support.
As the program specifies, non-Tesla EV owners will be charged at higher rates. This is due to Tesla having to include charging support for a "broad range of vehicles," which would lead to making various site adjustments to accommodate them. In addition, the program only covers EV models that support CCS charging . So, for example, if a non-Tesla owner is driving a Nissan Leaf, a vehicle that utilizes the CHAdeMo connector for charging, they won't be able to: the Supercharger relies on the CCS connector standard for non-Tesla use instead. That's likely to become even more of an issue if and when Tesla expands the pilot in North America, where its EVs use a different, proprietary plug type.