The World's Biggest Hydrogen-Powered Mining Truck Is A Sight To See
Despite the inherent drawbacks of hydrogen-powered vehicles in terms of energy efficiency, cost, and infrastructure, the world's top automakers and mobility companies are still looking into hydrogen as a viable alternative to good ol' fossil fuel. German automaker BMW was among the first to dabble in a production-intent hydrogen-powered car with its 7-Series Hydrogen 7 unveiled in 2005. Based on BMW's 760Li limousine, the Hydrogen 7 had a 6.0-liter V12 engine running on gasoline and hydrogen.
Meanwhile, Japanese auto giant Toyota has the second-gen Mirai FCEV (Fuel Cell Electric Vehicle). This excellent rear-wheel-drive hydrogen sedan is a solid choice if you live in California, Hawaii, or where hydrogen refueling stations are prevalent. Toyota is also working on an internal combustion engine that runs on hydrogen, and it even went racing in a track-prepped Corolla Hatchback.
Hydrogen technology is also applicable to commercial and industrial applications. South African mining firm Anglo American recently unveiled the world's largest hydrogen-powered mine haul truck. While Toyota proves hydrogen can be used in the tiniest of remote-controlled toy cars for consumers of the future, Anglo American is utilizing hydrogen technology for industrial applications on a gigantic scale.
Meet the nuGen 2 MW hydrogen-battery hybrid truck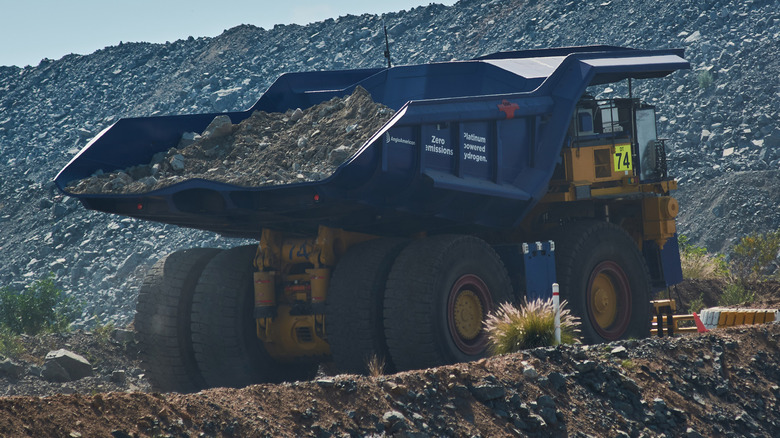 Bloomberg/Getty Images
Anglo American's colossal 2 MW hydrogen-battery hybrid truck is the product of the company's nuGen Zero Emissions Haulage Solution (ZEHS), a part of Anglo American's FutureSmartMining sustainable mining initiative. "The mining industry is playing a considerable role in helping the world decarbonize, both through our own emissions footprint and the metals and minerals that we produce, that are critical to low carbon energy and transport systems," said Duncan Wandblad, Chief Executive of Anglo American.
Working with other technology companies like ENGIE, First Mode, Ballard, and NPROXX, Anglo American retrofitted a 2-megawatt hybrid battery and hydrogen fuel cell powerplant into a diesel-powered mining hauler. The fuel cell provides half the power in motivating the truck, while the other half is from a massive battery pack that recovers electricity from braking.
Typical of hydrogen fuel cell vehicles, hydrogen fuel mixes with oxygen to create a chemical reaction using platinum as a catalyst, according to Anglo American. The reaction produces electricity to feed the motors and turn the wheels, while the only emission is water vapor.
Earth-moving credentials
The nuGen mining truck has a 290-ton (290,000 kg) payload. It also has a 1.2 MWh battery pack. The nuGen truck's fuel cells and batteries generate 800 kW of power. If you do the math, the truck has a 1,200 kWh battery equivalent to about 15 Hyundai Ioniq 5 battery packs, which is a lot. But then again, you need tons of power to move a vehicle that weighs more than 15,400 pounds (7,000 kgs).
The nuGen truck is also self-sufficient. The project includes a fully-integrated green hydrogen refueling station, and the company will also produce green hydrogen on-site using the largest electrolyzer and solar arrays in Africa. According to Anglo American, the nuGen truck will soon join the firm's open-pit platinum mine operations. The company plans to replace its fleet of diesel-powered mining trucks with nuGen hydrogen trucks in an effort to eliminate a massive portion of their worksite-related diesel emissions. Anglo American adds that its current fleet of 40 diesel mining trucks can drink up to a million liters of diesel fuel per year.
"Over the next several years, we envisage converting or replacing our current fleet of diesel-powered trucks with this zero-emission haulage system, fuelled with green hydrogen," added Wandblad. "If this pilot is successful, we could remove up to 80% of diesel emissions at our open-pit mines by rolling this technology across our global fleet."