The Original Cadillac Was Designed By Someone You Probably Wouldn't Expect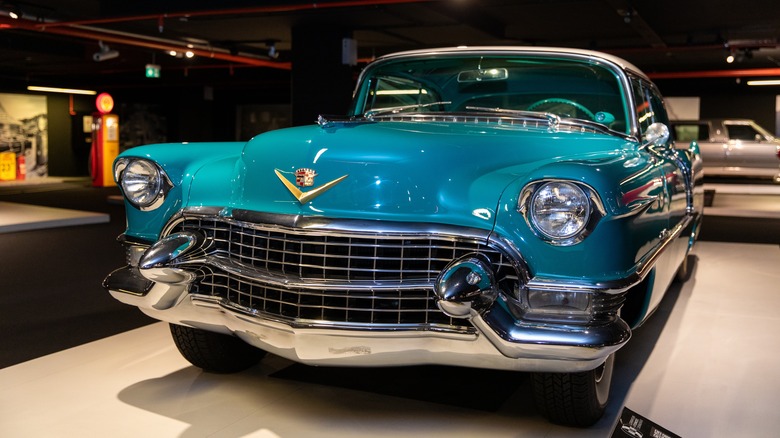 DedOK Studio/Shutterstock
"Cadillac" has become synonymous with luxury, and not just in the auto industry. The word evokes a sense that anything given this title respresents the best of something, whether it be a material product like a car, a service (health plan), or an adult beverage (Cadillac Margarita).
Believe it or not, the Cadillac Company only came to be after Henry Ford's second company (the Henry Ford Company) failed in 1902. During the dissolution of that company, William Murphy and Lemuel Bowen, who were investors in Ford's company, hired Henry M. Leland of Leland & Faulconer Manufacturing Company to help liquidate its assets. While doing so, Leland realized Ford's single-cylinder engine could be successful, and being an engineer, he had the skills to make it happen. Leland convinced Murphy and Bowen to let him continue building the cars first created by Henry Ford. 
Later that year, the Cadillac Automobile Company was formed, and the first vehicles, with a chassis from Ford and an engine developed by Oldsmobile, rolled off the production line in October. Henry Leland named the company after Antoine de la Mothe Cadillac, the French explorer who founded the city of Detroit, Michigan, in 1701. The original Cadillac crest is based on the explorer's coat of arms.
Cadillac had many firsts in the industry
The first Cadillacs had very little in common with what would eventually become known as the world's best "luxury" automobiles. A two-passenger Runabout was offered for $750, but for an additional $100, buyers could get a four-passenger, rear-entrance Tonneau model. The vehicle came with a single-cylinder, 98 cubic-inch engine with a single-chain drive and dual differential-mounted brakes. With a wheelbase of 72 inches, it only had an overall length of 111 inches.
According to Conceptcarz, the Cadillac was introduced at the New York Auto Show in January 1903 as the "Model A." Driven by intense competition with Henry Ford (via History), Leland sold nearly 2,500 of the new Cadillacs during its first year in production. Ironically, in 1920 Leland founded the Lincoln Motor Company and would sell it back to Ford a few years later.
Over the decades, Cadillac made several technological advances in the auto industry, including the first fully enclosed car (via Classics & Beyond) in 1906. Two years later, it became the first company to make standardized replacement parts that could be removed and swapped with other vehicles. In 1912 it released the Model Thirty, the first car to ditch the old hand crank and start using an electronic self-starter, ignition, and lighting. And in 1915, Cadillac began producing vehicles with a V-8 engine.
What started as a failed automobile company with the biggest name in the industry became a car line synonymous with luxury, led by a man you've probably never heard of ... until now.