How To Follow Hashtags On Twitter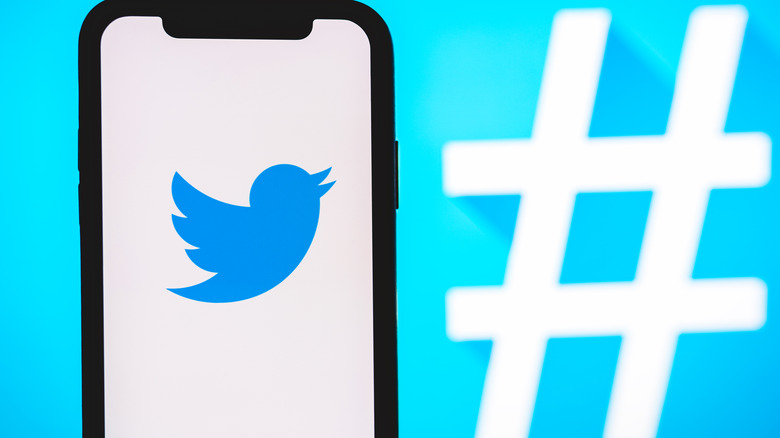 nikkimeel/Shutterstock
Have you ever wondered how to follow a hashtag on Twitter? If there's a particular topic you're interested in, following the related hashtag makes perfect sense. However, Twitter doesn't make it very intuitive to follow the hashtags you like, as there is no straightforward way to do so. There's no "click here to follow" type of thing — you'll have to employ some workaround methods, such as bookmarking the hashtag, adding it to your saved searches, or using TweetDeck. We'll go over all of these methods in our guide below.
Hashtags are a helpful way to determine whether the content you're looking at is something you want to read or not. Similarly, they help you search for content related to your interests. Twitter, much like Instagram, makes good use of hashtags in order to categorize posts, although arguably, Instagram relies on hashtags a lot more heavily (via ideamtg). On Twitter, you will often find posts that have thousands of likes and retweets but not a single hashtag. On the other hand, hashtags help aggregate content and let you navigate posts that are important to you, even if they're not always the most popular posts on the platform.
Tracking and following hashtags on Twitter is particularly useful if the hashtag you're interested in doesn't really change. Trending hashtags change on a day-to-day basis on Twitter, but some hashtags, such as company names or big topics like #technology, will remain the same. The bigger the topic, the more flooded the hashtag will be, so keep that in mind when choosing which few to follow. Let's get right to it and set up some easy ways to follow Twitter hashtags!
How to follow a hashtag on Twitter using a browser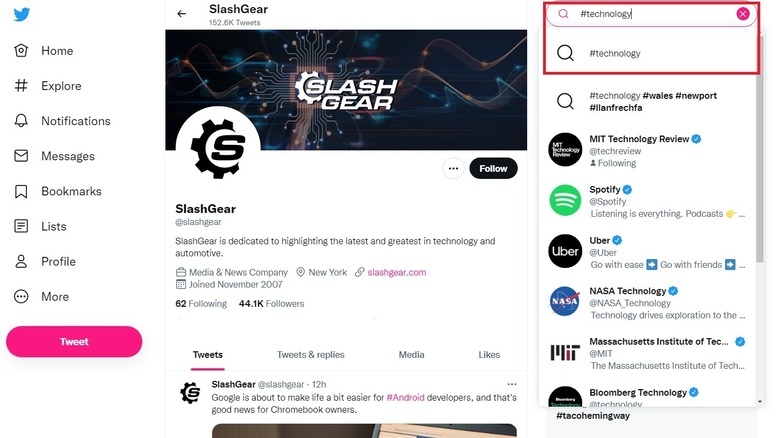 Monica J. White/SlashGear
Seeing as Twitter doesn't have a "follow hashtag" functionality, you'll need to get a little creative in order to keep track of all your favorite hashtags. Perhaps the easiest method, although not without its flaws, is simply bookmarking the page that displays your hashtag of choice. This is available in every browser on every device, but won't be available in the Twitter app on your mobile phone. As long as you're using a browser, however, you're good to try this method out. We'll outline the process in a step-by-step guide below.
Head to your Twitter homepage.
In the top right corner, navigate toward the search bar, and type in your desired hashtag. On our screenshot above, the hashtag is "#technology."
 Once you're on the page that displays all the new tweets with your hashtag of choice, simply add it to your bookmarks. This will vary between browsers, but will generally involve clicking the little Star icon near the address bar.
Whenever you want to check your hashtag, click your bookmark and open the page again.
This may feel like a very archaic method of doing things, but until Twitter comes up with something better, it might be the most straightforward option. However, it's not very dynamic — you'll have to go back to the website and check each time you want to see what's up.
How to follow a hashtag on Twitter using TweetDeck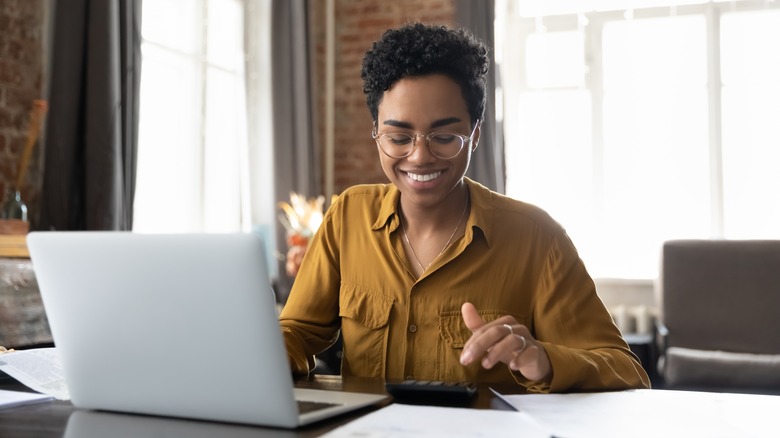 fizkes/Shutterstock
TweetDeck is the closest thing Twitter has implemented that allows users to follow hashtags. Initially, TweetDeck was a separate tool, but Twitter eventually acquired it and now offers it as a feature on its website (via TechCruch). However, you may be prompted to log in separately. TweetDeck is not very handy for regular, personal use, but it's a real game-changer for businesses and official social media accounts. Aside from following several hashtags, it lets you manage multiple accounts at once, and it gives you a large overview of everything that's happening on Twitter. By the way — if you're using Twitter to help your business, have you thought about applying for verification?
Open TweetDeck through the official website: https://tweetdeck.twitter.com and log on.
You'll see an overview of your account, including your Twitter feed, notifications, messages, and the "Trending" column, which contains all of the "big" hashtags in your area.
Your goal is to add another column to your TweetDeck. Feel free to also customize the ones that are already there.
In order to add a column, click the little Plus sign on the left-hand side of the screen.
From the menu that pops up, pick "Search."
Type in your chosen hashtag and click on it once Twitter finds it for you.
Your column is now on your TweetDeck! You can move it by clicking the three vertical lines in the top left-hand corner of the column, right beneath column number. Click and drag it around if you want.
How to follow a hashtag on Twitter by saving it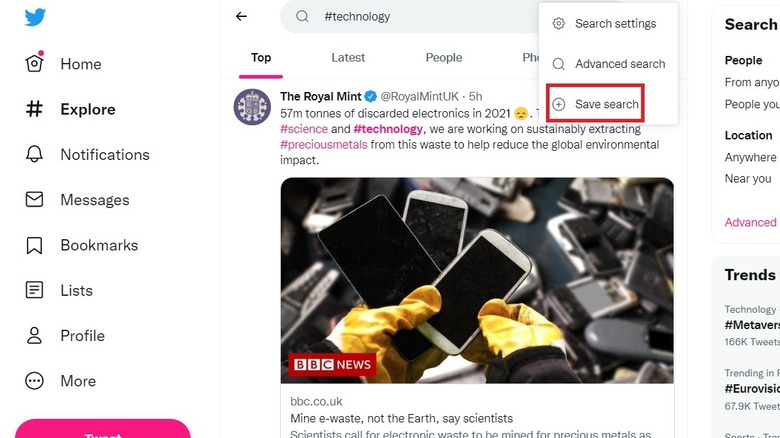 Monica J. White/SlashGear
This method is similar to simply bookmarking the page with a hashtag, only all of it is contained within Twitter's own website. Twitter has a functionality that lets you remember a certain search. In this case, you're going to make use of that in order to save your favorite hashtag(s) and be able to quickly search for them whenever you want. Unfortunately, this is still not a following tool, like Instagram provides, but at least it saves you a couple of steps when you want to check up on your followed topics.
Open up your Twitter homepage.
In the top-right corner, search for your hashtag of choice.
Once you're on the page that displays all tweets with that hashtag (in our case, #technology), click the three vertical dots near the search bar at the top.
From the menu that pops up, choose "Save Search."
When you navigate back to the Twitter homepage, click the search bar once again.
You will find your saved searches listed separately from your recent searches.
While this is a quick and easy way to save a search or two, you can only save so many before your list becomes too cluttered, and therefore, not useful. Limit your saved terms to just a few hashtags, and you'll be fine using this method if you don't want to play around with TweetDeck.