The Incredible Story Behind The Original Fast And Furious Toyota Supra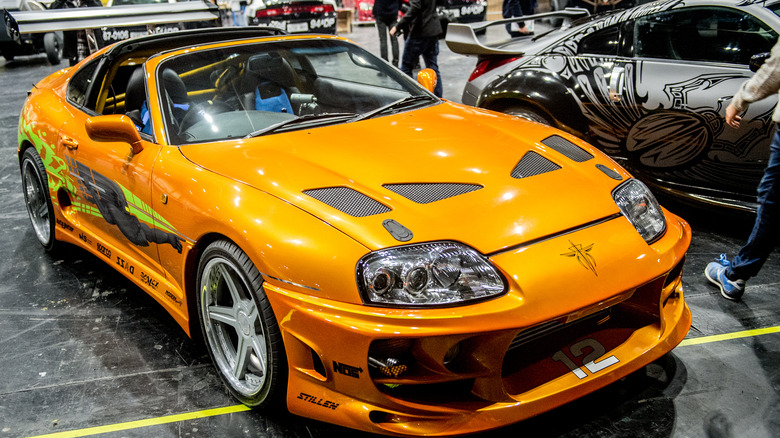 Ollie Millington/Getty Images
The 1994 Toyota Supra Mk 4 from the original "The Fast and Furious" film stands out as the car that brought the spotlight to the street tuner scene. In the film, the Supra started out as a pile of scrap that Dominic Toretto and his team had to rebuild, which would later become the striking "ten-second car" immortalized in pop culture today. While the Supra certainly had its moments in both the first film and its sequel, its real-life counterpart had just as much impact outside the silver screen. In 2021, one of the Supra Mk 4 stunt cars featured in the films was sold at Barret-Jackson's car auctions for over half a million dollars.
However, despite its exorbitant price tag, that particular stunt car wasn't exactly the one that convinced "The Fast and Furious" producers to make the Supra among its star vehicles. That credit goes to the film's technical advisor, Craig Lieberman, whose own personal car became the foundation for the many Supras used in the popular street racing flick, as detailed in one of Lieberman's YouTube videos. Lieberman explained that his fascination with Supras started out when his '93 Mustang GT was outpaced by a '94 Supra Mk 4 in a street race, inspiring him to get one for himself in 1998.
The iconic Supra started out in the boonies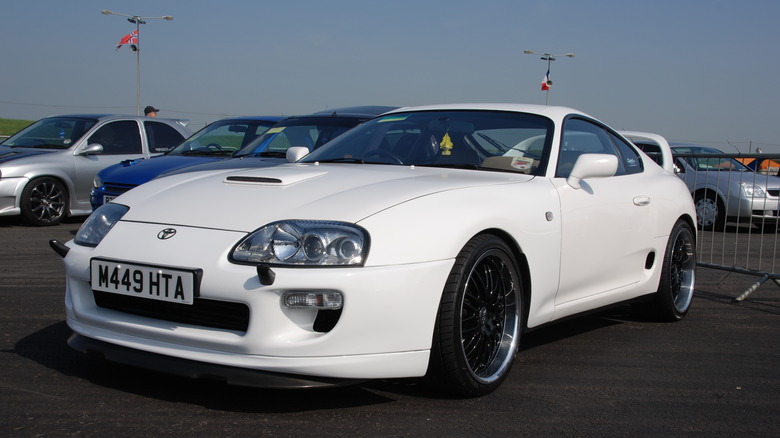 Paul Stringer/Shutterstock
Before his involvement in the film industry, Lieberman was simply scouting for cars until he stumbled upon a white stock Toyota Supra at a car dealer "out in the boonies" for $24,000. After purchasing it, Lieberman gave the Supra a 450-horsepower upgrade, new aftermarket bodywork, and a fresh coat of paint. In a YouTube interview with Just Driven, Lieberman explained that he gave his Supra an $8,000 "Mazda competition yellow" paint job in hopes that it would become a magazine car. Indeed, the modified Supra did end up in magazines and car shows, where it caught the attention of "The Fast and Furious" transportation coordinator David Marder.
After discussions about the movie, which was known as "Redline" at the time, Lieberman was eventually introduced to the film's director, Rob Cohen. Lieberman then took Cohen for a ride in his Supra, which impressed the director so much that he hired him shortly after. Since Lieberman's car would be designated as the "Hero 1" car, the basis of eight other Supra duplicates used in the movie, it had to be retrofitted with parts that fit the film's standards. Universal Studios ordered several changes to the car, including a new orange paint job and the addition of some wild livery from designer Troy Lee. With those changes, the iconic Supra we know today was born.
What happened to the Fast and Furious Supra?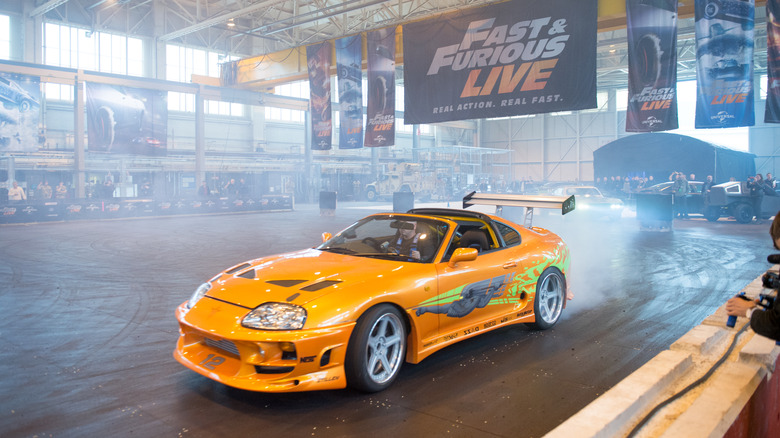 Ollie Millington/Getty Images
After filming wrapped up, the Supra was finally back in Lieberman's possession. However, it now looked nothing like what he originally envisioned it to be. The only things that were left untouched from its former "Competition Yellow mica" motif were the car's internal performance modifications and yellow roll cage. Lieberman expressed on his website that this didn't sit well with him and that he wanted to remove the car's signature graphics. However, he was "advised" not to tamper with it, given that it was a "valuable movie car."
The celebrated Supra was then rented out to car shows instead, with Lieberman explaining that attendees attempted to steal parts from the Supra on more than one occasion. The former technical advisor decided that the Supra was too much of a hassle to keep, as it was "too ugly to enjoy" for himself and too risky to drive around. Lieberman sold his "Hero 1" Supra for $185,000. It has since been flown all the way to the Netherlands, with all of its trademark modifications intact. While many deem the "Fast and Furious" Supra as an iconic piece of cinema history, its original owner had no regrets selling it, saying that he never was a movie car collector, nor will he ever be one. Lieberman now drives a 2015 Nissan GT-R and has no intention of getting the Toyota Supra Mk 4's successor.