This Could Be The Rarest Rolls-Royce Of All Time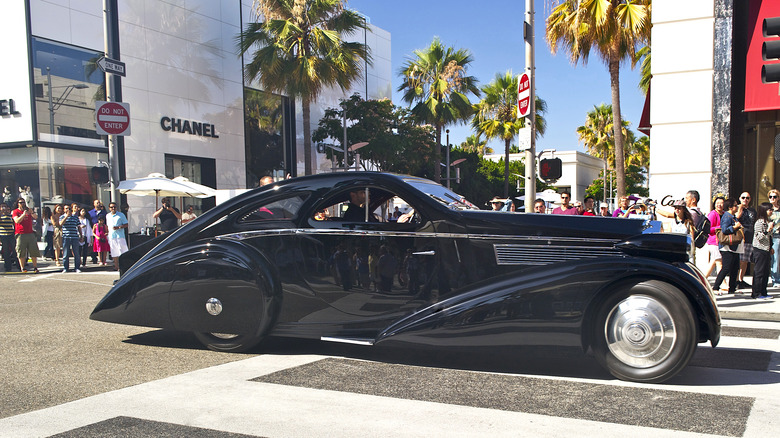 Philip Pilosian/Shutterstock
Rolls-Royce has produced some of the most iconic automobiles in the industry. One of its most recognizable models is the Rolls-Royce Phantom, which underwent various design changes over the years. In 1925, Rolls-Royce unveiled the Phantom I, a saloon cabriolet with squarish doors that opened backward on its rear end in the company's trademark 'coach doors' fashion. However, a unique variant of this turned out to be what many deem as the rarest Rolls-Royce in the world, dubbed the "Round Door." 
As its name suggests, this Rolls-Royce car comes with two circular coach-style doors, unlike its four-door counterpart. It was the work of Belgian coachbuilder Jonckheere, who retrofitted a 1925 Phantom I in the 1930s, giving it a distinct new bodywork, a large tailfin, and an enormous grill according to Rolls-Royce Motor Cars. The rarest Rolls-Royce Phantom switched ownership multiple times, from Anna Dodge — former owner of automotive giant Dodge — to the Raja of Nanpara, before ending up in an exhibition at the Petersen Automotive Museum in 2001.
The rarest Rolls-Royce Phantom is truly one-of-a-kind
There are various aspects that make the 'Round Door' Rolls-Royce more comparable to an Art Deco piece than a vehicle worth driving on a regular basis. The Petersen Automotive Museum revealed in a YouTube video showcase (embedded above) that it weighs around 5,600 pounds and is almost 20 feet long, making it difficult to maneuver. Drivers would have to slow down and approach slopes from a specific angle just to avoid scraping the car's underside. 
Unlike modern push-to-start iterations, this car required a long process that involved flipping various switches and making several adjustments just to get it running. Sure, the rarest Rolls-Royce car might sound like a pain to drive, but what makes it special isn't just in the driving experience but rather its artistic presentation. Aesthetic-wise, the 'Round Door' carries a circular motif throughout the vehicle, coming with unique features like windows that open like a fan, two independent sun roofs, and a side-opening trunk that fits luggage specifically made for it. In fact, this Rolls-Royce Phantom's scintillating design even made it a Concours d'Elegance award winner.
How much is the rarest Rolls-Royce car worth?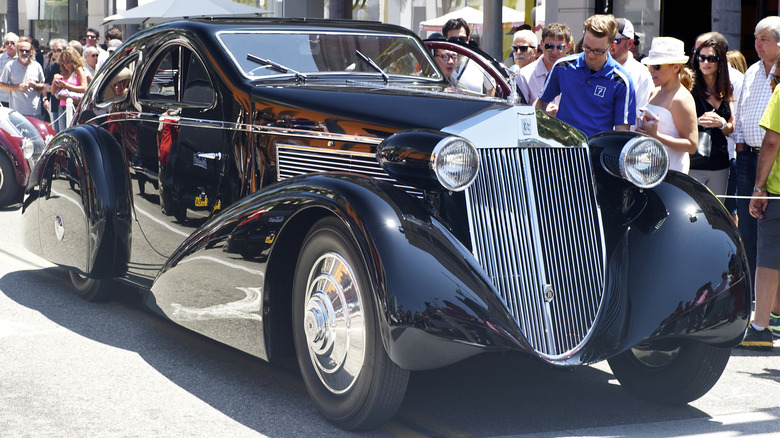 Philip Pilosian/Shutterstock
There were only 3,512 examples of the original Phantom ever built, making each currently existing model quite a rarity to behold (via autoevolution). While the remaining number of 1925 Phantom Is in existence is already low enough as it is, there's only one instance of its 'Round Door' variant, further strengthening its case as the rarest Rolls-Royce car in the world. This puts the 'Round Door' a cut above other one-off Rolls-Royce Phantoms like the Koa. 
The question now is, how much is it worth? Well, it's basically priceless, as it's not up for sale. Instead, visitors can personally view it at the Petersen Automotive Museum at a ticket price of $17 for adults. The priciest Rolls-Royce Boat Tail was commissioned for a whopping $28 million (via Motor1). Since the 'Round Door' was clearly a bespoke product of its time — from a range that's long gone no less — its value will probably be higher than any modern iterations like the Boat Tail or Sweptail. That said, the 'Round Door' might not just be the rarest Rolls-Royce in the world, but is likely the most expensive Phantom ever, which isn't bad for something that, as Petersen Automotive Museum historian Leslie Kendall revealed, used to be in a scrapyard.