The Reason The Segway Was A Massive Failure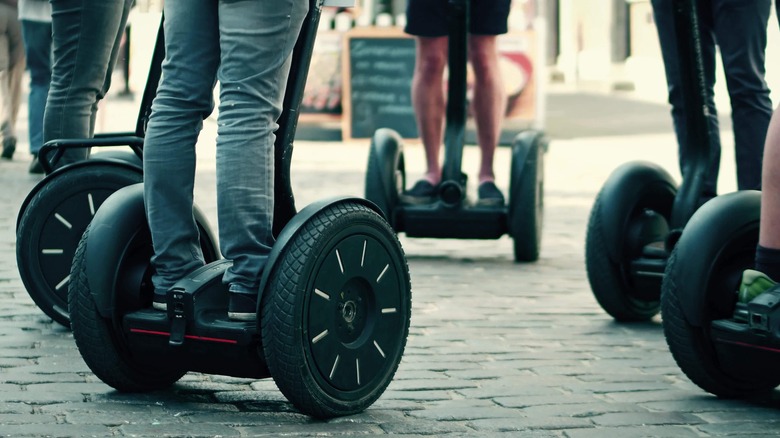 Novikov Aleksey/Shutterstock
If you believed all the hype surrounding the Segway Personal Transporter back in 2001, we should all be gliding around effortlessly on self-balancing two-wheeled scooters by now. More than 20 years after the first Segway rolled off the assembly line, most pedestrians today still rely on the oldest mode of human transportation available — their feet — when not zipping around on a variety of successful e-scooters that managed to do what Segway could not. By all accounts, the device itself worked great, so much so that it was profitable within four years of launch, according to CNN. That's when Chinese gadget maker Ninebot took over the company. In fact, Ninebot continued to sell the flagship Segway up until 2020. So, why did Ninebot stop selling Segways? "One reason, I hate to say, is the quality of it, how durable it is," Judy Cai, president of Segway has said. "When you try to sell new units ... unfortunately, it does hurt [sales]," (via Fast Company).
Why, then, is Segway ranked alongside New Coke, the Apple Newton and Google Glass as one of the greatest product flops in history? Simply put, it didn't live up to its promise of revolutionizing foot travel for any but a few select niche markets (mall cops, postal delivery workers, billionaires).
The Segway had too much hype before launching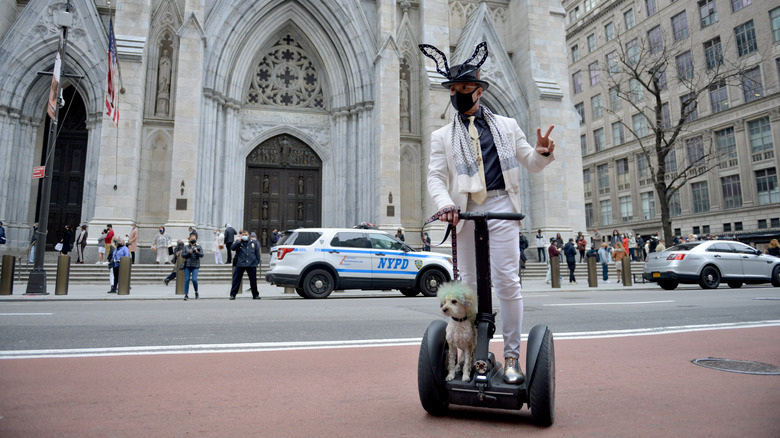 Alexi Rosenfeld/Getty Images
Word first leaked that a Silicon Valley newcomer had invented a revolutionary new transportation device about a year before the original Segway PT launched, but the leak lacked specifics. Regardless, development continued in near-total secrecy, with inventor Dean Kamen looping in only a close-knit team of engineers and a bevy of Silicon Valley A-listers, including Steve Jobs and Jeff Bezos, according to Steve Kemper, author of "Code Named Ginger," a book detailing the Segway's early origin story (via Harvard Business School). If the intense secrecy alone wasn't enough to rev the hype engine, what pushed it into overdrive during the year-long buildup were the many cryptic but wildly enthusiastic comments made to the media by those in the know. "I've seen it, and it is ... more important than pantyhose and it's more important than the Internet," pioneering computer engineer Bob Metcalf said, adding that on a scale of 0 to 10 he would rank the device "in the high nines" (via ABC News).
However, when the original Segway PT was finally unveiled on live TV during the December 3, 2001 edition of "Good Morning America," the anticipated collective swoon turned into a great big, "Huh?" To the general public, the product industry insiders had hoped might do for sidewalks what the car did for city streets looked like a big adult scooter. The fact that it was self-powered self-balancing, those were just bells and whistles.
Segway cast too wide a net when marketing the device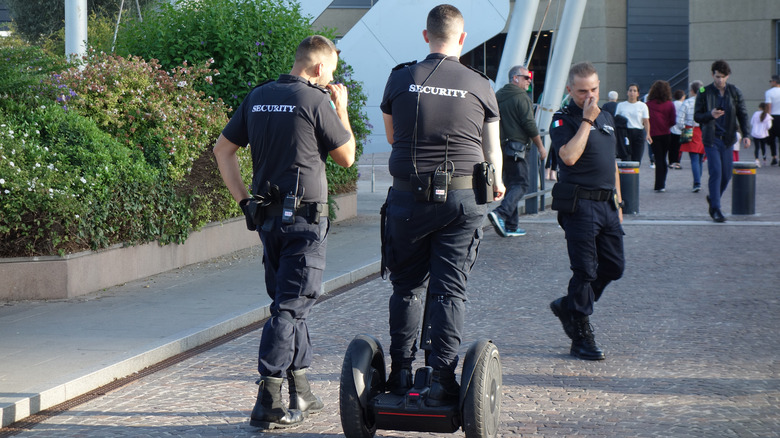 Cineberg/Shutterstock
Although the market for potential Segway buyers is theoretically huge, encompassing pretty much everyone who can stand and has places to go, it doesn't make a particularly good marketing strategy to target everyone. Successful marketing often identifies a consumer need, then offers a product that addresses that need. Most people don't need an alternative to walking, and in any case, there were bicycles, rollerblades, skateboards and many more low-tech alternatives already. In the early days, Segway came close to something like targeted marketing by selling various companies and civic organizations on the device's utility and benefits. Some commercial customers that tried outfitting their footbound associates with Segways include the U.S. Postal Service; police departments in Chicago, Philadelphia and Washington DC; fire departments; medical transportation companies; and gas companies with legions of meter readers, according to Forbes.
Although there was some interest from these tests, none of those industries ended up generating huge numbers of sales or, consequently, profits for Segway. Instead, Segway found itself wedged into the wider transportation device market as a niche product, with neither a clearly defined target audience nor a specifically identifiable use case. Could a savvier marketing campaign have achieved the ubiquity promised by the early hype surrounding Segway? We may never know.