Xbox Game Pass Kicks Off May 2022 With Indies And Sports Games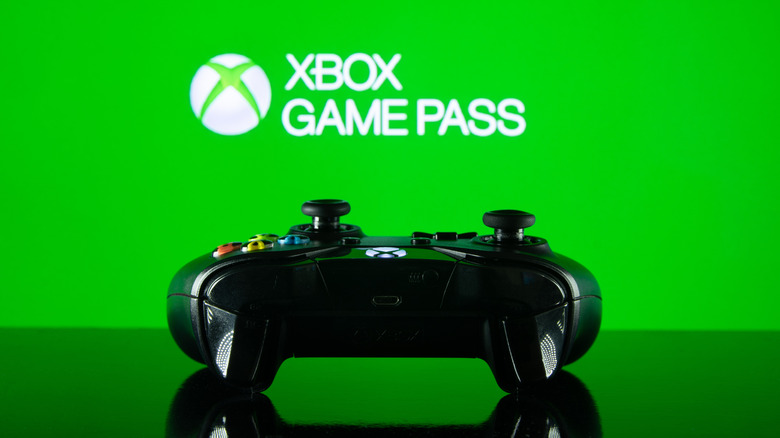 Miguel Lagoa/Shutterstock
Xbox has just announced a list of new titles coming to the Xbox Game Pass platform in May 2022, and there are some interesting gems for you to take a peek at, including "NBA 2K22." Two games are already available, with seven more to be released throughout the month. Several titles also received game updates or DLC content, and the three games will receive goodies that will be available to Xbox subscribers for free. Unfortunately, bundled with the exciting news of new arrivals, Microsoft slipped in the information that seven games will be leaving the library soon, including some fan favorites like the iconic "Grand Theft Auto: San Andreas."
Despite the grim news of seven titles departing from the platform in May, there's more to be excited about, with sports games and indie titles set to release shortly. "NBA 2K22" is probably the biggest title that Xbox wants its subscribers hyped about, and it's available right now. The game emulates real NBA and WNBA environments and is essentially the FIFA of basketball, with authentic teams and players for you to choose from during your gameplay. Players will be allowed to build their dream team, including current players and past players, or pick a player whose career they want to follow from start to finish.
The other title that's available right away is "Loot River," a procedurally generated dungeon crawler. The game's graphics provide a bit of a throwback to the days of old, but they also make for a fresh take on the pixelated-graphics genre. In "Loot River," you'll be able to explore vast dungeons, fight monsters, level up, and try and try again until that rare piece of loot makes it into your hands.
Other games coming to the Xbox Game Pass in May
In just a couple of days, on May 5, 2022, you'll also be able to play "Trek to Yomi." This is a story-driven samurai game that follows the life of a young swordsman called Hiroki. Set in black and white, the game still manages to deliver beautiful visuals and a classic tale of fighting the forces of evil. "Trek to Yomi" will be available via cloud gaming, on the Xbox console, and on PC. Another title that's set to release on May 5 is "Citizen Sleeper," a space-based narrative RPG that explores living and surviving in a dystopian, futuristic, sci-fi-like metropolis.
Three more titles will hit the platform on May 10, including the sequel "Danganronpa 2: Goodbye Despair Anniversary Edition," "Eiyuden Chronicle: Rising," and "This War of Mine: Final Cut." The former arrives as a part of a successful franchise and the follow-up to the original "Danganronpa." First released in 2010, the franchise established itself in the narrative novel video game genre, and the sequel seems to follow in its footsteps. "Eiyuden Chronicle: Rising" is also part of a larger franchise set in the same world as "Eiyuden Chronicle: Hundred Heroes." The game combines snappy combat with dialogue and various elements of an action-adventure RPG. Lastly, "This War of Mine: Final Cut" is a remaster of an already existing game that sees the player try to survive in a besieged city.
The game, set to release on May 12, is another sports title: "NHL 22." If basketball is not your thing, two weeks after "NBA 2K22," you'll be able to indulge in the ultimate hockey experience through EA Play. The title offers realistic hockey simulations, with various visual upgrades and superstar players to choose from.
New DLC is now available, but some games are leaving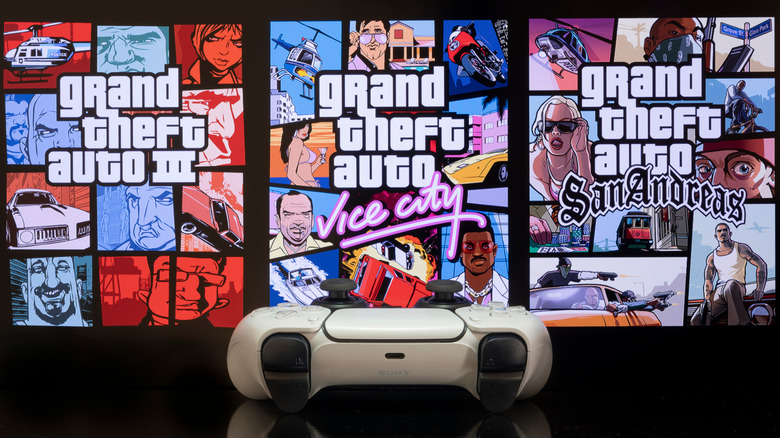 Miguel Lagoa/Shutterstock
The good news continues through a host of new DLCs and game updates. "Age of Empires II" will receive a new "Dynasties of India" DLC, but it's not going to be free through the Xbox Game Pass — members will receive an up to 10% discount on purchasing the update. "Halo Infinite" gets an update to Season 2 including new modes, themes, and events. "Stellaris" rounds up the list with access to the latest Patch 3.0 and Nemesis Expansion, bringing with it changes to gameplay and economy. While the patch is free, the expansion only gets a 10% discount with the Xbox membership.
Now, for the bad news: several games are leaving the Game Pass library, and you only have a few more days to play them if you want to. Now is also the right chance to buy them if any discounts are applicable, as once bought, the game will remain playable. Departing on May 10 is the classic "Grand Theft Auto: San Andreas." This is followed by May 15 departures: "Enter the Gungeon," "Final Fantasy X/X-2 HD Remaster," "Remnant: From the Ashes," "Steep," "The Catch: Carp and Coarse," and lastly, "The Wild at Heart." Although it's a shame to see these games leaving, there are still plenty of new titles set to arrive for you to sink your teeth — and controller — into.