Blizzard Sets A Date For Warcraft Mobile Game Reveal
Blizzard has just announced the reveal date for its upcoming mobile game based in the Warcraft universe. We've already known about the fact that Blizzard is working on the game for some time — this event will most likely reveal just a few more basics. Hopefully, aside from gameplay and details about the game, we'll hear about a release date of the new title — although Blizzard hasn't specifically divulged what kind of announcements it's planning to make.
The reveal is going to take place on May 3, 2022, at 10 a.m. PDT. In order to tune in, you'll have to head to the official Blizzard website where the unveiling is going to be streamed. We'll cover the news as it drops, so don't worry if you're going to be busy — a Tuesday morning is a bit of an odd time for Blizzard to drop the mobile game reveal, but as we've heard very little about the title so far, we'll take it.
Story and mobile power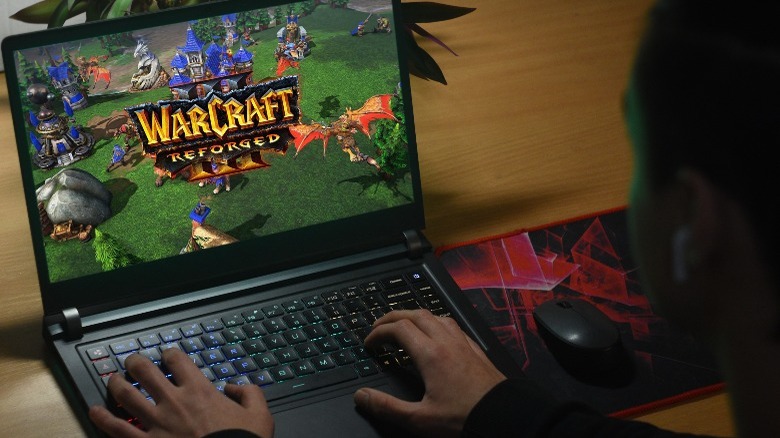 Pryimak Anastasiia/Shutterstock
In its announcement, Blizzard talks about how the game has been designed from the ground up to be suitable for mobile. This implies that it won't simply be a port of one of Blizzard's existing games and we are most likely looking at a whole new title, albeit set in a familiar universe. However, the company is being exceptionally tight-lipped as to what to expect from the new Warcraft mobile game. 
Given how expansive the universe is, we could be looking at just about anything. A story-based game like the successful "Warcraft 3" could be an interesting choice for mobile players, provided there is enough screen real-estate to support it. On the other hand, all kinds of games have successfully made a surprisingly robust trip to mobile — take "Fortnite," for example — so a smaller screen shouldn't be that big an obstacle anymore.
Blizzard has a lot of new games in the works
It's hard to deny that Blizzard is recovering from a controversial year. Following a number of sexual harassment lawsuits and a whole lot of controversies regarding employee treatment, the company needs to rebuild its image and regain the trust not just of its own employees, but also the general public. Meanwhile, Activision Blizzard has recently been acquired by Microsoft for a staggering $70 billion. With such a flurry of changes constantly taking place, the game studio somehow manages to put out a fairly continuous stream of content for its fans to enjoy.
Recently announced, the next "World of Warcraft" expansion was revealed on April 19, 2022. Dubbed "World of Warcraft: Dragonflight," the expansion introduces a new playable dragonkin race called the Dracthyr, a new class called Evoker, a revamped user interface, the return of talent trees, and a new zone: the Dragon Isles. Alongside the new expansion, Blizzard has also revealed that it will be re-releasing "Wrath of the Lich King" for players of "World of Warcraft Classic." Commonly abbreviated WotLK, the expansion was the most successful iteration of the game, so a lot of players are likely looking forward to revisiting it.
The upcoming "Warcraft" mobile game is not Blizzard's first venture into the mobile territory. "Hearthstone" is a successful game both on PC and mobile devices, and soon enough, "Diablo Immortal" will join Blizzard's lineup. The game received a mixed reception from the fans, many of whom would rather see a proper "Diablo IV" game instead, but nevertheless, it's happening — and it's set to release on June 2, 2022.