Moderna Wants The FDA To Approve Its COVID-19 Shot For This Controversial Age Group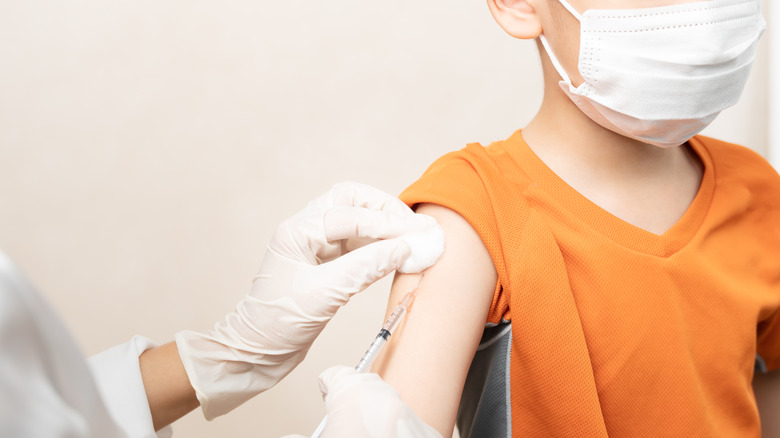 myboys.me/Shutterstock
Moderna has just asked the U.S. Food and Drug Administration to authorize the Moderna COVID-19 vaccine for infants, toddlers, and preschoolers. The group covers children ranging from six months to 5 years old. Simultaneously, the company has started the process of requesting authorization from similar organizations all over the world as it gears up for an international release of its mRNA vaccine for children. The information comes from an announcement shared on Moderna's website, accompanied by a short statement from company CEO Stéphane Bancel: "We believe mRNA-1273 will be able to safely protect these children against SARS-CoV-2, which is so important in our continued fight against COVID-19 and will be especially welcomed by parents and caregivers."
The request for approval follows a study that found the vaccine is effective in young kids, although the efficacy was higher in younger age groups. In children under 2 years of age, the vaccine was around 51% effective in preventing infection from the (still dominating) omicron variant of COVID-19. In kids ages 2 to 5 years old, the effectiveness was measured at around 37%. The results of the KidCOVE study were shared by Moderna in March 2022 in an official release.
Prior to requesting authorization, Moderna tested its mRNA vaccine on a group of around 6,700 participants under 6 years of age. Some participants received placebo vaccines to measure the efficacy accurately, while others received two doses of mRNA-1273. Only healthy kids took part in the study, and the vaccine doses were administered 28 days apart.
This age group is the only one ineligible for vaccination in the U.S.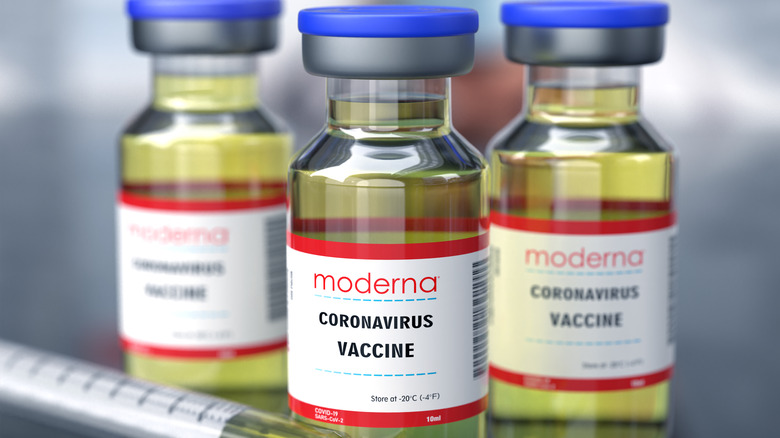 Giovanni Cancemi/Shutterstock
If the vaccine becomes authorized for emergency use by the FDA, the kids who take it will receive much smaller doses than adults. The tested dose included two shots, 25 micrograms each, compared to the 100 micrograms that adults are given up to four times as part of their vaccination series. However, the study shows that these smaller doses are sufficient and effective in preventing severe disease outcomes from developing in younger kids. Of all the 6,700 participants in this part of the KidCOVE study, not a single child developed a severe case of COVID. There was an absence of hospitalization and death, both good indicators that Moderna might be a viable solution for these younger age groups.
As of now, children under 5 years old are the only age group left in the U.S. that is currently not granted access to COVID vaccines. The FDA has promised to move quickly in order to authorize such vaccines once the necessary studies have been completed and all papers filed. Unsurprisingly, Moderna is not the only pharmaceutical giant to work on this type of vaccine for young children — Pfizer has a similar vaccine in the pipeline, too. However, Pfizer's variant is for kids ages 6 months through 4 years. 
Things have been quiet where Pfizer's vaccine is concerned since the company announced in February 2022 that it will postpone its rolling application for authorization to the FDA. It is still currently awaiting results from the last phase of testing. Unfortunately, recent findings show that a different Pfizer product, the Paxlovid antiviral drug, has been linked with rebounding cases of COVID, which is another thing the FDA will likely need to address in the near future.