2022 Volvo C40 Recharge Review: Electric Personality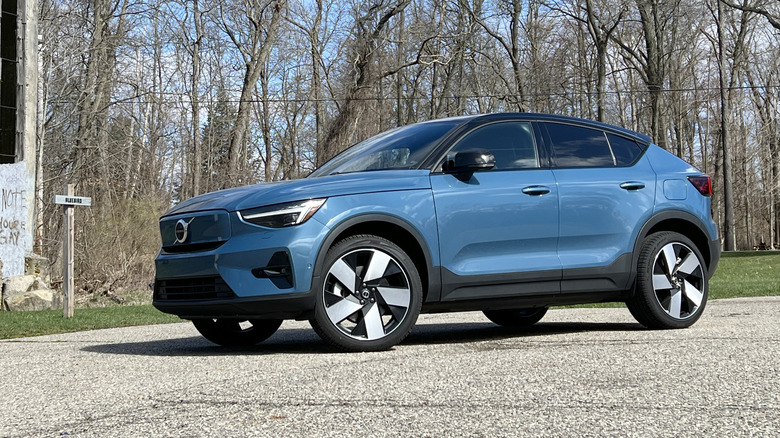 Chris Davies/SlashGear
Electric cars are going mainstream, and the 2022 Volvo C40 Recharge is an excellent example of how that can be appealing — and some of the compromises that come with it. The second all-electric model in the Swedish automaker's range, and its first to be designed with BEV motoring from the outset, the C40 Recharge is certainly eye-catching.
What the C40 Recharge isn't is a budget play. Those wanting affordability along with their electric Volvo should look to the XC40 Recharge, which starts from $51,700. The C40 Recharge, meanwhile, kicks off at $58,750 (plus $1,095 destination); you're looking at just shy of $60k altogether, before the potential impact of the $7,500 federal EV tax incentive.
Volvo's argument is that you're basically getting a fully-loaded car for that. The only real extra is $695 for some of the paint finishes, like this rather lovely Fjord Blue. There's no single-motor version to help trim the price, and features like dual-zone climate control, a heated steering wheel, heated front and rear seats, a Harmon Kardon audio system, wireless phone charger, 20-inch wheels, a panoramic glass roof, and power tailgate are all standard.
Blind spot warnings, cross traffic alerts, a 360-degree camera, cornering front lights, parking assistance, and Volvo's Pilot Assist hands-on adaptive cruise control and lane-keeping are also standard, as is the heat pump which can help preserve driving range even in colder climates. It leaves the absence of a ventilated seats option even more of a head-scratcher.
The sacrifices we make for style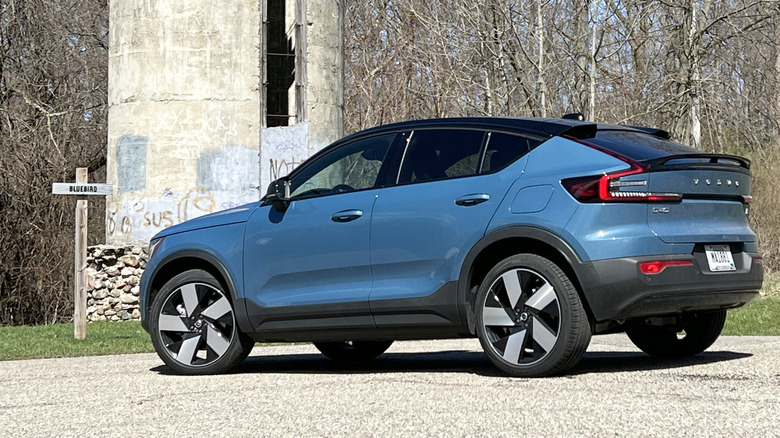 Chris Davies/SlashGear
From the front, the C40 Recharge is a familiar beast. Indeed, to around the B-pillar, it's the same car as the XC40 Recharge. That's no bad thing: chunky styling, clean detailing, and tried-and-true elements like the Thor's hammer headlamps leave it looking modern but not too outlandish. If your perception of electrification has been shaped by weirdly-smoothed iterations of Prius over the years, the Volvo feels like a breath of fresh air.
The difference, of course, is the rear. Where the XC40 Recharge keeps the practical flat roofline and regular hatch of its gas-powered sibling, the C40 Recharge swaps it for a sleeker — and less practical — tapering rear. With segmented taillights that stretch up the rear pillars along with a neat spoiler, it's a good looking evolution.
There are upsides and downsides to that change, mind. One benefit is to aerodynamics, with the curvaceous roofline leaving the C40 Recharge ever so slightly more efficient than its crossover cousin. Admittedly, we're not talking game-changing range increases here: the EPA says you'll get 226 miles from the C40 Recharge, a whopping three miles more.
As for the downsides, they affect both rear seat passengers and — unexpectedly, perhaps — the driver. Headroom in the second row dips by around 2.4 inches, meaning taller adults may find themselves feeling more squashed. More frustrating is the poor rear visibility. It's not so much that the viewing area out of the rear glass is small, as that it's too low down, limiting how far back in your lane you can see. Thankfully the side mirrors are of a decent size, as you'll be relying on them a lot.
Cargo space is also slightly compromised, courtesy of the sloping rear glass. An XC40 Recharge will hold 15.3 cu-ft in its trunk; the C40 Recharge manages 14.6 cu-ft. It's worth noting, though, that the loss is effectively all above the waistline: if you never load above the cargo cover, you'll not really be impacted. As for the front trunk, that holds the same 0.7 cu-ft: a useful place to store the charging cable, puncture repair kit, and other small items.
Inside, Volvo goes renewable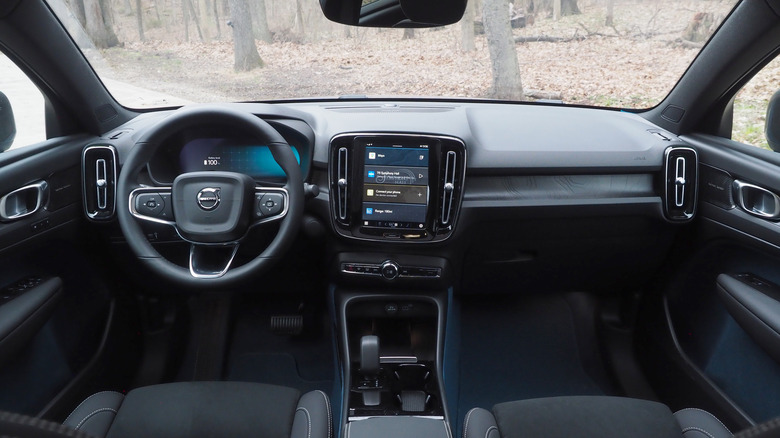 Chris Davies/SlashGear
At first glance, you'd be forgiven for thinking it was business as usual in the C40 Recharge's cabin. Volvo has standardized for the most part on its cabin design, generally differentiating between models by virtue of what the trim is made of rather than its aesthetic. For its first electric-only car, that's meant an opportunity to introduce some more eco-friendly materials.
Inlays in the dashboard and doors are made of backlit recycled plastic, and molded into stylized topographical maps of a national park in Sweden. Volvo says it's more sustainable than the chroming process more typically used. The floor and doors, meanwhile, get a striking Fjord Blue carpet, which is made from recycled plastic bottles. It looks great, and Volvo has made ample use of it so as to further reduce the number of regular plastic panels.
The cloth for the seats has recycled origins, too, with a grippy, Alcantara-like result. Saying that, the bulk of the plastic used remains the same virgin materials as in the rest of Volvo's line-up (and, for that matter, in the cars of its competitors) so we're not quite at Peak Green just yet.
Also the same is the 12-inch digital instrumentation for the driver, and the 9-inch portrait orientation touchscreen in the center console. That runs Android Automotive OS, with Google Maps, the Google Assistant for voice control, and the Google Play store for third-party software. There are apps like Spotify, Google Play Books, iHeartRadio, and YouTube Music for third-party streaming via the C40 Recharge's embedded 4G LTE data connection, but generally the number of apps in there is still low.
Likely to be more frustrating to many, there's no Apple CarPlay or Android Auto support. Volvo says they're a work-in-progress. You can pair your phone via Bluetooth for calls and music, but I'd love to see an Apple Music app for Android Automotive OS. That would go a long way to helping iPhone users work around the smartphone projection system's absence.
On the road, perky and easy to drive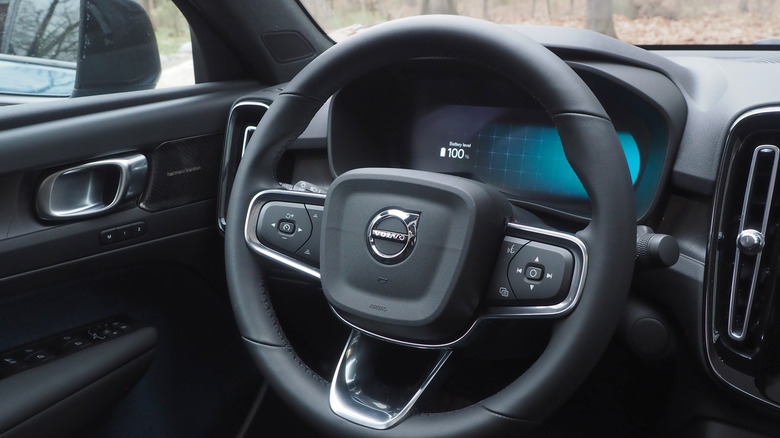 Chris Davies/SlashGear
With two motors — one for each axle — there's 300 kW (or 402 horsepower) to play with. Volvo doesn't bother with a multitude of drive modes: you can switch into an Off-Road setting for surfaces with less traction, and there are two levels of steering weight with very little noticeable difference between them, but generally things are kept very simple.
I don't think that's a bad thing, on balance. Sit in the C40 Recharge's driver's seat and — as long as the key is in your pocket or bag — the EV automatically switches on; press the brake pedal and toggle the little transmission shifter forward or back for drive or reverse. The instrumentation is pared back, with clean graphics to show when you're being profligate with power or regenerating it when slowing. An option in the settings allows you to turn off one-pedal braking, though I liked how aggressive it was when switched on. It'll eagerly bring the C40 Recharge to a halt when you lift off completely.
0-60 mph arrives in 4.7 seconds, and that instantaneous 487 lb-ft torque is sufficient to cause some upsets among drivers of ostensibly more powerful gas cars at the lights. Firm tuning to the suspension only encourages that playfulness, too. The downside is that it can get uncomfortable on poor-quality roads, something hardly in short supply in many parts of the US. At times I did find myself wishing I could toggle to settings with a little more compliance.
Charging, range, and rivals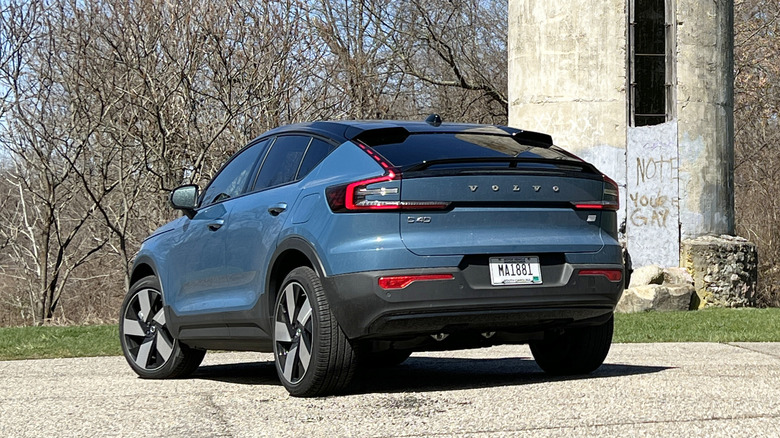 Chris Davies/SlashGear
The vast majority of EV charging takes place at home. Assuming you have a Level 2 charger (and assuming it's connected to a 240V/50 amps supply) you're looking at around 25 miles of range added per hour plugged in. That means roughly 8 hours to go from a drained battery to 100%. It's worth noting that the rate of charging drops off significantly once the battery is past 80% — something that impacts basically all EVs, to varying extents.
If you only have a regular, 120V outlet, get ready for a long wait: Volvo says it could take more than three days for a full charge of the car's 75 kWh battery. On the flip side, if you find a DC fast charger, the C40 Recharge supports up to 150 kW rates. That means around 37 minutes to go from 10% to 80%. At this point, while 150 kW is fine, we're increasingly seeing public fast chargers with 350 kW support or potentially even higher; at some point, carmakers are going to have to start stepping up their own support to take advantage.
With a full battery, Volvo says the C40 Recharge should go for up to 226 miles. That works out to 94 MPGe in the city, 80 MPGe on the highway, and 87 MPGe combined. They're slight improvements over the less-aerodynamic XC40 Recharge, but — though I'd point out that Volvo's estimates seem a little conservative — hardly leave the crossover at the top of the pack for compact BEVs.
A 2022 Hyundai IONIQ 5 AWD, for instance, undercuts the Volvo from around $47,500 but is rated for 256 miles. If you're willing to spend a little more, the 2022 Kia EV6 AWD starts at around $51k for a dual-motor configuration, but is rated for 274 miles in Long Range form. Admittedly you may have to spend more to bring each up to the Volvo's healthy level of standard equipment.
Arguably the most obvious comparison, though, is more closely related to Volvo itself. The Polestar 2 borrows the same platform, runs Android Automotive OS, and — at 249 miles, according to the EPA — has longer range in dual motor form. It also starts at just over $51k (before destination and any EV tax incentives) and, to my eyes, looks better than the C40 Recharge. With its lower, fastback design it's also more fun to drive, while the cabin arguably feels more special than that of the Volvo, too.
For EVs, no more one-size-fits-all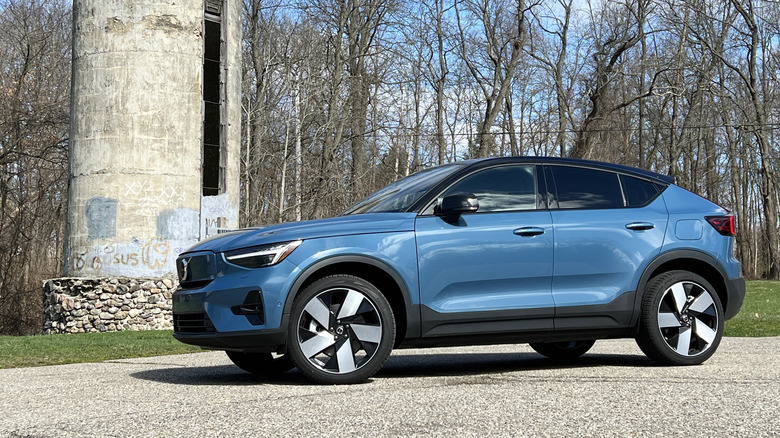 Chris Davies/SlashGear
On paper, the C40 Recharge isn't necessarily an easy sell. It doesn't have the longest range, or the lowest price; it's not the most practical EV, either.
Then again, if we picked cars solely because they made the most practical sense, we'd probably all be in a Honda Civic or Toyota Corolla. In reality, there's no expectation that one gas car should suit every driver's needs, tastes, and general whims: it feels like we're just approaching the same position for EVs. Volvo, like the rest of the automotive world, is looking to replace all of its current models with electric versions over the next few years. Some may make sense for you, and some probably won't, just as has long been the case for internal combustion cars.
Who, then, is the C40 Recharge's target audience? Someone with a style focus, certainly, and someone who wants legitimately punchy performance. Someone willing to pay for all the bells & whistles rather than go through the options sheet line by line, and someone who wants the reassurance and familiarity of the Volvo badge on the front.
As is so often the way, the experience behind the wheel feels like more than the sum of the C40 Recharge's parts. It's genuinely entertaining to drive. While it's not for everyone, then, the fact is that it doesn't need to be. The BEV segment is finally starting to flourish, and that means there's finally room for outliers that prioritize style.