Here's When The Revamped PlayStation Plus Launches Around The World
Sony is soon launching PlayStation Plus, a new subscription model with several tiers and up to 700 games up for grabs, and it has just announced an official release date for each of its markets. Customers in Asia will see the release of Sony's new service first, with the Americas and Europe following within a month. Sony has also added several new countries to the list of markets that will be able to access the most expensive Premium tier right from the start.
The staggered rollout starts with Asian markets (Japan excluded) on May 23, 2022, and then Japan on June 1, 2022. This will be followed by a June 13, 2022 release date for the Americas and lastly, June 22, 2022, for Europe. With the launch of PlayStation Plus, all existing PlayStation Now subscribers will be migrated to PlayStation Plus Premium at no extra cost. That's a pretty sweet deal, considering that PlayStation Now used to cost $10 a month, and the Plus Premium tier costs $18. However, if you were hoping to be crafty, we have to disappoint you — PlayStation Now is no longer available for purchase.
Aside from announcing the launch date, Sony disclosed which new countries will be allowed to buy the Premium tier. It was previously going to be unavailable in those locations. These countries include:
Bulgaria

Croatia

Czech Republic

Greece

Hungary

Malta

Poland

Republic of Cyprus

Romania

Slovakia

Slovenia
PlayStation Plus introduces two new subscription tiers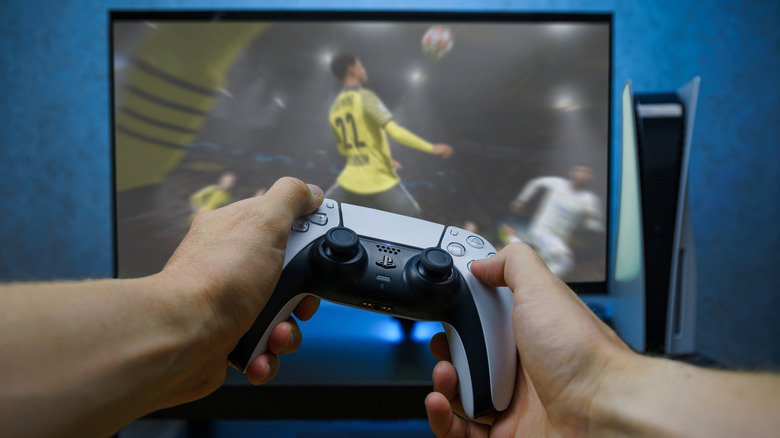 Rokas Tenys/Shutterstock
Sony's plans for the new service, said to rival the Xbox Game Pass, extend beyond the May/June launch and stretch onto the rest of the year. The company plans to expand its cloud streaming benefits to new markets but didn't disclose where and when that will happen just yet. It will open up three subscription tiers in the majority of locations, with an extra PlayStation Plus Deluxe tier that won't be available everywhere. All subscription levels can be billed either monthly, quarterly, or yearly; unsurprisingly, the yearly option offers the best value.
The basic tier is dubbed "PlayStation Plus Essential" and it will cost $9.99 per month. This grants access to two new games every month that you can download and play as long as your subscription is active. It also offers extra discounts, cloud storage for saved games, and access to multiplayer. The "Plus Extra" tier offers all of the same things, plus a catalog of 400 games for the PlayStation 4 and PlayStation 5 that you can enjoy while subscribed. Plus Extra bumps the monthly cost up to $14.99 or $99.99 yearly.
PlayStation Plus Premium adds up to 340 extra games, for a total of 740+, and this includes some older games going as far back as the original PlayStation, PSP, PS2, and PS3. This also opens up access to cloud streaming and time-limited trials of new games exclusive to members. Unfortunately, it costs a pretty penny: $17.99/month or $119.99/year.