This Health Company Created An App That Detects COVID-19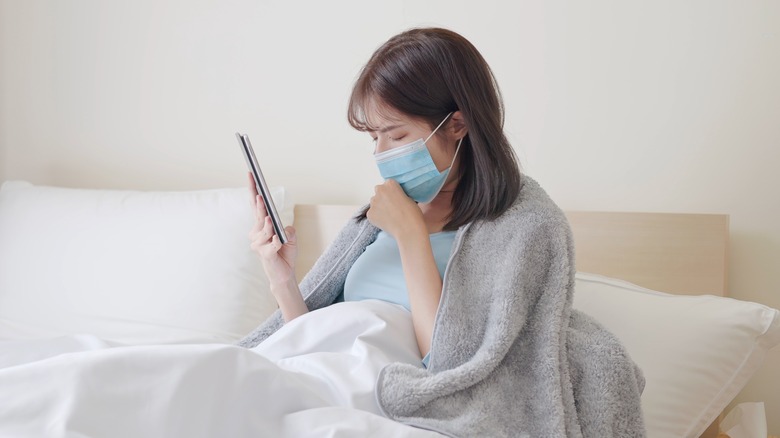 aslysun/Shutterstock
After more than two years of advisories on where not to cough, a new one suggests that coughing into your phone could actually be useful. A new smartphone app by ResApp Health Limited, an Australian health tech company, may soon ease the process of detecting COVID-19 by asking people to cough into their phones. Like a similar solution from the past, ResApp uses machine learning to analyze coughing patterns and determine whether a person has coronavirus or not.
In a pair of clinical trials conducted with a total of 741 patients from the U.S. (NCT04864535) and India (CTRI/2021/09/036581), ResApp was able to diagnose COVID-19 with a 92% accuracy. The company proposes it as an instantaneous and non-invasive method to screen COVID-19 before other forms of testing that require jabs taken from a person's mouth or nasal cavity. It can be an excellent option for places requiring frequent testing, such as shopping malls, hospitals, offices, sporting events, and other public places that attract many visitors.
Quicker and less invasive than conventional COVID-19 tests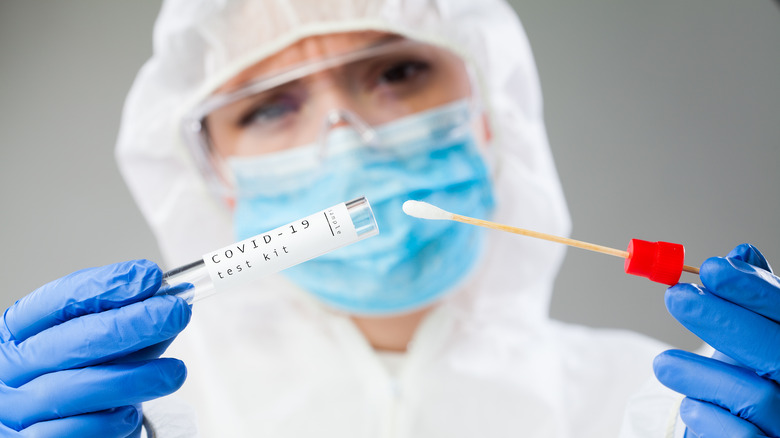 Cryptographer/Shutterstock
The company claims the test takes less than 30 seconds to perform and shows results without any environmental hazard from the biowaste generated by other forms of tests. ResApp also has the potential to bypass a significant amount of logistical costs and hassles generally associated with traditional tests.
Medical researchers are still grappling to find quick — but more importantly, trusty — ways to detect COVID-19. The two most common methods used to detect the presence of COVID-19 in patients today are the rapid antigen test (RAT) and a process known as real-time reverse transcription-polymerase chain reaction (RT-PCR). 
The RAT test detects antigens in a person's nasal cavity – COVID-19 self-test kits use the RAT method. Using RT-PCR is not quite as swift as the simpler RAT method, but with a more extensive test comes greater accuracy. RT-PCR tests a sample for specific genetic markers of COVID-19, giving health officials and patients a clear-as-possible reading of whether treatment will be necessary. According to ResApp Health Limited, testing using their app showed sensitivity that "exceeds the real-world measured sensitivity of rapid antigen tests."
"The combination of high sensitivity and 80% specificity results in 8 out of 10 people without COVID-19 being correctly screened as negative and not requiring a follow-on rapid antigen or PCR test," said a ResApp Health Limited representative in a statement.
Pfizer injects $75 million into the venture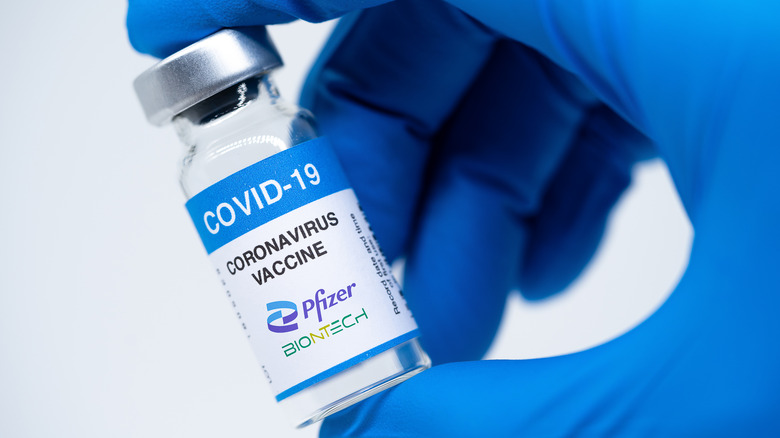 Marco Lazzarini/Shutterstock
Although the app can tell if a person has been infected with COVID-19, it cannot detect which variant of the virus the person has contracted. The company does mention the app showed consistency in detecting COVID-19 during surges of both Omicron and Delta variants. Results from the study have yet to be published in any medical journal or undergo a peer review. Once that happens, we will have a more credible analysis of the app's dependability.
Meanwhile, pharmaceutical giant Pfizer has approached ResApp Health Limited for an acquisition proposal at roughly $75 million. According to 9News, Pfizer Australia is set to acquire 100% of ResApp stock at about $0.084 per share. ResApp also has several other apps under its umbrella to detect respiratory diseases simply by monitoring a person's breathing characteristics. With Pfizer pumping funds into the development of the app, we could see refinements and adoption across the planet in short order.