Why Jeep Is Done Making The Grand Cherokee Trackhawk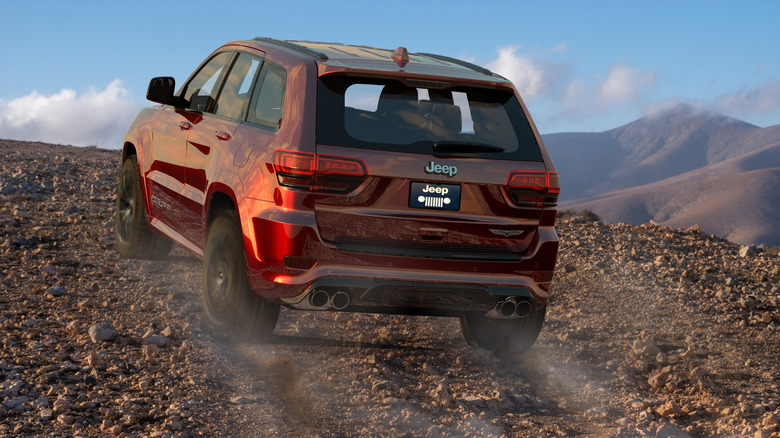 Mike Mareen/Shutterstock
The outgoing WK2 Jeep Grand Cherokee Trackhawk is a monster of an SUV, for lack of better words. It debuted in 2018, packing a 6.2-liter supercharged Hellcat V8 under the hood, ready to unleash 707 horsepower and 645 pound-feet of torque with a drop of your right foot. The Jeep Grand Cherokee Trackhawk remains one of the fastest modern SUVs for the money. Its sub-$85,000 base price is a bargain considering how Trackhawk merges supercar-baiting acceleration and family-friendly practicality in a roomy five-door package.
It's easy to mistake the Trackhawk for a souped-up version of a standard Grand Cherokee or Grand Cherokee SRT. If you missed the subtle Trackhawk badge on the tailgate or the Supercharged labels on the doors, then the yellow brake calipers and burbly quad-exhaust are a dead giveaway of what's to come — if you happen to pull beside one at a stoplight.
The Trackhawk rushes from zero to 60 mph in a blistering 3.4 seconds and has a top speed of 190 mph — mightily impressive for a five-seat SUV weighing 2.4 tons (5,291 pounds). It's faster than a Tesla Model Y Performance and Lamborghini Urus in a straight line, and it won't back down from a Porsche Cayenne Turbo GT or Aston Martin DBX707 when the going gets rough.
Trackhawk replaced by WL Grand Cherokee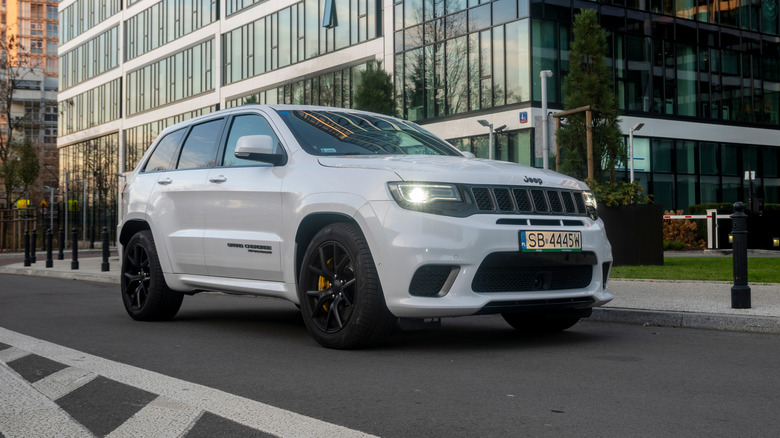 Mike Mareen/Shutterstock
With all of the Trackhawk's record-breaking credentials, we felt mournful to the gut when Stellantis, the parent company of Jeep, decided to discontinue the supercharged V8 Trackhawk for the new fifth-gen WL Grand Cherokee, as per Mopar Insiders. It seems a supercharged Trackhawk is amiss with Stellantis' plan to electrify every vehicle in its portfolio by 2024. In addition, we can all blame stricter emissions regulations for the supercharged Trackhawk's unexpected demise. 
The Trackhawk could make a roaring comeback in the fifth-gen Grand Cherokee for the 2023 model year, but it won't be the Trackhawk of yore. Instead of having a raucous supercharged V8 for propulsion, it could have a new turbocharged six-cylinder engine from Stellantis' GME-T6 engine family, a powerplant capable of plug-in hybrid (PHEV) capabilities. This same engine will see action in the incoming Jeep Grand Wagoneer and Grand Wagoneer PHEV.
Jeep debuted the new Grand Cherokee 4xe PHEV in 2021, packing a similar plug-in hybrid powertrain as the Wrangler 4xe. It has a turbocharged 2.0-liter four-cylinder engine paired with an electric motor and a 17 kWh lithium-ion battery pack, pumping out 375 horsepower, 470 pound-feet of torque, and 25 miles of all-electric range.
All that grunt goes to an eight-speed automatic gearbox that sends power to all four wheels via Jeep's Quadra Trac II 4x4 drivetrain. It also has a two-speed transfer case and a 2.72:1 low-range gear ratio, allowing 6,000 pounds of towing. The 4xe powertrain is available on the Limited, Overland, Summit, and Summit Reserve trims of the new Grand Cherokee.
Trackhawk out, Trailhawk trim in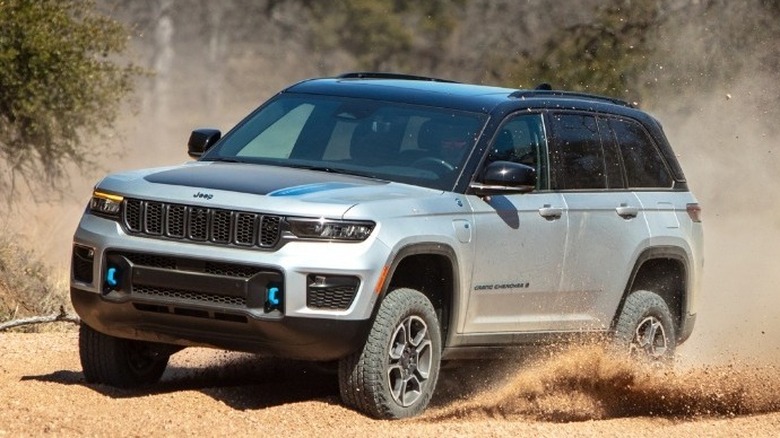 Jeep
New for the WL Grand Cherokee is a new Trailhawk trim variant. It's not a Trackhawk, but Jeep claims the Trailhawk 4xe is the most off-road capable Grand Cherokee with Quadra-Lift air suspension, 18-inch all-terrain tires, and a Quadra-Drive II active transfer case with a rear eLSD. The Grand Cherokee 4xe is all fine and dandy until you learn how much it costs, which is a lot. The base prices start at about $60,000, while the range-topping Summit Reserve 4xe is $76,000, about $10,000 dearer than a non-PHEV Grand Cherokee. Meanwhile, the Trailhawk will ring $62,500.
If and when the Trackhawk variant arrives next year, it could have a higher base price than the supercharged V8 Trackhawk owing to its electrified powertrain. We'll have to take the Wagoneer or Grand Wagoneer PHEV for a spin to decide if the power output and shove are worthy of the Trackhawk badge.