Apple's iPadOS 16 May Change The Way You Multitask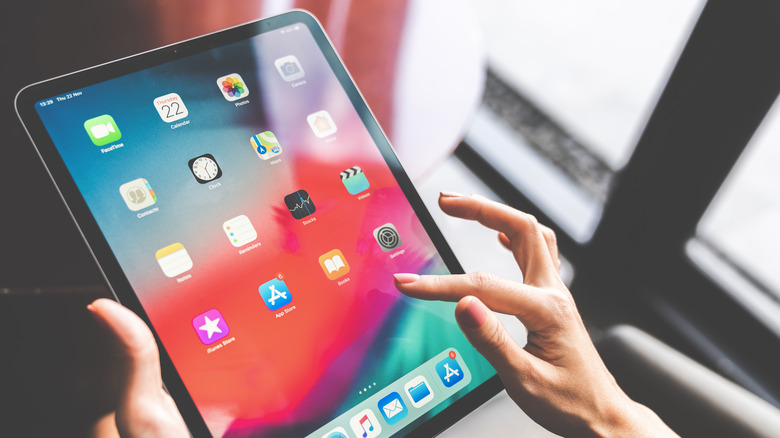 Urbanscape/Shutterstock
Apple's iPad Pro remains unrivaled, eclipsing even the best Android tablets on the market to offer a combined software and hardware experience nearly on par with that of laptops. The Pro line packs Apple's M1 chip, the same one found in some of its Mac products, and rumor has it that a refreshed iPad Pro line will be revealed this fall that features the anticipated M2 hardware upgrade. That's an exciting prospect, but one that may further highlight the seemingly growing disparity between what the iPad Pro's hardware is capable of and the restrictions its software places on it.
On one hand, the iPad Pro is a very capable tablet that, in many ways, can handle the same sort of tasks one may throw at a laptop, including everything from video editing to fairly high-level design work. On the flip side, however, professionals often find themselves frustrated with some of the glaring iPadOS limitations, including everything from lackluster file management (as improved as it may be compared to previous iterations) to Apple's continued failure to offer true external display support. We may finally see at least some of these issues addressed with the upcoming unveiling of iPadOS 16 at Apple's WWDC 2022 conference in June. Though we'll have to wait for those official details to drop, it hasn't stopped some from dreaming about what is possible.
iPadOS reimagined for professionals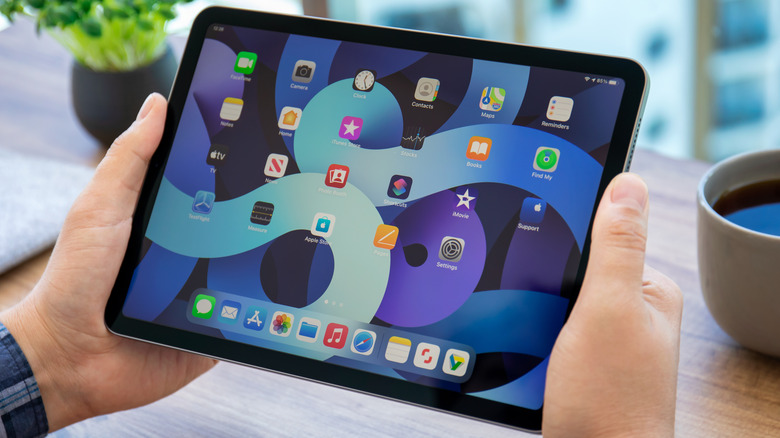 DenPhotos/Shutterstock
Designer Parker Ortolani recently shared his own conceptual vision for iPadOS 16 on Twitter, presenting his ideas and imagined features in a presentation mock-up. Anyone who uses the iPad Pro on a regular basis will probably like what they see, and the entire concept fuels excitement for iPadOS 16, not to mention a bit of anxiety over whether Apple will actually bring the sort of enhancements and features power users want.
Ended up making a full beautiful faux webpage for my iPadOS 16 concepts last night. File is too big to post alone so I had to cut it up… check out my ideas for multitasking, the Home Screen, dock, and more… pic.twitter.com/l68denoWcK

— Parker Ortolani (@ParkerOrtolani) April 11, 2022
The concept presents ideas like expanded split-screen views that would accommodate up to three apps side-by-side, as well as support for shedding the split-screen design entirely so that apps can be arranged in different configurations. You may not need the Maps app taking up a full third of the screen, for example, so shrinking it down to a quarter of the display and freeing up that space for Safari could improve the experience. The concept also imagines a Mission Control for iPadOS that stacks open windows, apps, and other items for better organization, as well as improved popover app windows and Spotlight access within Mission Control. 
The entire presentation bridges the gap between macOS and iPadOS, teasing owners with an experience that would better facilitate the needs of professionals willing to spend the extra money for the "Pro" version of Apple's enduringly popular iPad. Will Apple deliver something as exciting with its own official iPadOS 16? It's hard to say, as rumors about the next major update remain slim. Based on what we've heard from Bloomberg's Mark Gurman (via MacRumors), however, it seems the company may be gearing up to release a new multitasking UI for its iPad line. What that means remains a mystery for now.