The Best New Features Included In The No Man's Sky Outlaws Update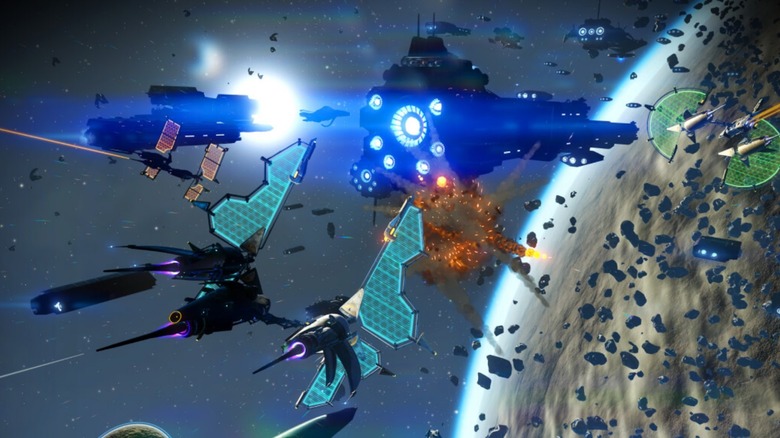 Hello Games
Even though it seems like it was only yesterday that we were talking about the last "No Man's Sky" update, today developer Hello Games announced another one. While most "No Man's Sky" updates adds major new components to the game, this new one — dubbed "Outlaws" — is one of the more intriguing updates we've seen recently. As the name suggests, the Outlaws update (which brings the game to version 3.85) allows you to "become an interstellar rebel" by introducing new outlaw star systems. As the patch notes for this update state, outlaw systems will be home to special technology merchants and black markets where players can presumably obtain items and techs that aren't available in other systems.
Outlaw systems apparently lack a Sentinel presence as well, with Hello Games saying that makes them "ripe for piracy." While the concept of space piracy in "No Man's Sky" is rather vaguely defined in today's patch notes, they do tell us that players will be able to attack ships on planetary trade routes, smuggle contraband, and participate in "highly profitable" pirate missions. For those who may not want to live the life of a space pirate, you'll be able to fend off planetary pirate invasions that target NPC settlements.
Combat gets a boost in No Man's Sky Outlaws
With so much focus on piracy and becoming an outlaw, it probably won't come as a shock to hear that combat has undergone some changes in this new update. Not only can you fight in-atmosphere now (which sounds like a pretty cool addition in itself), but several combat effects including explosions, projectiles, and lighting have also been improved. You can now also form and manage a squadron of rogue pilots who will come to your aid when you begin battle.
Hello Games has increased the number of starships a player can have at once, bringing the total from six to nine. In addition to all of this, there's even a new class of starship to find in Solar Ships, which have unique designs and special technologies. Like most things in "No Man's Sky," the designs of Solar Ships are procedurally generated, so expect to see some pretty distinct-looking ships.
The Outlaws update also brings a new Expedition to tackle, the addition of cloth physics (which means that players can now wear capes, apparently), and some changes to starship weapons. As with most "No Man's Sky" updates, what we've covered here just scratches the surface of what's new, so be sure to check out the patch notes we've linked above for all the details. The Outlaws update is live in "No Man's Sky" today across PC, PS5, PS4, Xbox One, and Xbox Series X|S.