Beats Studio Buds' Three New Colors Celebrate A Wild Milestone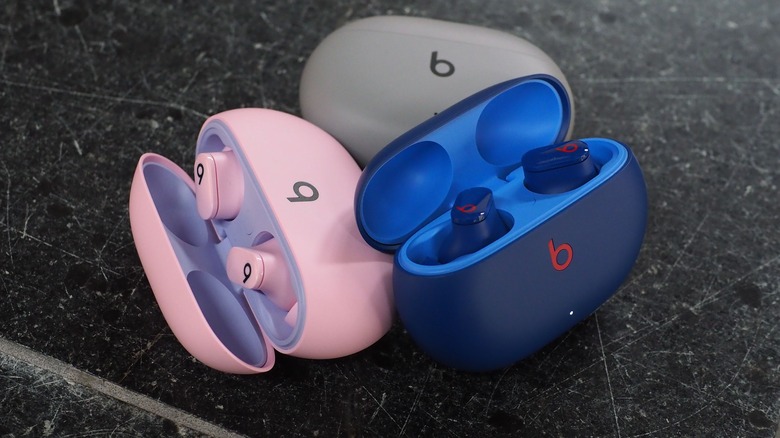 Chris Davies/SlashGear
It's been a year — give or take — since the Beats Studio Buds came out to compete in the active noise cancellation segment with Apple's AirPods Pro and Google's Pixel Buds A. At the time, Beats released the earbud version of the Beats Studio headphones in black, white and red — or rather, Beats Red. Now the company has announced three brand new colors will launch on April 13, 2022: Sunset Pink, Ocean Blue, and Moon Gray.
Beats will also be airing a new commercial titled "Choose Your Player" to highlight the style and personality the Studio Buds' new colors will give customers. The commercial will star model and actress Kaia Gerber and Olympic freestyle skier Eileen Gu, who appear as avatars that showcase the pink, blue, and gray earbuds in '90s-style retro gaming worlds inspired by "Dance Dance Revolution," "SSX Tricky," and what appears to be "Star Fox," respectively. You can check out the groovy commercial below.
New features to accessorize the new Beats Studio Buds colors
The Sunset Pink, Ocean Blue, and Moon Gray Beats Studio Buds already make the perfect fashion accessories for anyone's wardrobe, just like their headphone counterparts. But now they've got some new functionality that will be updated on the Beats App on Android: Locate My Beats and Product Widgets. Now, Android users will be able to locate their earbuds in the event they lose them or forgot them at home. Users will be able to see how much battery life their earbuds have and control listening modes within the app, among other things. Not only will those features come with the new Studio Buds, they will also be updated to previous models of Beats headphones and buds.
Aside from the Apple Store, the three new Studio Beats colors will be sold at separate exclusive retailers starting on April 13. The Moon Gray buds will be sold on Amazon, while the Ocean Blue and Sunset Pink models will be available at Best Buy and Target, respectively — each for  $149.99.