New Evidence Of AirTag Stalking Surfaces - Here's How You Can Check
Chikena/Shutterstock
Apple's AirTags have courted controversy ever since they made their debut last year, with numerous well-documented cases popping up where the coin-sized trackers were misused for stalking and harassment. Now, VICE has shed more light on the sheer scale of AirTags abuse after going through 150 police reports in which Apple's object tracker was deployed by bad actors to shadow their victims and torment them. The reports, which were filed over a span of eight months, almost exclusively had female victims being traumatized using AirTags planted in cars or daily-use accessories by former partners and acquaintances.
The investigation is just another in a long line of complaints that have unraveled the destructive potential of AirTags. Numerous experts and privacy activists have warned that AirTags could enable abuse in terrifying ways. Aside from stalking, AirTags have reportedly been misused by bad actors for car thefts as well. Even though Apple is not the only brand that offers object trackers, a global location network and hundreds of millions of handheld proxy devices in the form of iPhones make AirTags the most fleshed-out offering out there. For an average user, the vast network is great news for finding lost objects, but malicious parties can exploit it to a larger extent, too.
How to avoid AirTag stalking?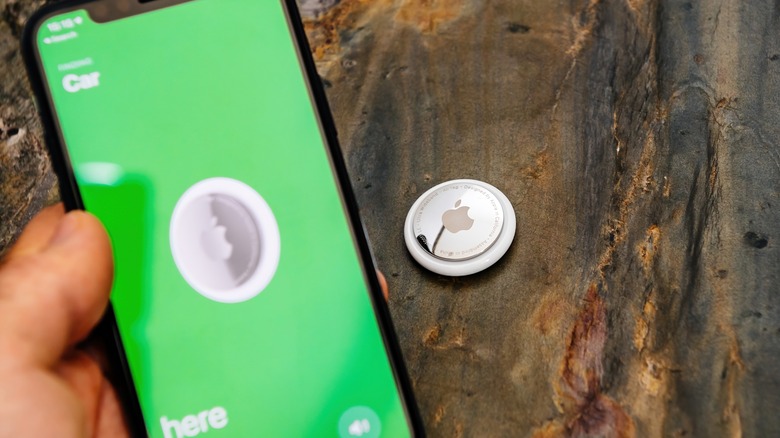 Hadrian/Shutterstock
However, the intense scrutiny faced by AirTags has also led to a positive change, pushing Apple to make changes that reduce the abusive potential of AirTags. If you are concerned about an AirTag secretly tailing you, make sure that your phone is running iOS 14.5 or a later build to ensure that it automatically detects unidentified trackers and sends a notification to you via the phone. Tapping on the notification will let users play a sound and also get directional cues to help locate it. 
Once an AirTag is detected, users can choose to disable the pings by taking out the battery. Scanning the serial number on an AirTag can help users get in touch with the original owner. And in case there are harrassment concerns, users are advised to get in touch with law enforcement authorities to take the necessary action by tracing it back to the AirTag's owner.
Apple has already confirmed that it will co-operate with law enforcement authorities and provide them with the required details to nab a bad actor. In case you don't own an iPhone, Apple has also released an Android app called Tracker Detect that lets users scan for any nearby trackers capable of latching on to Apple's Find My network. But unlike iPhones, the scan needs to be performed manually on an Android phone to locate hidden AirTags. Thankfully, Google appears to be working on a native Bluetooth tracker detection system on Android phones.