Realme's New Android Tablet Is No iPad Mini Rival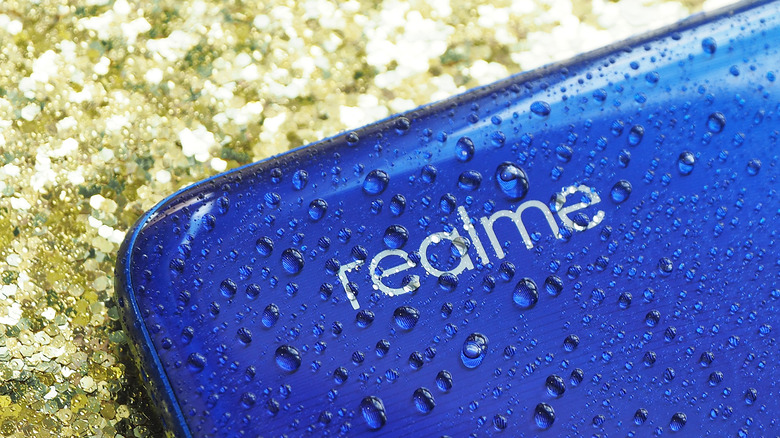 Olga Stabredova/Shutterstock
Of late, there's been a lot of activity in the Android tablets space thanks to a flurry of launches from the likes of Motorola, Xiaomi, OPPO, and Nokia. Google's decision to release Android 12L — a tablet-centric version of Android had a lot to do with manufacturers and consumers taking a sudden interest in this segment traditionally dominated by companies like Samsung, Lenovo, and Amazon.
Another brand that has been taking a keen interest in the Android tablets space is OPPO's sub-brand Realme. The company even launched a tablet called the Realme Pad in 2021, and it seems they have silently launched a smaller successor to that model called the Realme Pad Mini. Currently, the Realme Pad appears to be exclusively sold in the Philippines — which is itself an interesting development given that the company is yet to officially communicate this launch via official channels. A quick glance at Realme's Filipino website revealed no traces of the Realme Pad Mini.
In fact, as of today, the only place where you can check out the Realme Pad Mini in detail — and possibly even order one — is through the popular Philippine e-commerce platform Lazada, where the product is available for purchase for 11,990 Filipino pesos ($233).
Realme Pad Mini: Everything we know so far
Compared to the first-generation Realme Pad, which was a full-sized 10.4-inch tablet, the Realme Pad Mini is visibly smaller. Realme has reduced the display size on the Realme Pad Mini to 8.7-inches, and the panel now sports a resolution of 1340 x 800 pixels. Like its more expensive, larger sibling, the Realme Pad Mini gets an LCD panel that boasts a dedicated sunlight mode to enhance display brightness to aid in better screen visibility under direct sunlight. For an inexpensive, entry-level tablet, the Realme Pad Mini does look quite good. From the photos, the device seems to feature a unibody construction. It also looks rather premium, in the blue color option.
The Realme Pad Mini gets a virtually unknown Unisoc T616 chipset, an entry-level octa-core SoC based on a 12 nm manufacturing process. Needless to say, blazing performance is the last thing you should be expecting from this machine. Those with a penchant for gaming should especially stay away from this machine, and you can easily get much better-equipped phones in its price range. In addition, the Unisoc chip obviously does not support 5G connectivity, and you will need to make do with LTE.
Photos on the Realme Pad Mini
For photos, Realme has equipped the Realme Pad Mini with an 8MP rear camera and a 5MP front-facing camera. The rear camera is housed within a rectangular camera bump. We also know that the device features a 6,400mAh battery that can be charged with a supplied 18W charger. The Realme Pad Mini, surprisingly, features stereo speakers while also offering support for Bluetooth 5.0 and dual-band Wi-Fi. In addition, there are multiple storage/RAM variants of the device, with the device available with 3GB/4GB RAM and 32GB/64GB storage options. And yes, Realme also throws in support for a microSD card.
The strangest quirk about the Realme Pad Mini, however, is the fact that it does not run Android 12L — but instead comes loaded with a modified version of Realme UI that is based on Android 11. There is no official word from Realme about the future prospects of the Realme Pad Mini, but given that the original Realme Pad did come to India, there is a good chance that it could see the light of the day in that country.