Lotus Eletre Revealed As A Hyper-SUV That'll Only Be Electric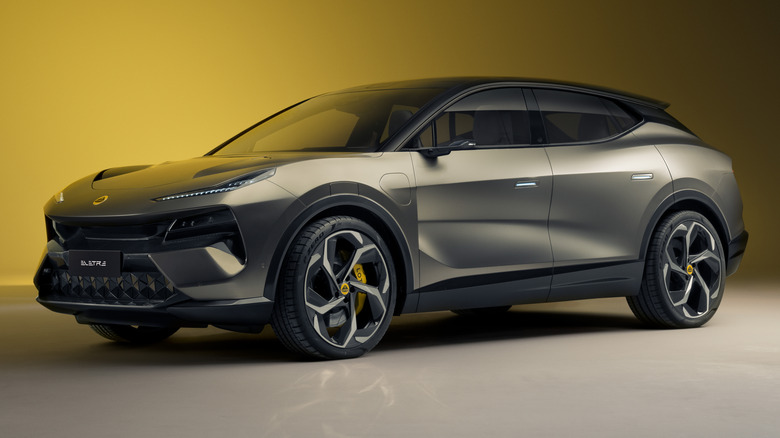 Lotus
Lotus, known for its sports cars, promised a reinvention, and its all-electric Evija hypercar is only one part of that. The automaker has pulled the sheets off the Lotus Eletre today, its first SUV and another opportunity to show how it plans to make electrification work with its history of performance and lightweighting. In fact, Lotus insists, the Eletre isn't just an SUV but a Hyper-SUV.
Certainly, the power figures would match up to that billing. All-wheel drive as standard, it'll have at least 600 horsepower to play with courtesy of an entirely new 800V EV architecture. The battery pack and two electric motors — one for the front wheels, the other for the rear — fit into a flat, skateboard-style assembly, which helps keep the center of gravity low. Lotus is calling it the Electric Premium Architecture (EPA), and it'll be the basis of multiple new EVs it has in mind.
One platform, multiple EVs planned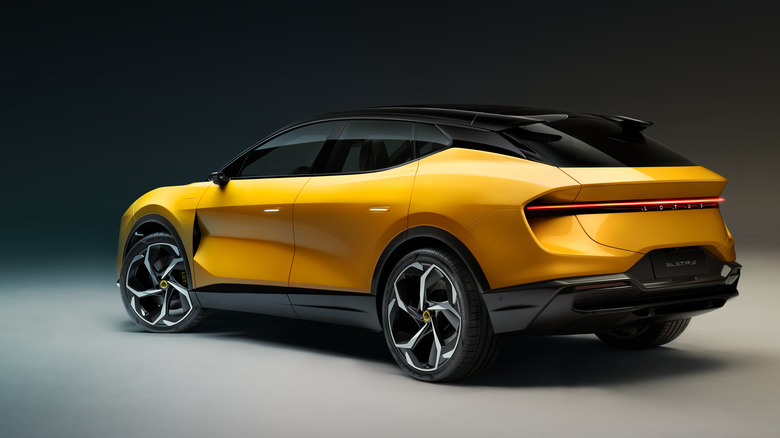 Lotus
Each of the Lotus Eletre's motors, meanwhile, is combined in a single unit with a controller and reducer, which Lotus says also helps reduce weight and bulk. Five-link suspension is at the rear, while air suspension and Continuous Damping Control are standard. Lotus will offer active ride height, active rear axle steering, an active anti-roll bar, and torque vectoring by braking as options. Five drive options — Range, Tour, Sport, Off-Road, and Individual — will switch the SUV between different modes.
Lotus isn't quite ready to share final performance specifications, but Eletre certainly won't be slow. Top speed is expected to reach 161 mph, while the SUV will do 0-62 mph in under 3.0 seconds. The 100+ kWh battery pack, meanwhile, should be good for 373 miles on the WLTP test cycle, the automaker predicts; expect less under the more rigorous EPA test cycles. It'll support 350 kW DC fast charging, capable of adding 248 miles of WLTP range in 20 minutes.
The Lotus Eletre is part SUV, part supercar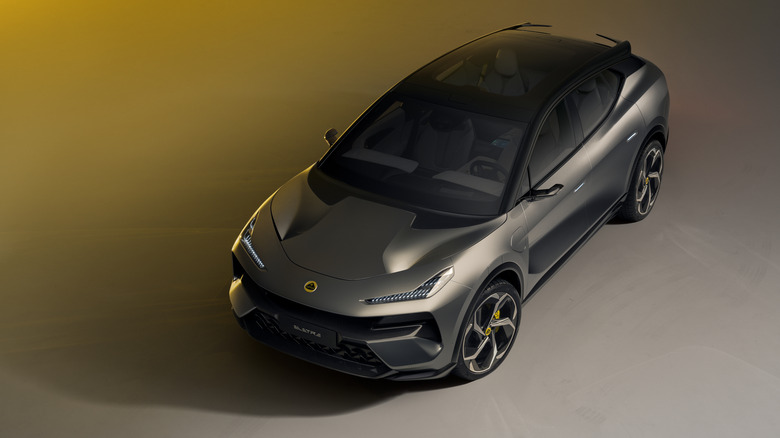 Lotus
Outside, the Evija has donated some inspiration for the Eletre's aesthetic. That includes a short hood and long wheelbase — 119 inches of the total 201 inch length, in fact — with bold slashes and grooves for guiding airflow. Lotus refers to that as "porosity," claiming it'll help both with performance and range.
Matrix headlamps will be optional, with scrolling directional indicators standard. The triangular petals that make up the front grille are all active, helping switch between aero and cooling modes depending on driving style and drivetrain conditions. A deployable LIDAR sensor at the top of the windshield can emerge for semi-autonomous driving systems.
Door handles are flush, while the charging door is motorized. There are more powered LIDAR sensors on the sides, too, giving the Eletre an all-round view. An "air blade" at the back helps cut drag, while door mirrors have been replaced with camera pods. They work with a higher camera for a 360-degree view.
A lavish cabin that leans on eco-sustainability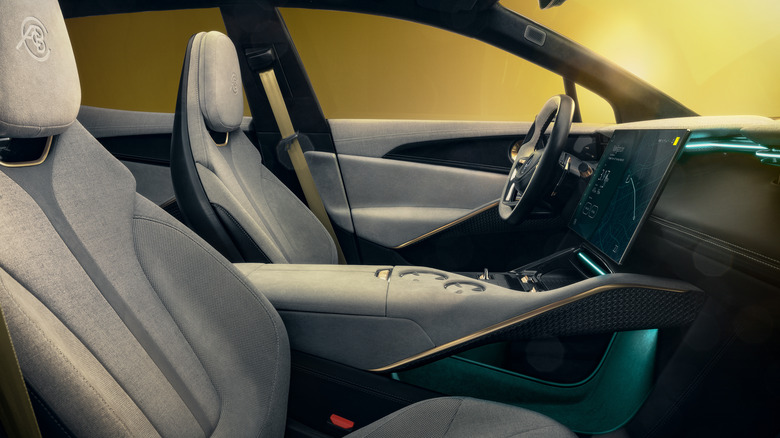 Lotus
The rear roof spoiler is carbon fiber and cantilevered out, while the missing center section helps trim weight. It also allows for a fourth LIDAR sensor to be mounted. The tailgate spoiler below it automatically emerges at high-speed, and can adjust angle according to drive mode. Sleek, 23-inch machine-cut split-finish five-spoke alloy wheels are available, working with ceramic composite 10-piston caliper brakes.
Inside, there's the choice of four seats — with two separate chairs in the second row — or five, with a rear bench instead. A fixed panoramic sunroof is available, while Lotus has turned to eco-sensitive materials like Kvadrat microfiber for many of the surfaces. That includes wool-blend fabric for the seats, 50% lighter than traditional leather, while recycled carbon fiber trimmings are used for the dashboard trim.
Since this is still an SUV, there's more storage space than you'd expect from the average Lotus. That includes a wireless charging tray for phones, twin cupholders, liter-bottle-friendly bins in the doors, and a sizable armrest.
5G will eventually give the Lotus Eletre autonomous driving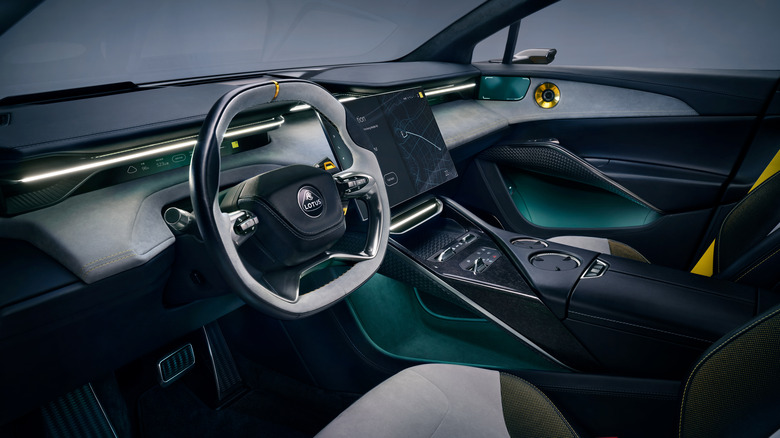 Lotus
Lotus gave the Eletre's dashboard a brand new UI for the infotainment, on a 15.1-inch landscape OLED touchscreen that can fold out of the way when not needed. The driver's display has been slimmed to a small display under 1.2-inches in height, with a second version on the passenger's side for supplementary information. An AR head-up display is standard, as is a floating light strip which can change color to communicate different information like battery status. Embedded 5G is standard, with OTA update support.
There's also voice control, and a selection of physical controls for when you really want to reach out and touch something. A 9-inch touchscreen allows the rear seat passengers to adjust their own settings. A KEF Premium audio system is standard, offering surround sound from a 1,380-watt, 15-speaker install. A KEF Reference system — with 2,160-watts, 23-speakers, and Uni-Q and 3D surround sound technology — is optional.
As for its smarter driving systems, Lotus is building in the LIDAR sensors with the idea of updating the Eletre to support autonomous driving later on. Exactly what the SUV will be able to do at launch remains to be confirmed, though figure on features like auto-park and smarter adaptive cruise control rather than actual self-driving. We'll presumably find out more — including pricing –when the Eletre begins production later this year. The order books are opening now, with the first deliveries beginning in the UK, China, and Europe in 2023.