GTA Online Is Getting A Monthly Subscription On Xbox Series X And PS5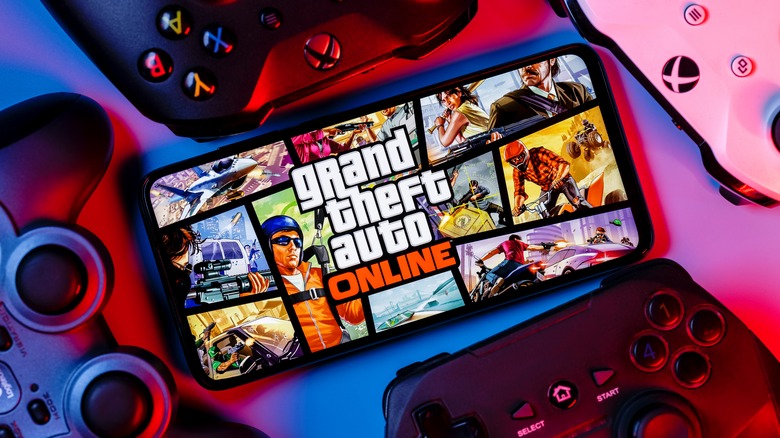 Sergei Elagin/Shutterstock
"GTA Online," the chronically-updated multiplayer component to "Grand Theft Auto V," will be accompanied by a premium subscription plan for its PlayStation 5 and Xbox Series S/X versions. Beginning on March 29, the new service, called "GTA+," will grant special benefits to subscribers who shell out $5.99 a month.
Of course, this announcement hasn't been met with unanimous praise. Many are pushing back, especially those who are anticipating the announcement of a brand-new "Grand Theft Auto" game rather than a perpetual rehashing of the same old game for new consoles. Twitter user and freelance writer @ribnax tweeted his dismay; "I feel bad for GTA fans. They are NEVER getting a new game."
For reference, both "Grand Theft Auto V" and "GTA Online" have been widely played since 2013, when they were released on PlayStation 3 and Xbox 360 consoles nearly a decade ago.
PS5 and Xbox Series X owners who are hoping the new "GTA+" service means they can subscribe their way into a free copy of "GTA Online" may be disappointed to discover that they still need to own a copy of "Grand Theft Auto V" or "GTA Online," sold separately. However, there's a way for PS5 owners to claim "GTA Online" for free until June 14.
Here's what's offered with GTA+
It sounds like the marquee feature of "GTA+" is that by subscribing, you will immediately receive $500,000 (in GTA dollars) delivered to your online character's in-game bank account. Other benefits for subscribers include 3X bonuses to experience points and cash when playing Hao's Special Works Race Series, complimentary exclusive car upgrades, waived Los Santos Car Meet Membership fees, a free Aquarius Super Yacht for existing yacht owners, exclusive wardrobe items, and more. The rest is detailed on Rockstar's official blog.
If you spend a lot of time playing "GTA Online," it could be worthwhile to invest in its premium service if you like the specific benefits it offers. Despite how grindy "GTA Online" is, "GTA+" doesn't seem nearly as cutthroat as the egregious "Shark Card" microtransactions that already charged "GTA Online" players as much as $2.99 for just $100,000 in-game credits, up to a whopping $99.99 for $8,000,000 in in-game credits, as Reddit users have pointed out.
But it's also unclear if developer Rockstar Games will make concessions in the future that would funnel players into subscribing to keep access to certain features they already enjoy, though it's hard to imagine they'd opt to make "GTA Online" even less accessible than it already is. Especially since another recent PS5 release, "Gran Turismo 7," is actively coming under fire for its implementation of microtransactions. That's usually the general concern when services like these are made available, but right now, things seem pretty tame.