Motorcycle From Steve McQueen Flick "The Great Escape" Surfaces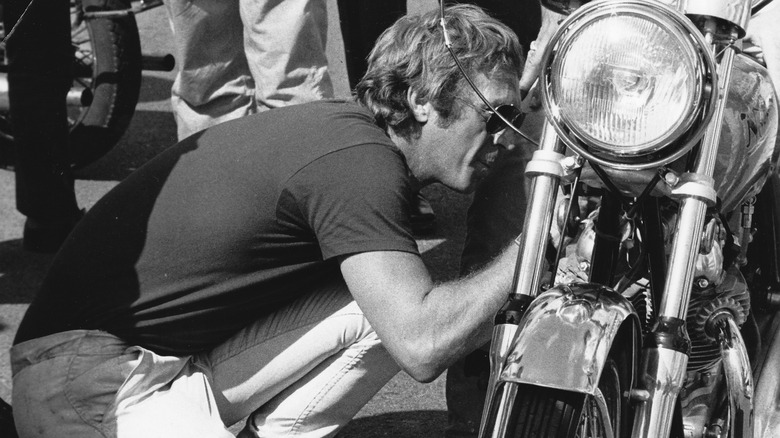 Anwar Hussein/Getty Images
Actor Steve McQueen was a Hollywood icon in the '60s and made some of the most memorable and profitable films of the era. McQueen is probably best known by car fans for his part alongside that iconic Mustang in Bullitt. McQueen was also well known for another flick that had nothing to do with cars called "The Great Escape."
That flick was set during WWII and had McQueen as a prisoner of war looking to escape from his prison. The most iconic scene of that movie shows McQueen riding a motorcycle across the countryside and jumping over a barbed wire fence to get away.
The bikes used in those scenes were modified Triumphs and one of them used in the film has resurfaced after many years. The bike will be on display at the Blenheim Palace's Salon Privé Concours d'Elegance near Oxford, England. McQueen was known as a hands-on actor often doing his own stunts in his films.
Word is that McQueen wanted to do the fence jump himself, but the task instead fell to Bud Ekins, a stuntman on the film. The bike itself is a 1962 650cc Triumph TR6R and it has never been shown publicly until now. The iconic motorcycle will be judged at the Class B event during the show set aside for "Exceptional Motorbikes" built between 1940 and 1979.
The event will run from August 20th to September 1. The most iconic vehicle that McQueen is associated with was that Bullitt Mustang which was itself rediscovered after many years of being lost. Ford announced a new special edition Bullitt Mustang for 2018 based on that iconic Bullitt car.
SOURCE: AutoBlog