USPS Doubles EV Delivery Truck Order, But Gas Still Dominates
A statement released by the United States Postal Service explains that the federal service has placed an order for 50,000 new delivery vehicles — and that 10,019 of those vehicles will be electric. A move that may have been influenced by criticisms over the fleet clinging to more gas-powered trucks and vans.
As we learned back in February of 2021, Wisconsin-based defense contractor Oshkosh is filling the order for the coming wave of Next Generation Delivery Vehicles (NGDVs). However, whils 10,019 isn't a small number, that still leaves 39,981 gas vehicles in the lineup. In other words, only about 20% of the current order includes EVs.
Why only 10,019? According to Postmaster General Louis DeJoy, the number is based on delivery route data, and indicates routes that the new EVs would be an ideal fit for.
"... As we have also stated repeatedly, we must make fiscally prudent decisions in the needed introduction of a new vehicle fleet," DeJoy stated in the announcement, disregarding the fact that the USPS is a federal service and not a business. "We will continue to look for opportunities to increase the electrification of our delivery fleet in a responsible manner, consistent with our operating strategy, the deployment of appropriate infrastructure, and our financial condition, which we expect to continue to improve as we pursue our plan."
NGDVs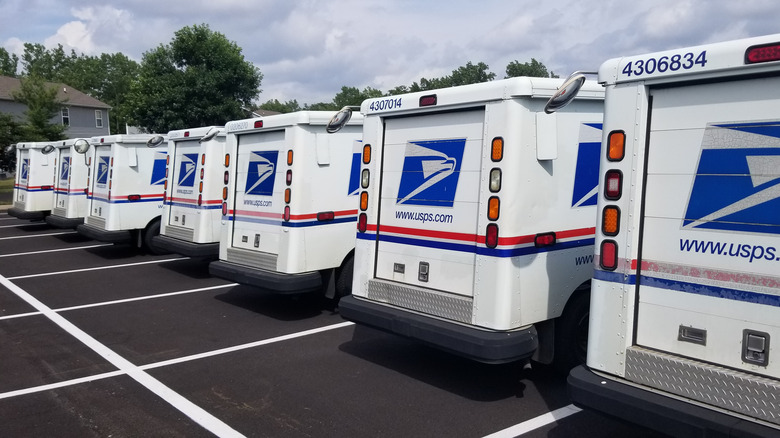 Eric Glenn/Shutterstock
Some of the USPS' NGDVs, which are expected to start seeing regular use on mailing routes in late 2023, are certainly electric (which means a reduced impact on the environment), but all 50,000 of the new trucks include several other much-needed and useful features as well.
Compared to the current crop of Long Life Delivery Vehicles (LLVs), NGDVs are able to carry a larger volume of cargo, which means they can deliver more mail with fewer trips. They also utilize modernized safety technologies (many of which probably should have been implemented years ago) such as improved traction control, automatic braking, 360-degree cameras, front and rear-end collision avoidance with visual audio warnings, and airbags. Drivers themselves should also have an improved ride with air conditioning (how is this a new feature in 2022?) and as-of-yet unspecified "improved ergonomics."
However, 50,000 NGDVs is a far cry from the 165,000 that were originally agreed upon (and the 10,019 EVs are an even smaller fraction of that). The USPS says that it will be keeping an eye on how its electric-powered NGDVs perform, and will increase that number "should additional funding become available from internal or other sources, and if the use case for BEVs continues to improve."