OPPO F11 Pro Review : Thunder Black, From Good To Great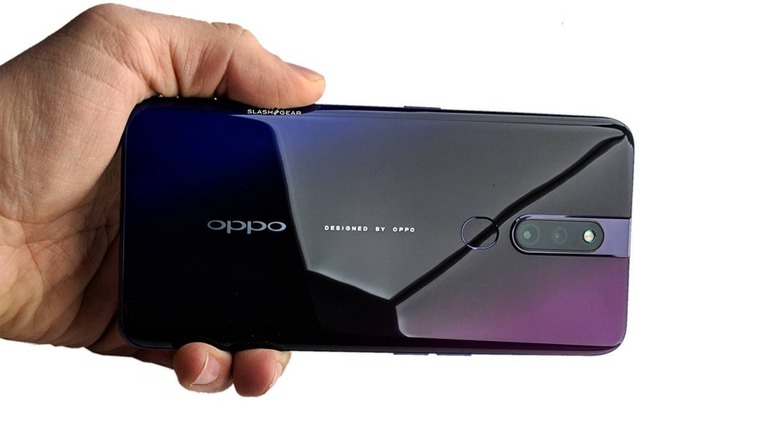 I've been using the OPPO F11 Pro for a few weeks, and I've come to the conclusion that we've reached peak smartphone. For the average smartphone user, we've reached a point at which there's really not a significant amount of difference between features in modern smartphones – even across price segments. The OPPO F11 Pro is a perfect example of this, as it's called a "midrange" phone while it operates with top-tier abilities in all areas of any extreme importance.
Display
This device's display is basically ideal. It's extremely bright, colorful, and it's not interrupted by any silly front-facing cameras. There's no notch, there's no camera hole. It's not as rectangular-edged as the Razer Phone series, but we'll forgive that since this isn't meant to be a gaming phone. Instead we get a slightly rounded-corner display with no interruptions, and no distractions.
This is the sort of display that I like best. There is no stylization for which I must atone. There is no sensor array. I do not use a front-facing camera more than once in a great while anyway – so I'm very glad to find this phone's front-facing camera tucked away, physically.
There's nothing here to distract from the 6.53-inch full HD+ LCD display (2,340 x 1,080 pixels), including a 90.9% screen-to-body ratio. That's amongst the most extreme of said ratios in the industry today.
If you twisted my arm, I'd recommend that the bottom bezel could be the same width as the top. But my preference here isn't necessarily an issue – certainly not a big enough issue to turn the phone down.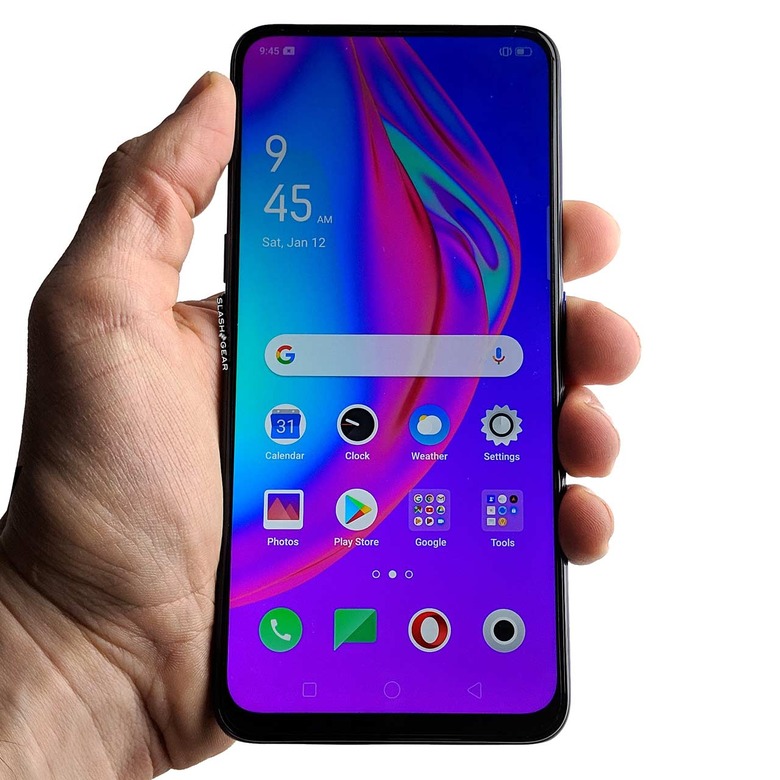 Software
This device runs ColorOS 6 operating system on top of Android 9.0 Pie, which means you'll have all the benefits of Android, with OPPO's take on OS aesthetics. You can also choose to run any of a variety of Android homescreen replacement apps, but you probably won't feel the need. ColorOS 6 is looking good, running swiftly, and keeps all the best elements from the basic Android build – so what's not to like?
Industrial Design
You'll get a thin case in the box, regardless of model, but you might just want to leave it off. The color of the back of this phone is glorious. OPPO's used a technique for color application that shoots well above its weight class. Looking at the back of this phone makes me feel as though I'm holding a premium piece of hardware. This does NOT feel like something that should be classified "mid-range."
But the OPPO F11 Pro is priced like a mid-range phone, and it's got a processor that seems to plant its abilities in the middle range. But by outward appearance, color, feel, and industrial design, the OPPO F11 Pro is an AAA device top to bottom.
NOTE: I'm talking about the "Thunder Black" version of the phone, with a gradient from blue to black to purple. Aurora Green is probably stunning too, I must assume, though I've not seen it in person to judge.
BONUS: This device is intended for India, where they still value the headphone jack – so there's a standard headphone jack on this phone. There's also micro-USB, not USB-C, partially because the charging tech OPPO uses here is based in micro-USB, partially because micro-USB makes more sense for the intended market for this phone.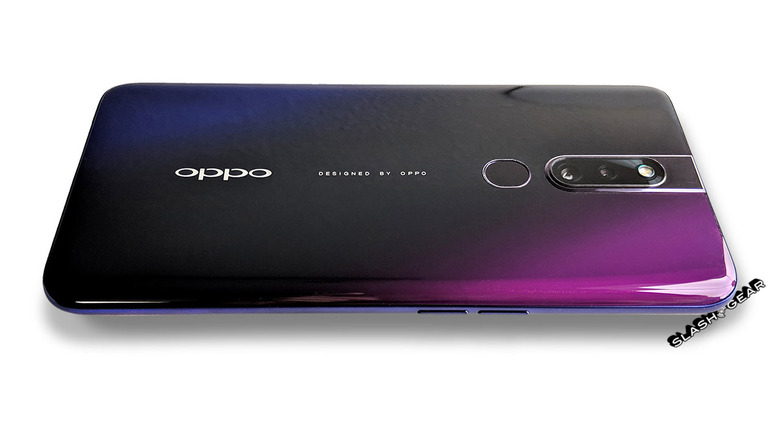 Camera
The cameras on this device takes extremely nice photos. I'm mostly referring to the backside set of cameras – but the frontside camera is pretty OK, too. The rear camera array has the following: Camera 1: 48 MP, f/1.8, 1/2.3", 0.8µm, PDAF. Camera 2: 5 MP, f/2.4, 1/5", 1.12µm, depth sensor, LED flash, HDR, panorama, video 1080p at 30fps.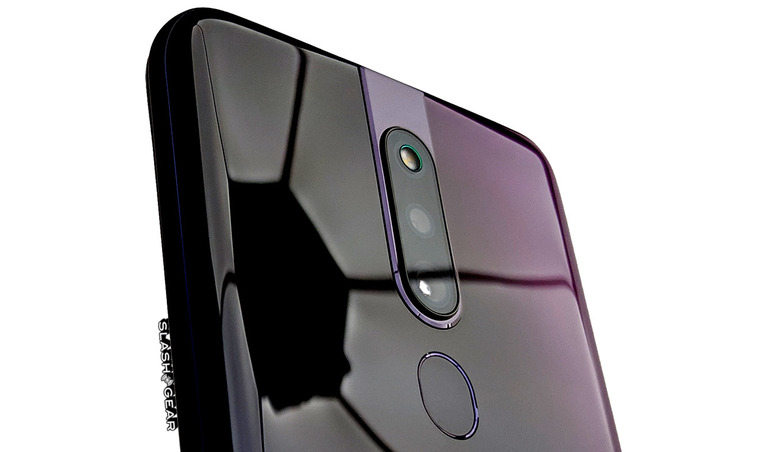 With this camera (and the 5MP shooter for depth-sensing) we're taking extra-sharp 12MP photos by combining the pixel information of four pixels into one. Each four pixels we'd normally capture, smashed down (intelligently), into one – and the end result is pretty gosh-darned good.
You'll notice the less-than-fabulous photo of the dog and the cat above, if you open it up to full size. This was captured zoomed-in and indoors in less-than-perfect lighting. While it's not a super great photo, it does emphasize that even under the worst conditions, you can still capture an image that proves that yes, the dog did get that close to the cat, even though the cat has claws and will use them.
Zoom in this camera setup is only digital, so it's not actually zooming as a larger camera would, and the results show it. If you already own the device, I'd recommend avoiding zooming and avoiding switching over to 48MP in-camera. The result is just an up-scaled 12MP photo and literally cannot look any more impressive than the original 12MP photo you'd have taken anyway.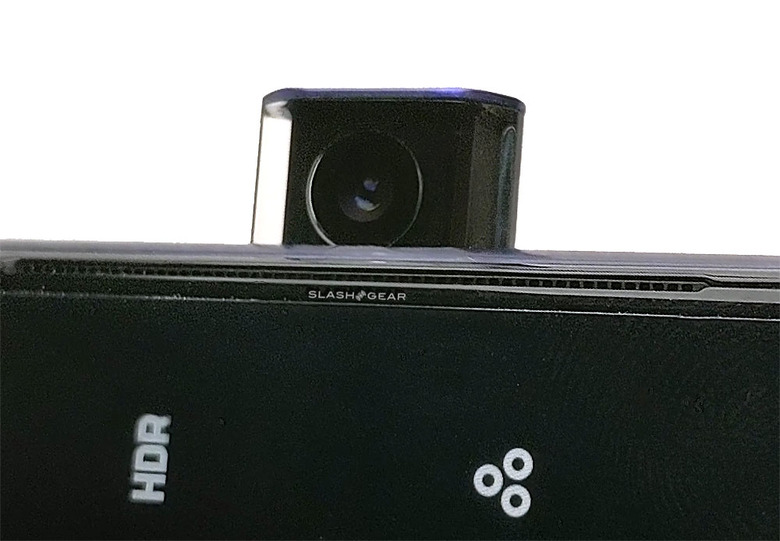 The frontside camera is a 16-megapixel shooter with f/2.0 aperture, the ability to capture HDR photos, and 1080p video at 30fps. So long as you're not in the deep darkness, you'll be taking top-quality selfies and portrait-mode shots as impressive as devices that cost twice as much.
Battery
There's a relatively large battery under the hood of this smartphone at 4,000mAh. It might've seemed odd to most users when it was revealed that this phone, with all its advanced or otherwise modern features, worked with microUSB instead of USB-C. But given the intended market, India, and the fact that OPPO's using their own proprietary fast-charging tech (VOOC 3.0 fast charging) that seems to only work with microUSB, we'll just have to deal with it.
The battery in this device working together with battery optimization tech like RAM dedicated to the display alone (somehow, magically), seems to make for around a full day's charge, pretty easily. Using this device never had me running to a port, regardless of how much I'd used the device during the day.
As it is with many modern smartphones (running Android, at least), standby time on this phone is extraordinary. This phone can stay powered on for several days in a row – provided you don't activate its display.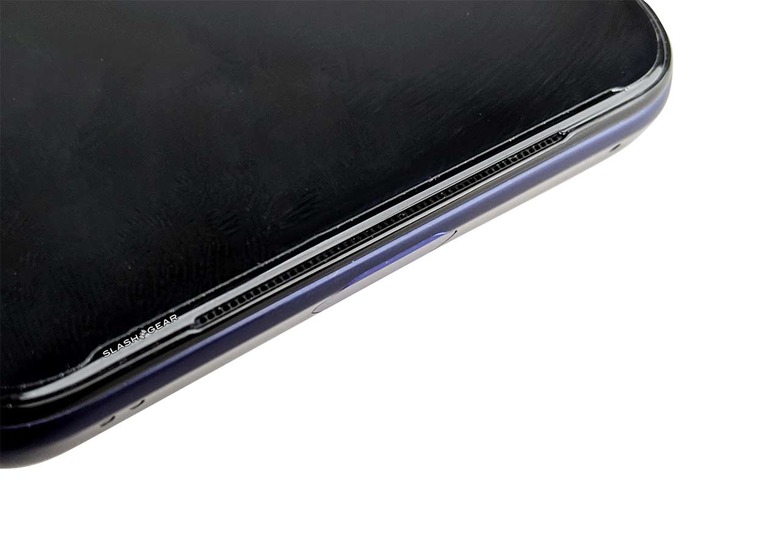 ABOVE: The front-facing earpiece speaker is nearly hidden, its so tiny and smoothly integrated into the rest of the design. There's also a headphone jack, micro-USB, and loudspeaker grille at the bottom of the phone. There's also a mic hole down there, and another at the top. BELOW: One home/power and a microSD/SIM card tray (with pinhole eject).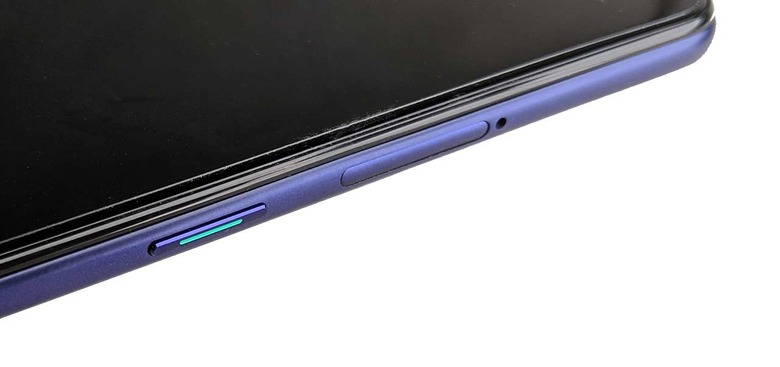 In the box
Along with the phone, the owner's manual, the USB cord and the wall plug, this device includes a couple of extra bits. There's a pre-installed display protector over the standard display glass. That's something that's appreciated, but also something I usually end up removing within a week, because it smudges easily.
The other bonus bit in the box is the standard thin silicone case. I cannot adequately express how much I appreciate this thoughtful gesture from the manufacturer, especially when it comes to a device that's so lovely to behold when it's in mint condition.
Wrap-up
It's almost nonsensical, really giving this phone a true grade here in the United States. Largely because OPPO isn't likely set to bring this phone to the USA, and it's aimed primarily at India – there's not a lot I can say about real-world use for the average North American citizen. I should mention that it does not have CDMA coverage, which means it doesn't roll with Verizon – you'll need AT&T or T-Mobile coverage to use this piece of hardware if you want to connect in a mobile fashion.
Pricing on the phone is highly decent, and becoming more decent as the weeks pass by. At the point at which I write this sentence, the OPPO F11 Pro is already on significant discount throughout India – go check it out if you do so wish. You might find it having started at Rs. 24,990, discounted to Rs. 19,990 if you're lucky.