Cheapest Polestar 2 Arrives In The US With Its Longest EV Range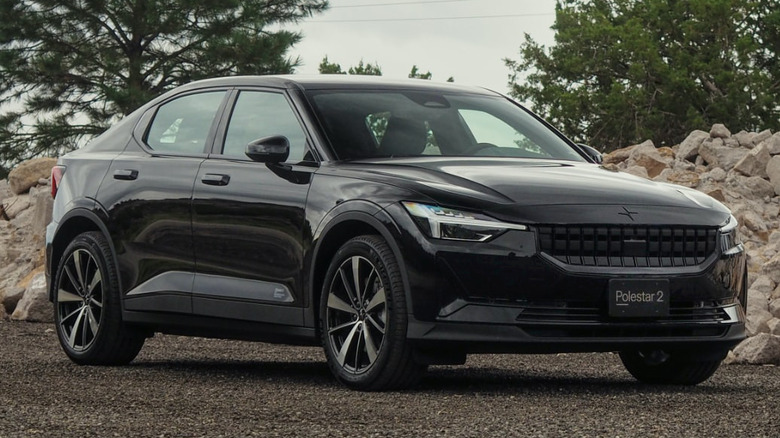 Chris Davies/SlashGear
The most affordable version of the Polestar 2 is finally available in the U.S., with the single-motor configuration helping bring the sticker price to its lowest point so far, while maximizing range. The 2023 Polestar 2 single-motor is rated for up to 270 miles of all-electric driving, according to the EPA, comfortably ahead of the 249 miles that its dual-motor sibling is capable of. That works out to a 113 MPGe rating in the city, a 100 MPGe rating on the highway, and 107 MPGe combined. The Polestar 2 single-motor will require 31 kWh per 100 miles of driving, the EPA testing suggests, down from the 38 kWh per 100 miles that the dual-motor demands.
For those who don't need the extra traction — or performance — of a second electric motor, this new variant has a lot of appeal. Pricing begins at $45,900 before any tax rebates or incentives for EVs; depending on state, Polestar points out, that could bring the entry cost of the Polestar 2 down to $33,400.
2023 Polestar 2 single-motor has decent specs to go with decent range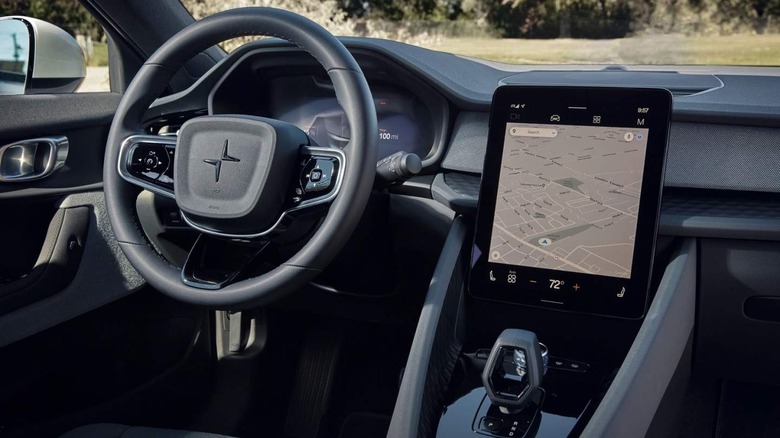 Polestar
That price gets you a reasonably well-equipped car, too. Android Automotive OS is standard, powering the Polestar 2's easy-to-use dashboard infotainment touchscreen and the driver's display. There's support for streaming from services like Spotify, and recent app updates have seen the inclusion of the Vivaldi browser in the Google Play store for cars. It also offers LED headlamps, power front seats — albeit with manual backrest adjustment — with heating, support for the Polestar Digital Key, and front and rear parking sensors. The tailgate is power-operated, and can be opened hands-free. Retractable exterior mirrors, dual-zone climate control, cruise control, four USB-C ports (two in the front and two in the rear), and SiriusXM are all standard, too. 
However, you don't get the glass panoramic roof of the more expensive car, with a steel version instead. That glass roof — complete with the projected Polestar symbol — is part of the Plus pack, which is another $4,000 on top of the EV's sticker price. It also includes an upgrade to the audio system, by Harman Kardon, full power seats, heated rear seats, heating for the steering wheel and washer nozzles, and a 15W wireless phone charger. The Plus pack also includes Polestar's heat pump option, which can help extend range in colder climates.
The single-motor Polestar 2 has less power but is still perky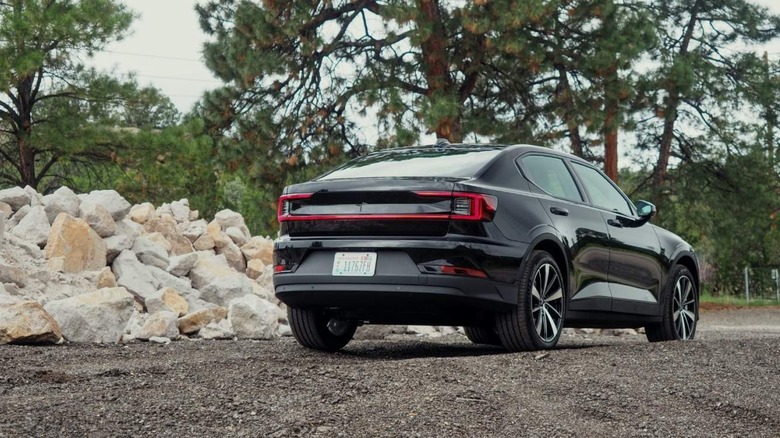 Chris Davies/SlashGear
The Pilot pack, meanwhile, is $3,200, and builds on the driver-assistance technology in the car. That includes blind-spot warnings with steering assistance, cross traffic alert with brake support, and rear collision warning and mitigation. There's also adaptive cruise control and Pilot Assist, Polestar's hands-on assistance system for highways. It also adds Park Assist side, a 360-degree camera, Pixel LED headlamps with light sequences, and LED front fog lamps.
Finally, the $5,000 Performance pack adds the Öhlins dual-flow valves manually-adjustable shock absorbers, gold Brembo brakes, special 20-inch wheels — an upgrade to the 19-inch standard alloys — with performance summer tires, and gold seat belts inside.
As we found when we took the Polestar 2 single-motor for a spin back in September 2021, the end result doesn't feel too far off the more expensive dual-motor model. Certainly, you lose some speed along the way, with its 7.0 second 0-60 mph time lacking the alacrity of the dual-motor's 4.5 second dash, but 231 horsepower and 243 lb-ft of torque is still plenty for a vehicle of this size. Orders are being taken now, with delivery estimates ranging from mid-April to early July 2022.