PS5 And PS4 System Update Now Live With Variable Refresh Rate On The Horizon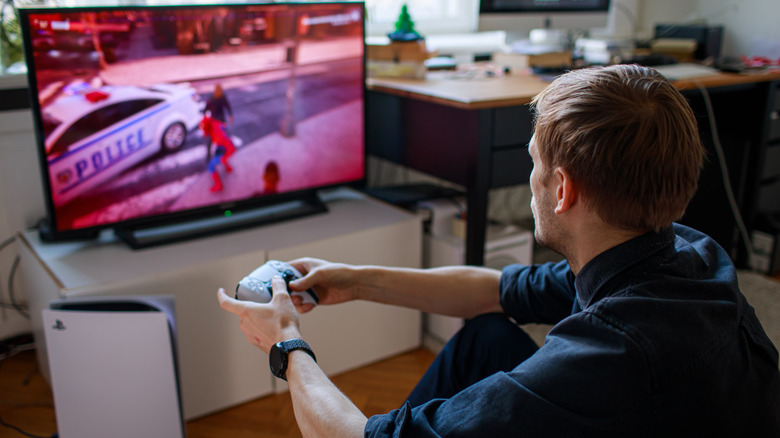 Girts Ragelis/Shutterstock
PS5 and PS4 owners finally have access to the full firmware update that was previously introduced to Sony's beta participants back in February. This update comes with many quality of life changes that make PlayStation more accessible and more convenient, and it even sounds like Sony is making way for "variable refresh rate" support in the near future.
Among these new additions are a few widely-requested methods for keeping game catalogs organized by preference, and they include genre filters and a new toggle switch called "Keep in home" that allows you to pin games to the front page of your PlayStation 5 dashboard. PlayStation 4 owners don't get nearly the same number of new features, but they can finally turn the volume down on specific party members, something that PlayStation 5 owners could already do.
Two of the biggest accessibility changes are the addition of a new Screen Reader with support for up to 15 languages, and a new Mono Audio toggle for headphones, which ensures the same audio is played on both sides of a single set of headphones. For those who missed the PS4's voice command function, this firmware update seems to be reintroducing voice commands for the PS5, albeit currently limited to simple commands like "Turn on Elden Ring". You can toggle this function in the Voice Command (Preview) settings menu.
Quality of life changes come to PS App and Game Base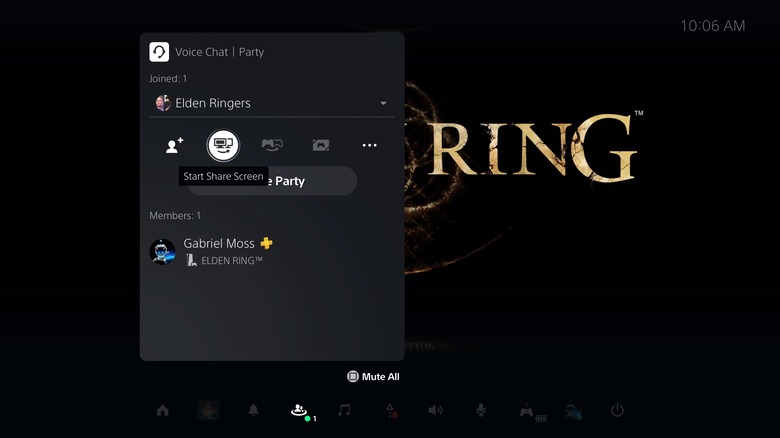 FromSoftware/SlashGear
There's a lot to unpack with this update, but it's especially important for PlayStation owners who like to connect with one another using Parties. These let multiple PlayStation Network accounts coexist in a shared space, where they can text message, send screenshots and videos, and voice chat with one another. It was already a competent system that worked well when paired with the optional PS App for smartphones and tablets, but now it has a few extra bells and whistles.
For starters, you can now choose whether to host an Open Party or a Closed Party. The former allows any of your friends to also invite their friends to hang out while a voice chat is open, whereas the latter is closed to just those who are already in the same party. This allows a greater degree of control over who's involved, which can be helpful for maintaining privacy if that's what you want.
It's now possible to share your screen with others more easily, too, and you can even activate a picture-in-picture mode that lets you watch somebody's shared screen while playing a game. This could help you, for instance, walk a friend through a difficult section of a video game that they're struggling with (or vice versa).
PS5 to get Variable Refresh Rate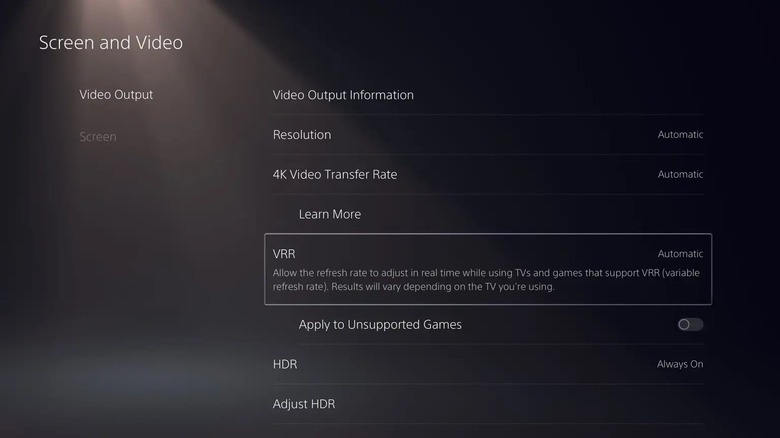 Sony
It's significant news that the PS5 is set to finally receive a long-awaited feature: variable refresh rate support. If you've been following our coverage of NVIDIA G-Sync or AMD FreeSync, you'll already know why it's such a big deal that the PS5 is finally getting support for variable refresh rate-compatible TVs (those that use HDMI 2.1, or specifically have AMD FreeSync built-in).
As a quick refresher, variable refresh rate means your TV and your PlayStation 5 will be able to update frames at the same speeds rather than forcing your PlayStation to lock to the same speed as your TV. That's what it's currently doing in most games in order to avoid overlapping or artifacting frames, via a technique called V-Sync.
Essentially, the introduction of variable refresh rates could make PlayStation 5 games look way smoother and less jittery, but it sounds like developers will need to individually add support for each game. This is presumably so they can turn off V-Sync, which will no longer be necessary on PS5 systems that have VRR activated and ready to go. There is currently no news as to when this addition will be ready, but it  certainly sounds like we could hear more updates in the coming months.