The Mercedes-Benz Pickup You Never Knew Existed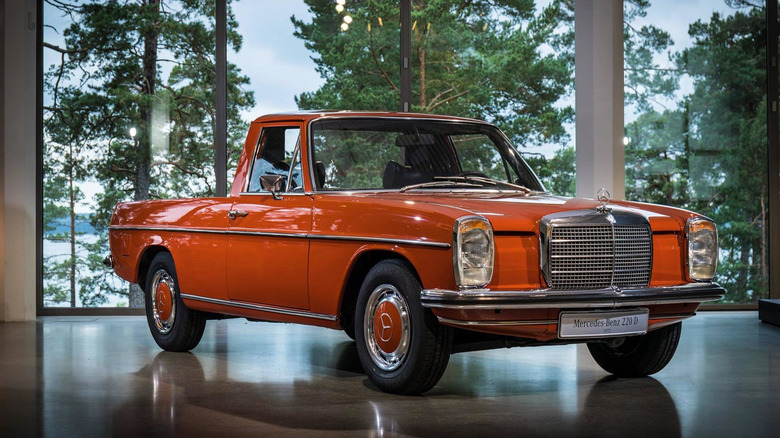 Mercedes-Benz AG
Car lovers wouldn't typically associate the Mercedes-Benz name with a utility vehicle, much less a pickup truck. Although the three-pointed German star has a blossoming lineup of vans and commercial vehicles in its portfolio, it once dabbled in pickup trucks before partnering with Renault-Nissan for the short-lived X-Class that debuted in 2017. Mercedes ended X-Class production just three years later, due to lackluster sales figures, casting the future of Mercedes-Benz pickup trucks into question.
Unknown to many, however, the X-Class wasn't the first time the German automaker strayed into the category. In fact, Mercedes-Benz built a rugged pickup truck after World War II based on the underpinnings of its bestselling 170 V midsize passenger car. It was the first Mercedes vehicle manufactured after the war, and the automaker started producing the 170 V flatbed in 1946.
On the other hand, there's a particular Mercedes pickup in the 70s based on the W115 midsize sedan, an early model E-Class, if you will. Affectionately called La Pickup, it's possibly one of the coolest cars to wear a Mercedes-Benz badge, and it happens to be a pickup, too!
Mercedes-Benz W115 La Pickup: Vintage luxury with a twist
There's not a lot of information on what Car and Driver called the "El Camino" of Mercedes-Benz, but the history behind it is fascinating. Production for the W114/W115 series ran from 1968 to 1976. Sometime between 1972 to 1976, Mercedes shipped about 6,000 units of CKD or Completely Knocked Down W115s to Argentina.
Since it was illegal to import cars and trucks into Argentina in the 70s, Mercedes found a loophole and shipped body parts instead of fully-assembled vehicles. Assembly took place at the Daimler Gonzales Catan plant in Buenos Aires, and the conversion from car to pickup took place in the same facility. Mercedes dealerships sold the La Pickup as a single cab or dual-cab variant, depending on customer demand.
The Mercedes W115 La Pickup had a modest 2.2-liter naturally-aspirated four-cylinder diesel engine, hence the 220D moniker. The mill pumps out 60 horsepower and 92 pound-feet of torque, sending all that oomph to the rear wheels using a four-speed automatic transmission.
Rarity is luxury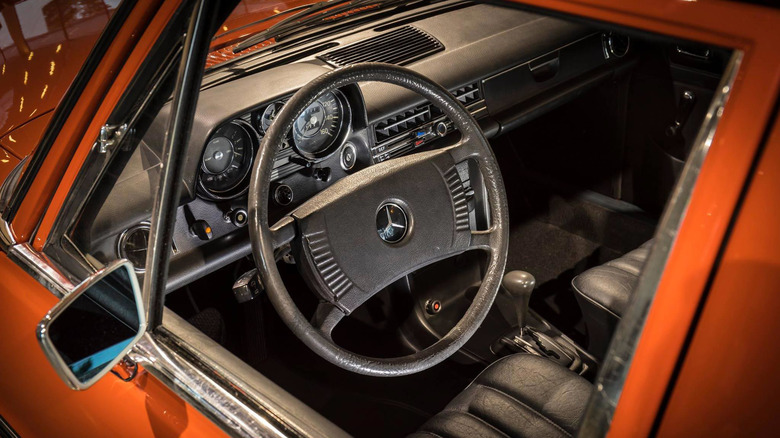 Mercedes-Benz AG
A large number of the Mercedes La Pickups remained in Argentina, but a few made it across Europe. Mercedes-Benz found the red La Pickup on this page in Germany, though by that point it was in pretty bad shape. The truck belonged to the SSB Railway Company in Stuttgart, and workers used it to lubricate switches.
From there, it eventually landed in the hands of a private owner who turned it into a camper, hence the closed tailgate and horizontal taillights: La Pickup originally had distinctive vertical taillights. Mercedes-Benz restored the pickup to its former glory, and now we can't stop thinking about an E-class ute.
We don't care if La Pickup can barely reach 80 mph, and we don't mind if it has a laggard diesel engine – we want one. You won't see this pickup every day, and some even say that an all-original, fully-restored La Pickup is "priceless." Mercedes-Benz may never build a modern E-Class pickup, but the W115 La Pickup reminds us of the fun our ancestors had back in the day, way before emissions and safety regulations came to play.