Akai MPK Mini Play (MK3) Is A Tiny Keyboard For Big Creatives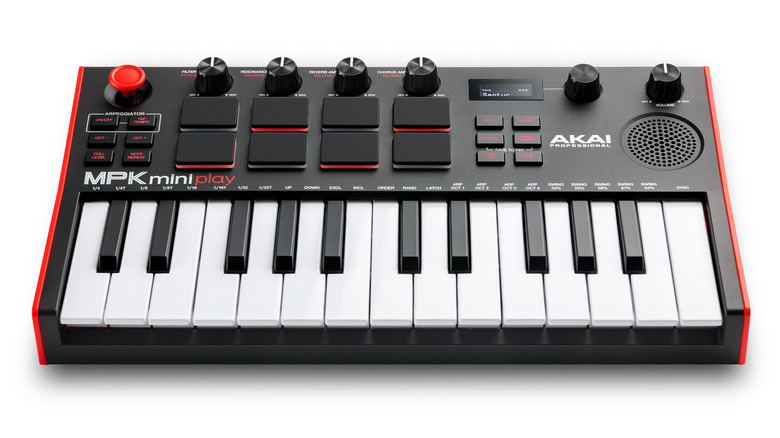 Akai
Japanese electronics manufacturer Akai has been a prominent brand in the industry for digital synth and MIDI keyboards. Its MPC60, launched over 30 years ago, was a milestone product (via Polynomial) in the category of all-in-one workstations built for music sampling and sequencing, and its pedigree has been carried forward in a compact form factor with Akai's MPK lineup — thanks to the evolution of sampling technology. Akai's last portable controller model — the MPK Mini MK3 — offers a combination of a USB-powered controller interface along with the ease of a mini MIDI keyboard interface.
Today, Akai is extending the 25-key design and the octapad controller design with the new MPK Mini Play MK3 that promises over 14 hours of  playback from a single charge of its battery. The MPK Mini Play MK3 is equipped with an improved keybed, better speakers than the MPK Mini Play, an ⅛-inch headphone jack for private jamming and practicing sessions, and 128 preinstalled instruments and drum kits.
120+ inbuilt instruments and more sensitive keybed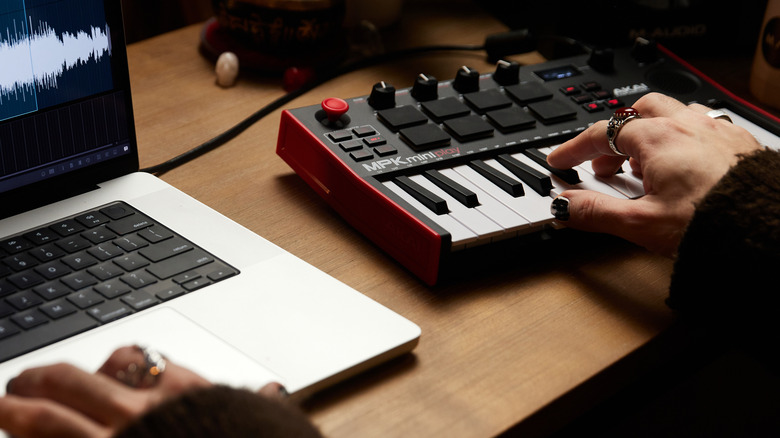 Akai
The Mini Play MK3 uses the same pressure-sensitive Dynamic Gen 2 keybed as the Mini MK3. The keys are claimed to deliver accurate velocity response, while the new MPC-style drum pads provide real-time and highly sensitive output.
The parameter control knobs on the Mini Play MK3 are placed above the drum pads instead of on the side — as seen on its predecessor. The controller knobs can be assigned different functions such as panning while using DAW (digital audio workstation) software. The speakers, too, have been improved, with Akai claiming better output and improvement to the low-end response.
With just two octaves on offer, you can't fiddle around a lot — especially with two hands — but Akai claims better performance despite the small keys. The real potential of the Mini Play MK3 lies in its ability to be used as a MIDI keyboard controller, especially because of its easy-to-use plug-n-play design. You can either hook it up to a PC/laptop or connect it to an iPad.
DAW & instructional software offered alongside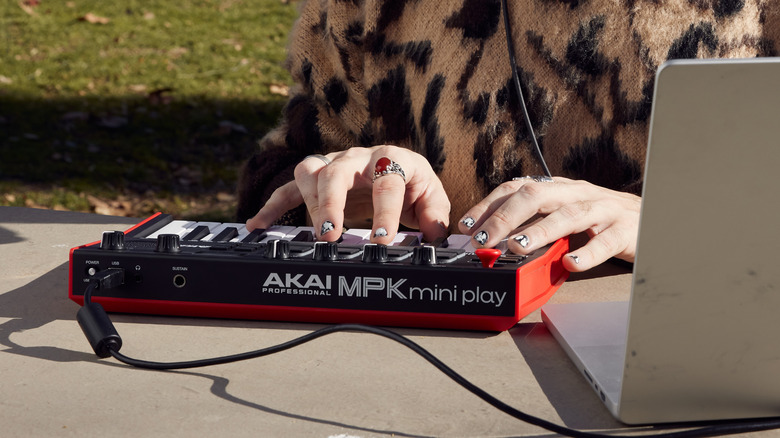 Akai
Akai is offering a DAW called MPC Beats with the MPK Mini Play MK3, and it provides a wide range of plugins for musical instruments, effects, audio sequences, and drum sample sounds. These plugins are available in both — AU and VST — formats, so users are not restricted to one platform.
Besides the MPC Beats DAW, the MPK Mini Play MK3 comes with educational packages called Melodics that offer instructional playback for users to learn and make the best of the MIDI keyboard and the pad controller. These lessons are available for a variety of genres, and the app for desktop and iPad offers real-time feedback to help musicians improve what they are playing.
The MPK Mini Play MK3 will be available for an MSRP of $149.99, but Akai has not revealed the exact date when it will be available to purchase. You can check Akai's online store to know more about the availability.