Honor Magic 4 Ultimate Is A Camera Powerhouse
Smartphone cameras have come a long way in the past decade or so, and Honor seems to be following the same path with its latest release, the Honor Magic 4 Ultimate. The smartphone features a quad-camera setup that looks very impressive, promising to deliver unprecedented image quality. The company boasts its Honor Magic 4 Ultimate has already managed to top the DxOMark ranking where smartphone cameras are concerned, marking an excellent beginning for this brand-new device.
From the back, the Honor Magic4 Ultimate almost looks like it sports a large camera lens, all thanks to its circular quad-camera setup with flash in the middle. The camera system introduces a world-first with its new dual free-form lens and is said to provide a lot more than can be expected from Honor's competitors. George Zhao, CEO of Honor, said about the phone: "The Honor Magic 4 Ultimate represents the pinnacle of Honor R&D and demonstrates our ambition to become the technology brand of choice for even the most demanding consumers. [...] Honor Magic4 Ultimate is the ultimate pain point killer that pro users have long expected."
Aside from the mind-boggling camera power, Honor Magic 4 Ultimate likely packs a host of features we've all come to expect from a flagship smartphone in 2022, although not much has been said about that as of yet. The company details the specifications of the upcoming device in an informative blog post. Let's take a closer look at the Honor Magic 4 Ultimate.
Beautiful photos, even in low-light environments
The vast majority of Honor's announcement is dedicated to the camera system on the Magic4 Ultimate, further highlighting just how important that feature is for the new flagship. As mentioned above, Magic 4 Ultimate comes with a total of four cameras installed in a semi-circle on the back of the phone. Broken down, this amounts to the following cameras:
A wide camera with a customized 8P lens and a 1/1.12-inch sensor, offering 50 megapixels (MP)

A 64MP ultra-wide camera that comes with an innovative dual free-form lens

Another 64MP camera, this time a periscope telephoto model

A 50MP spectrum enhanced camera
Honor details what we can expect from each of the four cameras, providing in-depth information that will undoubtedly appeal to enthusiasts. The company promises excellent performance in scenic night shots or during different low-light scenarios, adding brightness to dark photos and enhancing the colors. The customized lens is said to deliver an almost 40% improvement in center sharpness and a similar boost in edge sharpness, even when zoomed in. Honor has also managed to minimize flare, further adapting to various lighting conditions.
Do you want Honor Magic 4 Ultimate? It may be difficult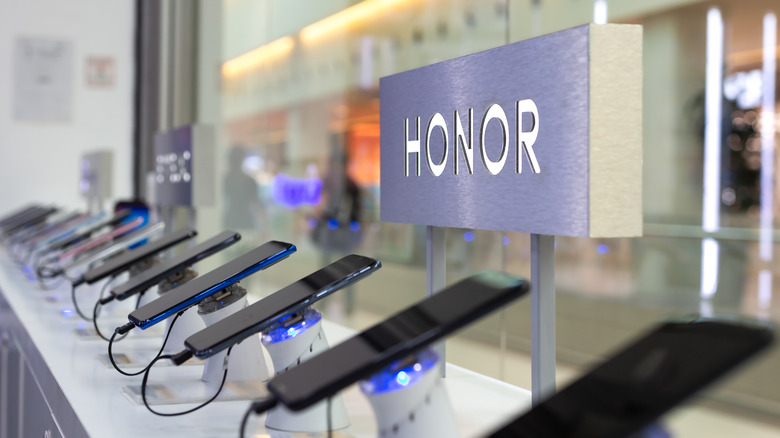 N.Z.Photography/Shutterstock
Aside from being able to adapt to various light sources, Honor offers a wide, 126-degree field of view. The dual free-form lens, which the company says is a world-first, is the company's bandaid for wide-angle image distortion, bringing it as low as 0.5%. Taking photos of things that are far away should be made easier with the periscope telescope camera that comes with various features to help you stabilize the image, reducing blur and adding sharpness to the photograph. Honor Magic 4 Ultimate also has a brag-worthy zoom range: up to 3.5x optical zoom and up to 100x digital zoom.
Thanks to its advanced image processor and use of AI, Honor is able to deliver 4K night mode video, further adding to the list of lighting-related features it provides. The phone supports Magic-Log2, a new, professional video format that boosts video recording, both in perfect lighting conditions and in low light.
Honor Magic 4 Ultimate comes with a 6.81-inch screen with the same Pulse-Width Modulation (PWM) technology found in other Honor Magic 4 phones. Thanks to 1920HZ PWM, the phone dims automatically to remain easy on the eyes in various environments. Not much is revealed about the rest of the phone's specifications, such as storage and RAM, but Honor will presumably say more when the time comes.
As impressive as the Honor Magic 4 Ultimate sounds, it is only being released in China for now. The company says that the phone will arrive in two colors, black and white, sometime later in 2022. It will be priced at 7,999 RMB, meaning a price of around $1,260 USD when converted on March 17. If, and when, it makes it to the U.S. market, chances are it will be more expensive.