$800 Motorola XOOM could price Honeycomb out of contention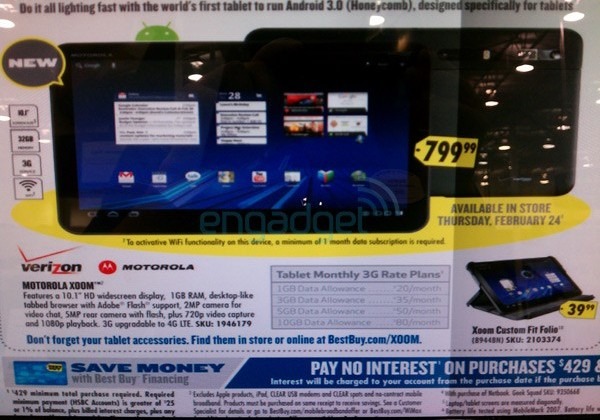 Honeycomb was shaping up so well. CES 2011 saw several new slates debut and look to offer solid competition to the iPad, and then Google's Android 2.3 launch event last week left us even more confident in the tablet-centric build. Could Motorola and Verizon bring the whole party crashing down with silly pricing for the Motorola XOOM however? With a leaked Best Buy advert tipping a sales price of $799.99, that may well be the case.
According to the document passed to Engadget, the XOOM will land in Best Buy stores from February 24 with a mandatory Verizon activation. Four data plans will be available – $1GB for $20, 3GB for $35, 5GB for $50 or 10GB for $80 – though they'll all be month-to-month agreements so you can cancel soon after. However, according to the small print, you'll need to activate at least one month, even if you only want to use the XOOM's WiFi connection.
Expensive stuff, and considerably more so than we were hoping for. Verizon could change things again before all this gets officially-official, and we're hoping the company does lest Honeycomb's debut get soured by sky-high pricing.
[via Android Community]