Russia Is About To Become A Rare Pokemon GO Dark Zone
Due to the ongoing military aggression by Russian troops in Ukraine, Niantic has announced that it will make "Pokemon GO," as well as other games like "Pikmin Bloom," unavailable to download in Russia. It will also make Niantic-based games unplayable for Russians who already have games on their phones, rendering the country, as well as Belarus, a rare "Pokemon GO" dark zone.
"We stand with the global community in hoping for peace and a rapid resolution to the violence and suffering in Ukraine," Niantic said in a tweet. "Niantic's games are no longer available for download in Russia and Belarus, and gameplay will also be suspended there shortly."
"Pokemon GO" dark zones are extremely rare, and they're usually put in place when someone puts a request for a PokeStop or Gym to be removed from a certain area. The last newsworthy place a "Pokemon GO" dark zone was put into effect was the South Holland province of the Netherlands, after Niantic appeared in court at The Hague in November 2016 over safety issues that arose when the beaches of Kijkduin got overcrowded with players trying to catch rare Pokemon whenever they appeared there.
Niantic's humanitarian pledges to Ukraine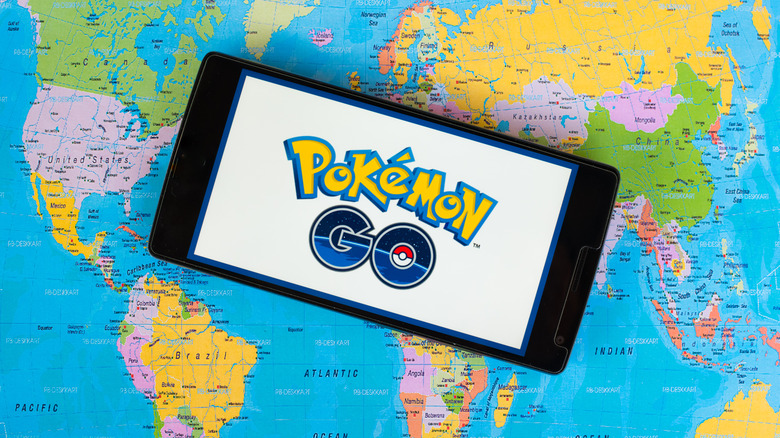 amirraizat/Shutterstock
In addition to pulling "Pokemon GO" and "Pikmin Bloom" out of Russia and making them inaccessible to players in the region, Niantic pledged to support humanitarian efforts in Ukraine, including UNICEF, United Help Ukraine, International Medical Corps, Sunflower of Peace, and Norwegian Refugee Council. On March 3, 2022, the developer announced in a blog post that it raised $75,000 internally by matching employee donations. On top of that, it donated $200,000 "directly to humanitarian organizations focused on supporting the people and refugees of Ukraine."
Niantic joins other gaming companies like PlayStation, Xbox, and Nintendo in pulling their games out of Russia after Ukraine's Vice Prime Minister Mykhailo Fedorov called on the games industry to impose strong sanctions on Russia over its invasion of the country. EA deleted every Russian sports team from all its FIFA games and "NHL 22," Nintendo put the Russian version of its eShop in temporary maintenance mode indefinitely, and PlayStation announced it would be suspending software and hardware shipments, the launch of "Gran Turismo 7," and operations of the PlayStation Store in Russia.