Here's What Happens When Your Old iPad Connects With A New Apple Studio Display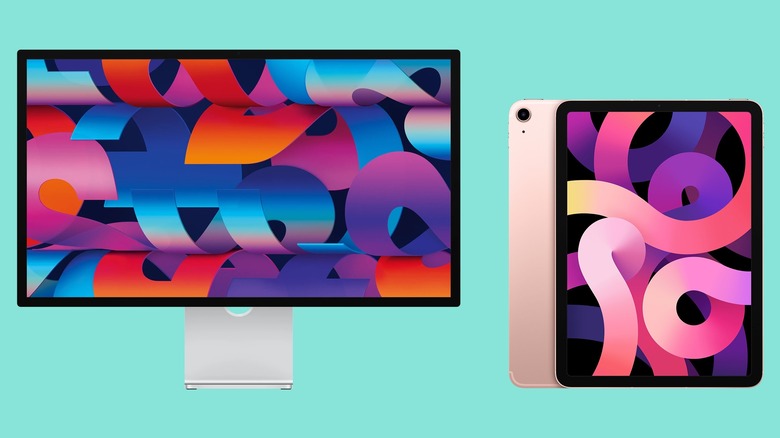 The Studio Display is yet to hit shelves, but it is already getting a lot of love online from professionals seeking a new Apple-branded external monitor that can meet their needs. While the upgraded webcam and audio hardware have received praise, the I/O aspect isn't too shabby, either. However, connecting it to older USB-C Apple tablets like the fourth-generation iPad Air or the sixth-generation iPad Mini will limit the screen output.
Per a report from MacRumors that cites a statement from Apple, connecting an iPad Air 4 or the iPad Mini 6 via USB-C to the Studio Display will downgrade the resolution from the monitor's peak 5K to a lower 1440p output. The Studio Display doesn't officially support the two aforementioned iPads — or older tablet hardware — and that means these devices can't drive the monitor at its native resolution. It is interesting to note that the fourth and fifth-generation iPad Air models share the same design, and rock a USB-C port as well. So, why the Studio Display incompatibility issue?
It's all about USB-C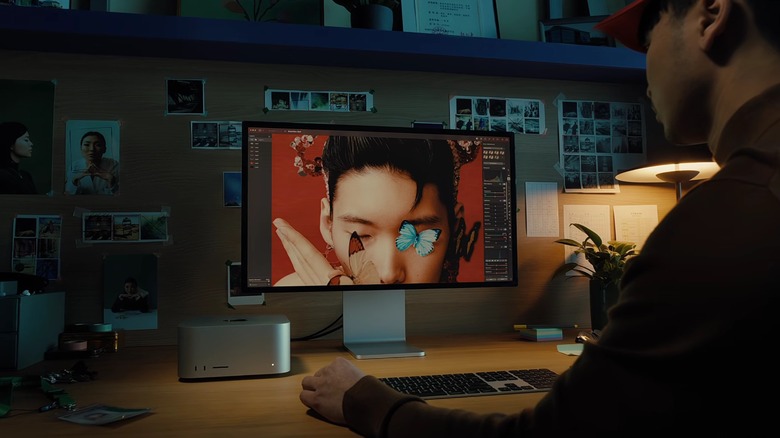 Apple
Well, the hardware incompatibility has to do with the throughput of the USB-C port Apple has fitted on its tablets. The fourth-gen iPad Air offers a USB-C port with a peak data transfer rate of 5 gigabits per second, which is not enough to drive all those pixels via the downstream USB-C ports on the Studio Display, which has a rated output of 10 gigabits per second. The same USB-C speed limitation also applies to the sixth-generation iPad Mini, as well.
The fifth-generation iPad Air, on the other hand, comes armed with a faster USB-C port with a peak data throughput of 10 gigabits per second. As per the official specifications sheet, it is actually a USB-C 3.1 Gen 2 port. Another interesting aspect about the Studio Display is that it can also be connected to PCs, with The Verge getting confirmation from Apple that this support includes the speakers and webcam. However, some of the model's in-house tricks like Center Stage that come courtesy of the A13 Bionic chip won't work when the Studio Display is connected to a Windows-powered machine because they're macOS features.