Android 12L's Foldable Enhancements Could Finally Give Google Tablets A Chance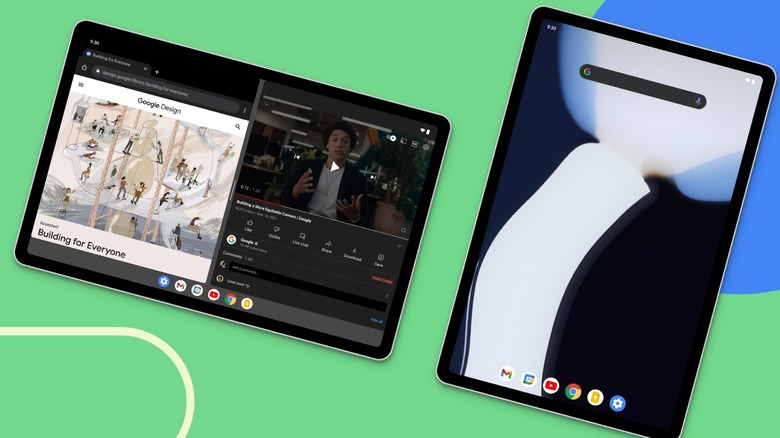 Google
Although Apple dominates the tablet market with a 38 percent share of the market, according to IDC, Android tablets clearly aren't doing too badly making up the bulk of the remaining share. The leading Android tablet vendor, unsurprisingly, is Samsung, who ships roughly half the number of tablets that Apple does. Part of the reason for Samsung's relative success may have to do with its tablet optimizations, which although not perfect, are considered by some to be better than stock Android for the form factor. In late 2021, Google announced its intention to change the situation with a long overdue tablet optimized version of Android that it is calling Android 12L.
The beta version of Android 12L was launched in late October with the Lenovo P12 Pro the sole tablet made available to test the beta, although Google extended Android 12L to Pixel devices for code testing as well. Google has taken to its blog to officially announce the launch of Android 12L, an indication that the beta period has concluded. Unfortunately, there are no devices that will receive an immediate update to Android 12L with Google indicating that we will see it running on devices from Samsung, Lenovo and Microsoft "later this year." Although Microsoft doesn't make Android tablets, Android 12L is also designed for foldables and dual-screen devices like Microsoft's Surface Duo series.
Some Android 12L features will be familiar to Samsung users
The changes coming to Android 12L aren't especially earth shattering, but they do take advantage of the larger screens. For example, when swiping down on the display of most Android tablets with only reveal the quick settings, Android 12L will split this view into two columns. This will enable quick settings to appear in a column to the left while notifications will now appear in a column to the right to be tapped on or swiped away. It's a simple, but effective change. This two-column layout will also be visible in the full settings app, something that Samsung tablet or Galaxy Z Fold users will already be familiar with.
A more significant change is the introduction of a new taskbar. If you've used Google's Chrome OS, this setup will look very familiar to you. In addition to a set of default apps that will appear centrally in the taskbar, users will also be able to place apps they frequently use in the same location. Users will also be able to tap on an app to launch an app in full screen as well as then drag an app from the taskbar and drop it to one side of the display to enter split-screen mode. Again, Samsung Edge panel users will be very familiar with this functionality, however, we expect to see Samsung also now adopt the taskbar in a future update to its Galaxy Tabs.
A brighter future for Android tablets?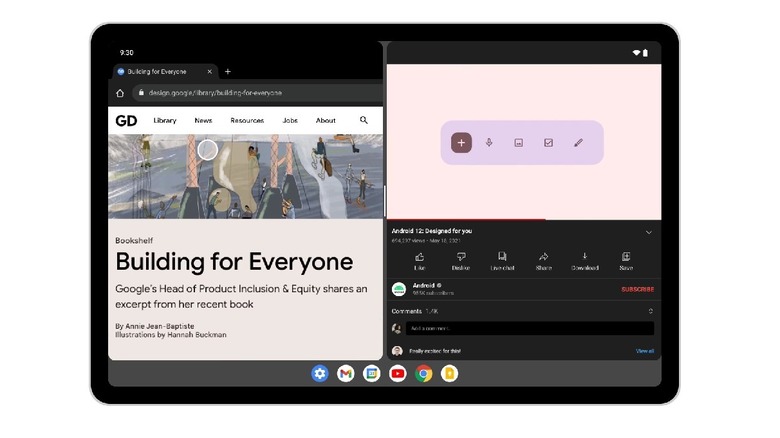 Google
Google says that it will continue to "build more features and functionalities to help you make the most of your larger screen devices in Android 13 and beyond". So, this suggests it is still early days in terms of Google's current plans to make Android better tailored for tablets and larger screen devices like foldables and dual-screen devices. Of course, creating a more tailored version of Android for larger screens is only one half of the equation. 
One reason Apple has had the success it has enjoyed with its iPads is that developers have also made apps that better utilize the larger screens in a way that is akin to what we see with desktop apps on computers. No doubt Google will be hoping that in creating Android 12L, developers will give Android tablets another look. 
The tablet form factor has long been appealing for its balance of size with light weight and portability. Hopefully Google's attempts to better leverage their potential will see Android tablets better compete with Apple's iPad. After all, it is competition that drives innovation.