Fallout 76 Nuka Dark Rum: The Truth About Glass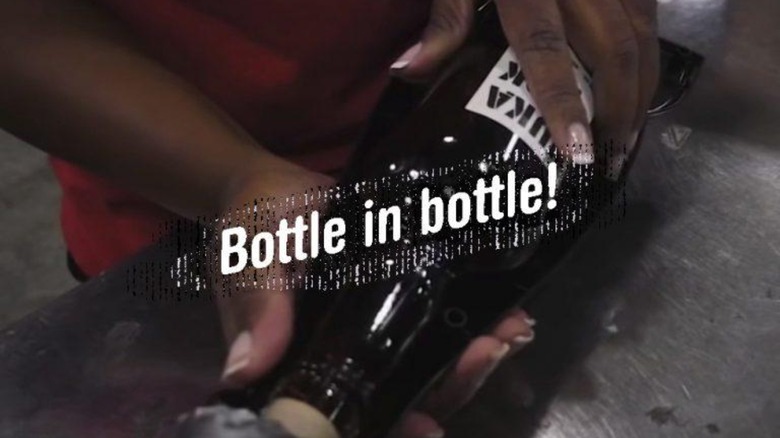 There's a new tie-in product for Fallout 76, and it's not for the everyday average gamer. You might've heard about Nuka Cola – especially if you've played a Fallout game before – and you might also have heard early chatter about this Nuka Dark Rum. It was to be a glorious bottle of rum made in the grand tradition of high-quality licensed and Bethesda-endorsed spin-off products of the past. Now, here at the tail end of 2018 as Nuka Dark Rum ships to early buyers, something seems a bit... off.
The bottle is sort of shown in the sale site over at the place where it came from. Not exactly – but sort of. You'll see a couple renderings of the bottle, anyway. You'll also see a set of images showing a RUM barrel, several glass containers (glasses) of rum, with ice, and some gamers. You'll see some heavy metal – much in the tradition of Fallout games in general.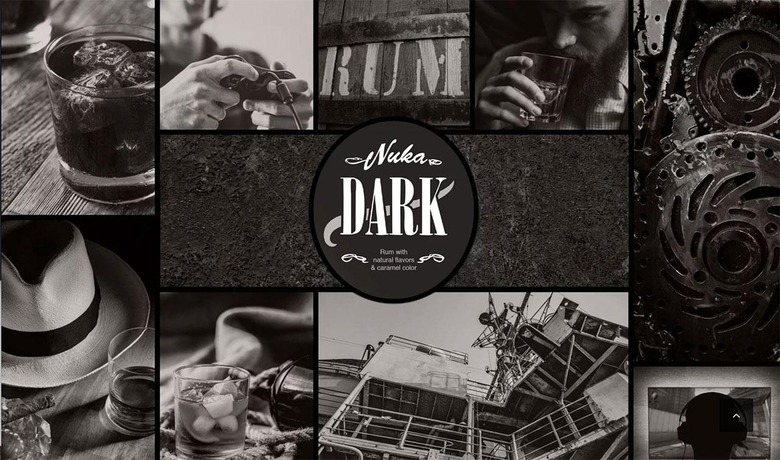 "Nuka Dark Rum shares the same look as the other bottles of Nuka-Cola but a black color and a simplistic label. Nuka Dark Rum is an alcoholic version of Nuka-Cola, boasting a 35% alcoholic content per volume. This drink temporarily increases one's Strength and Endurance by 1, but decreases Perception by 1 as well. Chilling a bottle of Nuka Dark Rum with a Buddy yields Ice cold Nuka Dark Rum, but there is no added benefit in doing so."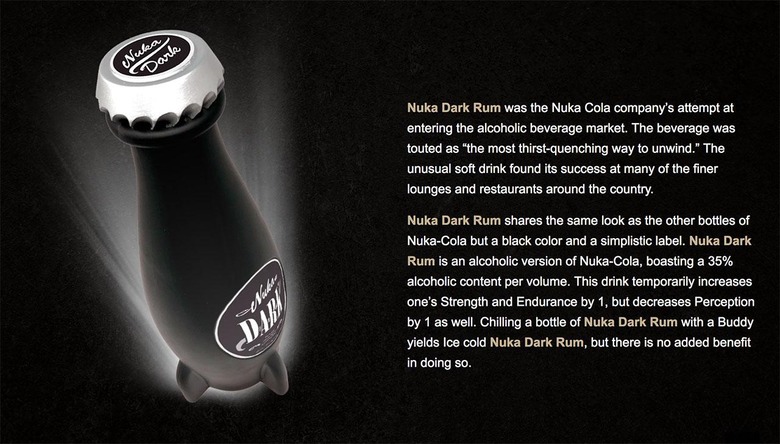 Images of the bottle do not necessarily imply the material with which it is made. Text on the site does not mention plastic nor glass – nor any other materials with which the container of rum is made. Several stock images of coasters and glasses of dark liquid are shown, all with the Nuke Dark (rum with natural flavors & caramel color) logo emblazoned on their fronts and/or sides.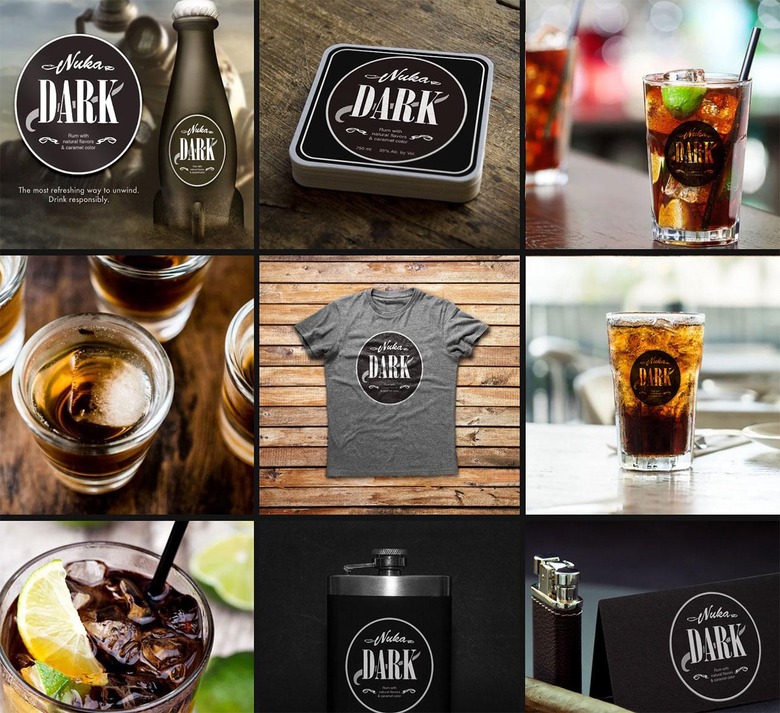 Since shipping, a note appeared at the tail end of the website (a one-page website, as it were), that read as follows.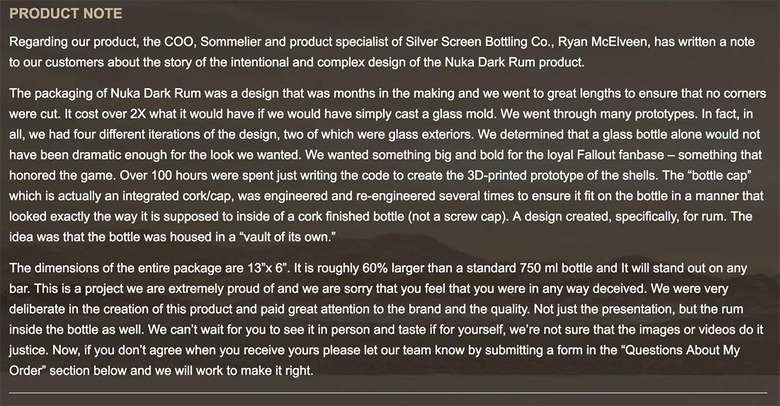 The package (not the bottle inside) is 13-inches tall and 6-inches wide – that's pretty massive. Included in the text from Silver Screen Bottling Co. product specialist, COO, and Sommelier Ryan McElveen is the following: "this is a project we are extremely proud of and we are sorry that you feel that you were in any way deceived." McElveen also writes, "We can't wait for you to see it in person and taste if for yourself, we're not sure that the images or videos do it justice." Those users that remain unconvinced were told that they are free to send a note to the creators and they will "work to make it right."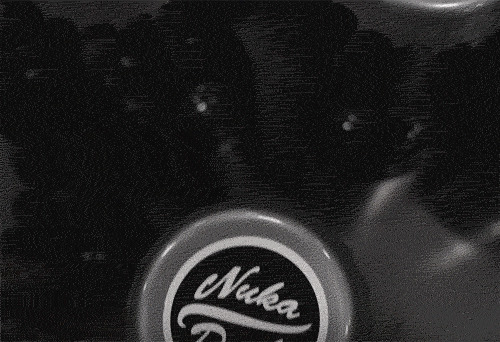 Below you'll see a video posted on December 5th by Silver Screen Bottling Company. In the video it's pretty clear what the package includes – a glass bottle in a plastic case. That's not quite so clear on the main sale site – and as you can imagine, some fans are highly displeased.
What do you think about this situation? Is it just a case of Bethesda losing its mind? Or are people paying EIGHTY DOLLARS for a bottle of rum justified in their expectations that what's shown on the website for sale will be the actual product, not just a case for the product (a glass bottle that rests inside the plastic case exterior)?
Given the thumbs-downs on the YouTube video above and the amount of mentions of the plastic bottle on sites like Liquorama, it's pretty clear there was some miscommunication in the mix.