Garmin Descent G1 Smartwatch Battery Lasts Between 25 Hours And 4 Months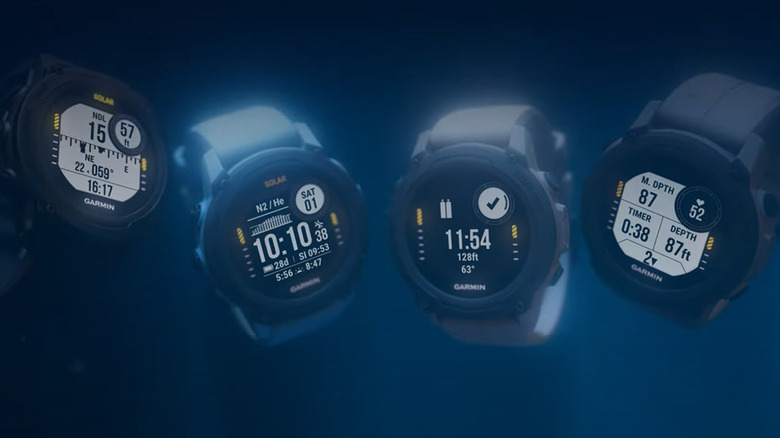 Garmin
Garmin has been staying busy lately. It's barely been a month since we announced the company's latest smartwatches, but now, Garmin is adding yet another watch to its lineup — this time tailored towards diving. Dubbed the Descent G1, the dive computer/watch is supposed to be a companion for staying active both topside and underwater. Alongside its various features that make diving easier, the watch offers great battery life, reaching as long as 4 months in solar mode (for the solar charging variant specifically).
The new Descent G1 comes in two variants, one with solar charging and one without. The solar model is sold in Hurricane Blue and Black, while the non-solar Descent sticks to equally muted colors: Slate Gray and Powder Gray. On the outside, the watch looks like your standard, bulky, sturdy smartwatch made for sports, but on the inside, the device packs hardware that can support diving up to 100 meters (328 feet.)
In order to house all that hardware, the exterior of the watch has to be durable too. The Descent G1 has been tested for dive compliance, is confirmed to be leakproof, features a strong sapphire lens, and comes with inductive buttons. The straps on the watch are interchangeable, allowing for wider options that can be worn over a wet suit.
Diving made easier -- and safer
As we mentioned above, the battery life on the Descent G1 seems to be nothing short of impressive. Garmin declares that the watch will remain functional for up to 25 hours in dive mode and 3 weeks in smartwatch mode on a single charge. This can be extended up to a whopping 4 months if you get the solar mode and only use the phone for its smart capabilities. Of course, your mileage may vary, so don't take these figures at face value — but it's pretty clear that Descent G1 will have an impressive battery life.
Garmin markets the watch towards both experienced and beginner divers, having equipped it with multiple dive modes. This includes single and multiple gas dives, apnea, apnea hunt, closed-cirtcuit rebreather, and gauge. Gas options include air, nitrox, trimix, and 100% O2. Regardless of what kind of diving you're doing, the watch should make it easy to view your current depth, how long you've been underwater, and ascent/descent rates. The list of useful information continues, including temperature, gas mix, PO2, decompression, and several more metrics that could make diving easier and safer. The Descent G1 also has a very useful feature if you tend to dive in unknown waters: it automatically marks your entry and exit points, helping you navigate back to surface safely.
It's not just for diving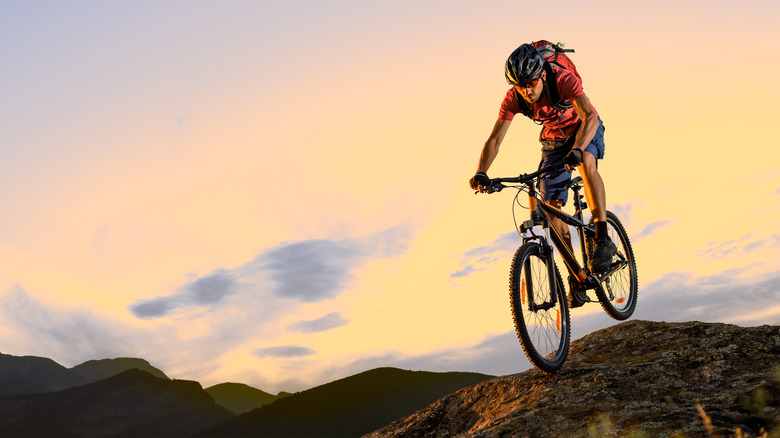 maxpro/Shutterstock
Aside from being a dive computer, the Descent G1 is also your typical sports smartwatch with a host of wellness features to help you make the most of it topside. In this regard, it's not much different from other Garmin smartwatches, or just other similar devices in general. There's sleep monitoring, GPS, as well as sports apps for tracking swimming, running, cycling, yoga, and various other sports. For surfing, Garmin offers the Surfline Widget that takes things up a notch and provides information about tides, wave height, and wind speed.
There seems to be no end to the list of features Garmin aims to provide through the Descent G1. For day-to-day life, the watch can be used as a payment method and can be paired with either Android or Apple devices. It also displays various notifications, ranging from calls to calendar reminders.
Garmin has priced the solar version of Descent G1 at $650 and the base model at $550. While that may sound steep, we've seen much more expensive watches capable of doing much less, such as the recent TAG Heuer line of luxury watches that cost upwards of $1,800. For all of its diving, sports, wellness, and general features, the Descent G1 sounds like a decent deal for a person who will make the most of it.