This Is The First All-Electric Jeep BEV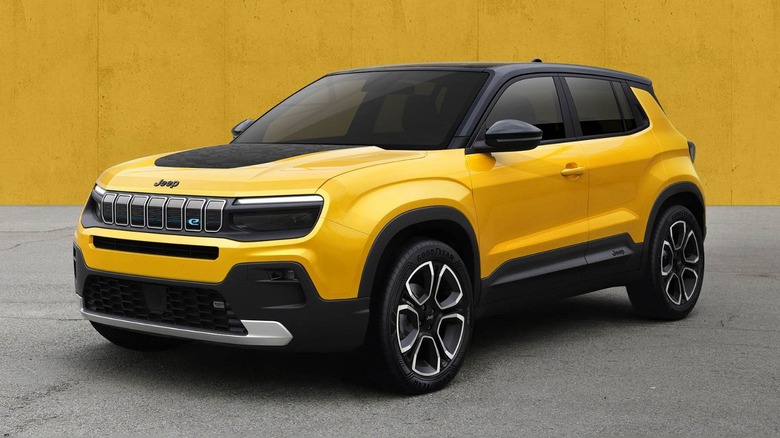 Stellantis
Jeep has revealed its first all-electric model, with a new zero-emissions SUV headed to dealerships in early 2023. It's part of parent company Stellantis' ambitious new "Dare Forward 2030" strategy, unveiled today, which focuses on the group's vision of how it can achieve carbon net zero emissions by 2038.
You'll be unsurprised to hear that it'll involve a lot of electric vehicles. In fact, Stellantis says, it aims for 100% of its sales in Europe to be battery electric (BEVs) by the end of this decade. The US will be slower to embrace that goal, mind: by the end of the decade, Stellantis predicts, half of sales in the United States will be of BEVs.
Of course, for it to achieve that, it needs the electric cars to sell. The Stellantis brands available in the US have been fairly light on options, there, though most have some degree of EV ambition. Still, of Maserati, Alfa Romeo, Jeep, Dodge, Ram, Chrysler, and Fiat, you can count the electrified models offered in the US market on about one hand.
Beyond PHEVs, a big BEV future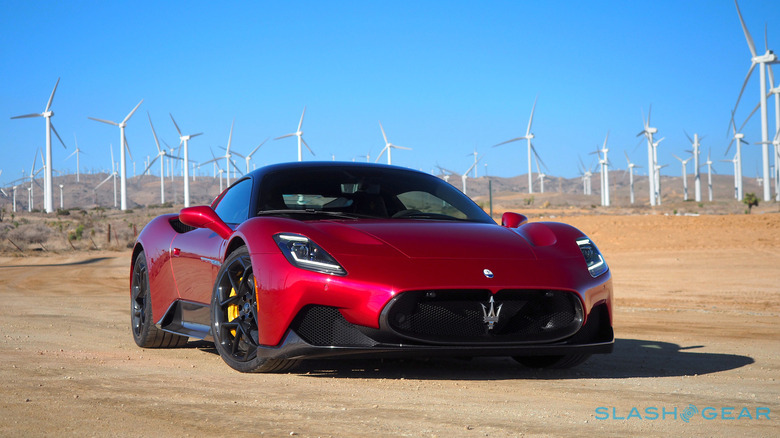 Chris Davies/SlashGear
Jeep has the Wrangler 4xe and the fast-approaching Grand Cherokee 4xe, which are both plug-in hybrids (PHEVs). Chrysler, meanwhile, has the Pacifica Hybrid, its PHEV minivan. Fiat, though, axed its 500e all-electric car in the US, though an updated version is available in Europe.
Down the line, Maserati has promised an all-electric version of the MC20 supercar, and Ram has confirmed that an all-electric Ram 1500 BEV is coming too. A new render of that was also shared today. Nonetheless, it's clear that Stellantis has its work cut out for it, if it really wants to meet its goal of over 25 new BEVs in the US by 2030.
Today, we've seen the first step in that process unveiled for the first time. Jeep's first 100% BEV is on track to arrive in early 2023, the automaker confirmed today, though it's being sparing with details. Resembling a stylized Jeep Compass, the EV will have the blue "e" logo on its smoothed-out grille that we've already seen applied to the Wrangler 4xe.
Details like range, charging capabilities, power, and most importantly price have not been shared. Given Jeep's longstanding emphasis on the "go-anywhere" nature of its SUVs – even those, like the Grand Wagoneer, which probably won't often venture off the asphalt and onto trails – some degree of all-wheel drive prowess is almost certain. However, Jeep is likely to offer a 2WD version of the BEV that's more affordable.
An aggressive EV roadmap to 2030 and beyond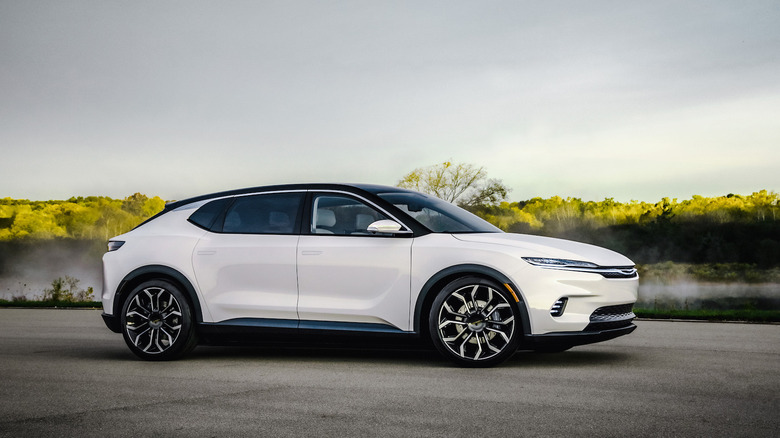 Stellantis
Beyond that, electrification should begin to become the norm, not the exception. From 2024, Stellantis says, all model launches from Ram, Jeep, and Dodge (barring heavy-duty trucks) will have at least a BEV version. For Ram commercial vans, that'll start even sooner, in 2023, with the Ram ProMaster BEV. Come 2024, the Ram 1500 BEV pickup will debut, and Dodge should have its first all-electric muscle car.
For Chrysler, meanwhile, there'll be at the very least a BEV version of its newly-announced family cars from 2025. The automaker has dropped some exceedingly heavy hints about what that might be, in the shape of the Chrysler Airflow concept unveiled at CES 2022 back in January.
A sleek four-door, somewhere between an SUV and a fastback, the Airflow holds back from some of the more extreme styling that we've seen from other EVs. Instead, Chrysler focused on usability, with an expensive cabin and the promise of 350-400 miles of realistic range from its twin 150 kW drive motors. A more potent Airflow version could upgrade those for more powerful versions, the company teased.