240W OPPO Charger Is A Wild 9-Minute Ride From Flat Phone To 100%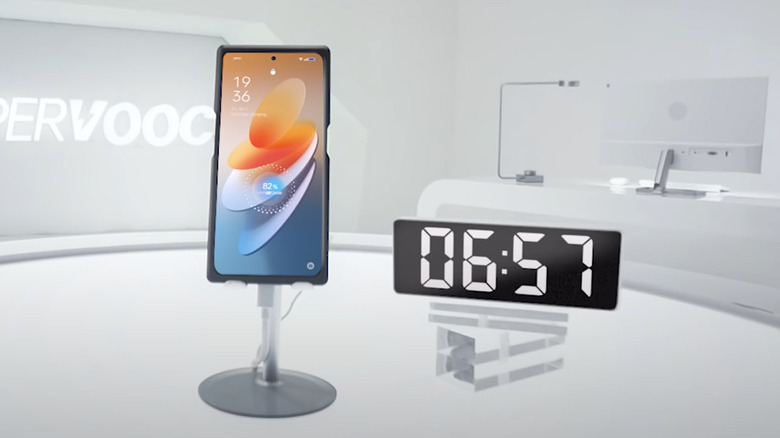 OPPO
OPPO is widely considered a pioneer among smartphone brands working on newer, faster quick charging technologies. In Barcelona today, OPPO kicked off its MWC 2022 campaign by announcing significant advancements to SuperVOOC — its proprietary fast charging technology. The breakthroughs include the announcement of 150W SuperVOOC fast charging and an associated battery protection algorithm called Battery Health Engine (BHE). However, what really turned heads and brought OPPO's leadership in the fast charging game center stage was an announcement of an even faster-charging standard called 240W SuperVOOC Flash Charge.
To demonstrate the crazy charging speeds that OPPO has achieved with "Flash Charge," the company posted a demo video on its social media channels. The video showed a prototype OPPO smartphone with a 4,500 mAh battery charged from 0 to 100 percent in just 9 minutes flat! To be clear, here, the demonstration wasn't done at a live event, and OPPO has been clear in suggesting that this technology remains experimental for the moment.
OPPO 240W SuperVOOC Flash Charge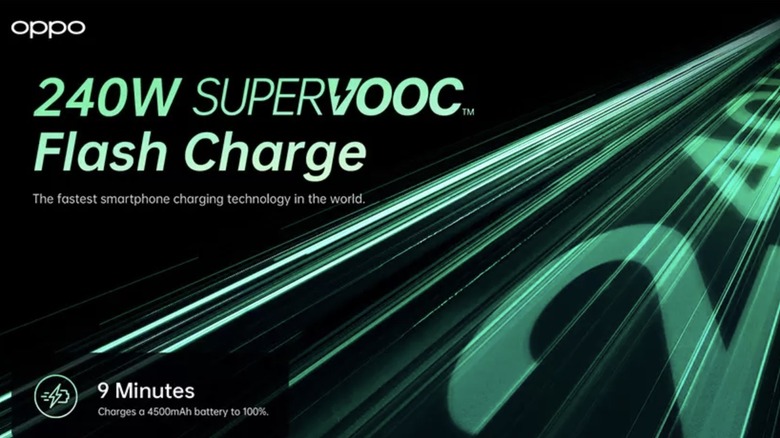 OPPO
In the demonstration, OPPO's 240W fast charging technology used a special charger rated at 24V/10A connected to a smartphone with a Type-C interface. To ensure safety, this charging standard uses three charge pumps with the ability to convert power to 10V/24A. Pumping such a massive amount of current to a relatively tiny battery almost necessitates a barrage of safety features to ensure that the whole contraption doesn't end up in a big pile of ash. OPPO's own custom-made control chip is in place to analyze and control all aspects of charging, including constant monitoring of voltage and current, for optimum speed and safety.
Keeping the battery temperatures in check is the responsibility of 13 different temperature sensors scattered across any phone compatible with OPPO's latest charging protocol. These sensors continuously feed the chip with data to detect any signs of overheating.
While all of this sounds great, it will be at least a couple of years before you will actually be able to buy a phone that supports 240W fast charging. The purpose of showcasing this piece of tech was to demonstrate that OPPO is well on their way toward delivering this industry-leading tech to the public. 
Not everything OPPO showcased at MWC 2022 was too far ahead of its time to be market ready in 2022. Unlike 240W fast charging tech, which is still a few years away, you'll be able to purchase a smartphone that supports OPPO's 150W fast charging in the first half of this year.
150W SuperVOOC charging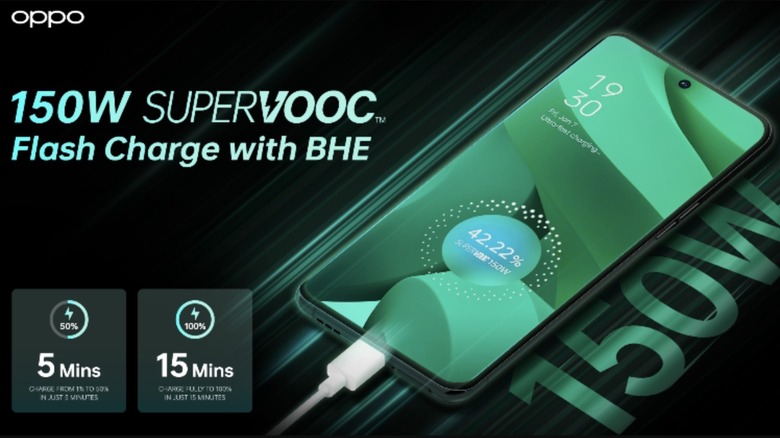 OPPO
One of OPPO's biggest competitors Xiaomi made headlines last year for debuting it's own 120W fast charging technology called Xiaomi Hypercharge. Given the limits of OPPO's current flagship, (Find X5 Pro,) at 80W charging, it was only a matter of time before OPPO came up with a major update to its fast charging tech.
Along with debuting a new Battery Health Engine (BHE) algorithm to keep the battery health in check, OPPO also revealed that the higher charging speeds do not necessitate a physical size increase in their charging blocks. Instead, the company said they have managed to keep the size of the 150W charger roughly the same as that of the older 65W SuperVOOC charger. OPPO achieved this thanks to the use of an advanced material called Gallium Nitride (GaN), which is gradually replacing older silicon-based chargers.