Android Messages For Web: Here's How To Set It Up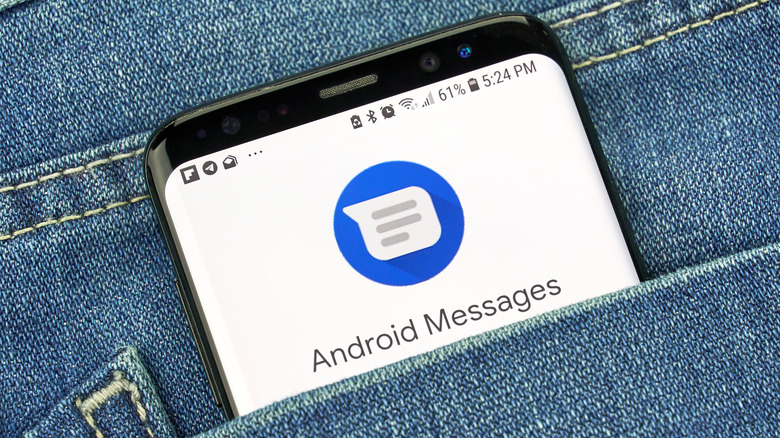 dennizn/Shutterstock
Google's messaging message is an utter mess but it hasn't yet given up trying to get it right. After the failure of Google Allo, the tech giant has poured its resources into Android Messages, making it the be all and end all of Android-based messaging. At least for now. The latest piece in that puzzle is Messages for Web, pretty much the parallel of Allo for Web. If you want to be able to send and read your messages on any web browser, even while you're phone lies a few feet away, follow these simple steps. But be warned, things aren't as convenient as they sound.
Android Messages for Web: Step-by-Step
Messages for Web is a server-side feature that Google has to turn on for your region. In other words, if you're not seeing the option yet on your Messages Android app despite updating it endlessly, then you'll have to sit this one out for a while. Unless you have a rooted device, that is.
Simply go to the Android app's overflow menu (three vertical dots) and tap on Messages for web. On your desktop or laptop web browser, head over to https://messages.android.com. Note that only Chrome, Mozilla Firefox, Safari, and Microsoft Edge are officially supported. Google says it doesn't work on Internet Explorer but it seems to work on Opera at least. You will be directed to scan a QR code and that's pretty much all you have to do to connect your phone to your browser. This deceptively simple process, however, does have a price, as we'll see later on.
The interface for Messages for Web is pretty much similar to the phone version, using the same colors for the same contacts. Of course, there are options that are present only in the web version, like having a dark theme. On the other hand, you can't add contacts from messages on the web interface. There's an option for you to remember a particular browser so that you won't have to re-authenticate each time. Though even if you did enable that, you will automatically be signed out if you don't use your Messages account for 14 days.
Android Messages for Web is really just a simple convenience to let you send and read your messages on your desktop without picking up your phone. Its convenience, however, ends there. Remember that QR-based pairing process? That basically means you can only have one active pairing at a time. Yes, you can connect Messages on multiple devices but only one can be active at any given point in time.
Then there's the fact that Messages for Web will use your phone's Internet connection to relay the messages you receive on your phone to your desktop. That's something you remember when you're outside of a Wi-Fi network, as it will use your phone's cellular data instead.
By focusing on Android Messages, Google is banking heavily only RCS (Rich Communication Services) as the future of its messaging system. But based on SMS, RCS shares the former's flaws, like the lack of end-to-end encryption. Only time will tell how long Google will stay in this direction but, for now, enjoy your browser-based texting.