Now Siri Will Let You Speak To The Google Assistant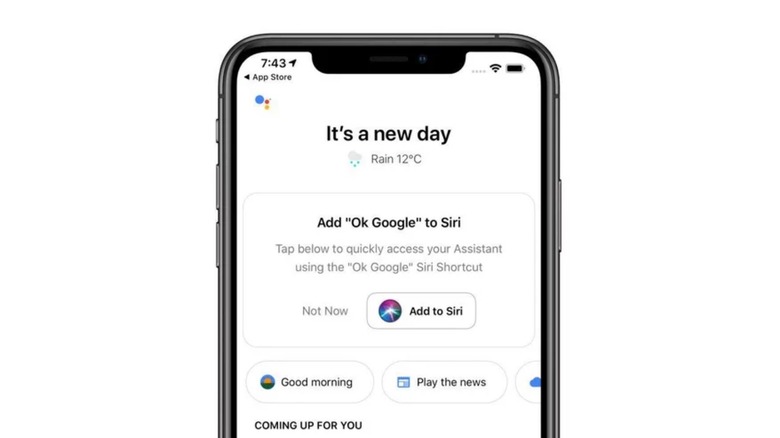 Apple
Siri may be a mainstay of Apple devices, but if you're a fan of the Google Assistant there's now a sneaky workaround to tap into that instead. Google's Assistant has until now been far more clunky to interact with on iPhone and iPad than on Android, but support for Siri Shortcuts cuts out a lot of the headache.
The Assistant itself has been available on iOS for some time now, courtesy of the appropriately-named Google Assistant app. Where on an Android device you can trigger the Assistant via a spoken command, however, on iOS that hasn't so far been an option. Apple reserves that for its "Hey Siri" launcher.
If you wanted the Google Assistant, you'd first need to open the Assistant app, and then say "Hey Google" or type in a command. Functionally the Assistant works the same as on an Android phone – or, indeed, as on a Google Home smart speaker – but getting to it has a few extra hurdles.
Now, with the addition of Siri Shortcuts support in the Google Assistant app, there's a workaround to that. Launched with iOS 12, Siri Shortcuts allows Siri to be used as a trigger for various apps and services. That can be as simple as launching a specific app, or as complex as a lengthy macro opening multiple apps and triggering a range of commands.
Open the Google Assistant app post-update, and you now get the option to register the Assistant with Siri Shortcuts. You'll need to record a trigger phrase – such as "Ok Google" – since it's apparently unable to pull in a pre-existing voice command you may have already set up on another Assistant-powered device. However, after that you can string both Siri and Assistant instructions together to use Google's services.
For instance, you could say "Hey Siri, Ok Google" and have the Assistant load up. If you've turned on Siri support from the lock screen, your iPhone or iPad needn't be unlocked or the screen even on for that to work.
With Google's launch of complex Routines for the Assistant earlier this year, it's a shortcut into controlling your whole smart home, too. For instance, if you have a Routine set up to lock the doors, turn out the lights, and lower the thermostat intended for use when you leave the house, you could trigger that through the Assistant by asking Siri for it.
Certainly, it's not quite as elegant as just talking to Google's AI directly. However for those who want the best of both ecosystems it's a whole lot better than having to open up the Assistant app manually and then start speaking to Google's service.
You'll need to have the latest version of Apple's Shortcuts app and the latest Google Assistant app in order for the functionality to work. When you open the Assistant app post-update you should see the option to register it to Siri Shortcuts. After that, the Assistant should appear as an option when you build a new shortcut.