Star Wars Is Now 44 Years Old And More Than 5 Days Long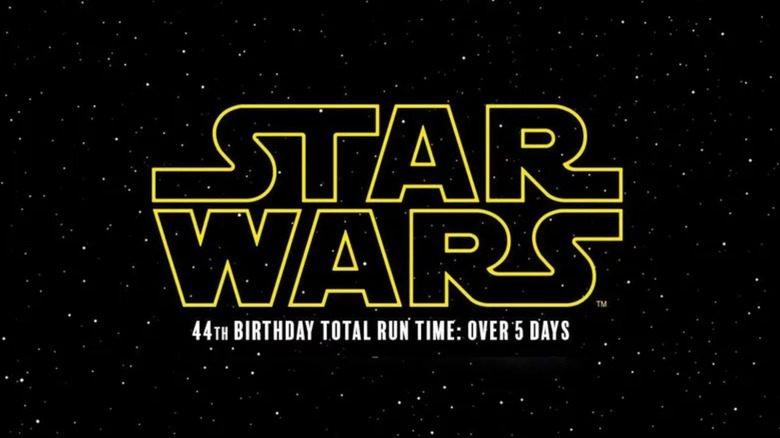 Today is the 44th anniversary of the premiere of the movie Star Wars. This was the movie that was eventually called Star Wars: Episode IV – A New Hope, according to its place in the Star Wars Skywalker saga film lineup and Original Star Wars Trilogy. To be entirely fair, Star Wars was promoted before May 25, 1977, and previewed to some very lucky individuals before this date – but May 25, 1977 was the day the movie opened to the public. Since then, one whole heck of a lot of Star Wars has been produced and released to screens both big and small.
All the Star Wars movies and shows
Here in the year 2021, Star Wars is one of the most well-known brands and pop culture reference points in modern history. The original Star Wars (A New Hope) was written and directed by George Lucas. The Empire Strikes Back was released in May of 1980 and was directed by Irvin Kershner. Return of the Jedi was released in 1983 and directed by Richard Marquand.
A few years after the release of Return of the Jedi came The Dark Times. This is a fan-named era in which very little official first-party Star Wars productions or products made their way to fans hands. It was a full 16 years before the release of Star Wars Episode I: The Phantom Menace.
Each of the Star Wars Prequel movies were also released in May of their respective release years. Star Wars Episode I – The Phantom Menace was released in May 19, 1999, Attack of the Clones came on May 16, 2002, and Revenge of the Sith was released on May 18, 2005. Each of the Prequel Trilogy movies was written and directed by George Lucas.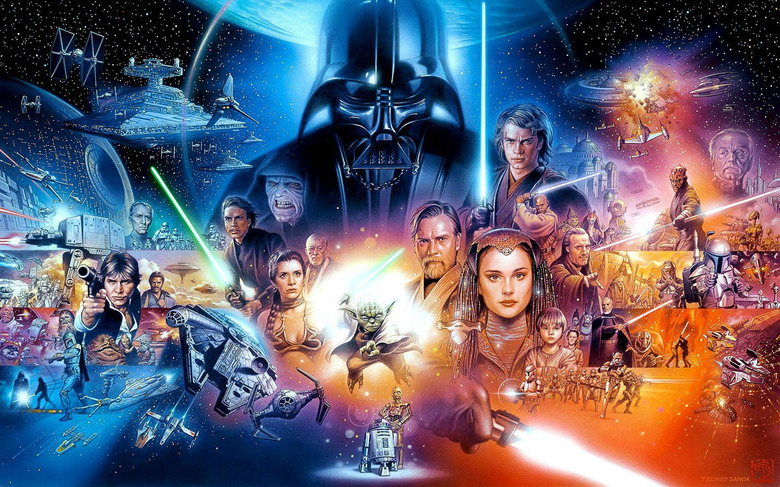 NOTE: Artwork above by Tsuneo Sanda
From 2003 to 2005, "Star Wars: Clone Wars" was developed and directed by Genndy Tartakovsky for Cartoon Network. This show was effectively rebooted and/or continued with another similar show called "The Clone Wars."
In August of 2008, before the release of the episodic show of the same name, Star Wars: The Clone Wars was released as an animated film in theaters. This movie was compiled from episodes of the show, leading the viewer into the events of the show. Star Wars: The Clone Wars show started in October of 2008 and lasted for 5 seasons on Cartoon Network, another 1 season on Netflix, and another season on Disney+, for a total of 7 seasons and 133 episodes.
In October 2012, Disney acquired Lucasfilm for $4.05 billion dollars. In October of 2014, the television show Star Wars: Rebels started on the TV channel Disney XD and lasted for four seasons and a total of 75 episodes.
In December of 2015, Star Wars Episode VII – The Force Awakens was released in theaters, directed by J.J. Abrams. The Force Awakens, The Last Jedi, and The Rise of Skywalker were all released in December of their respective years. They were released in 2015, 2017, and 2019, directed by J.J. Abrams, Rian Johnson, and J.J. Abrams respectively.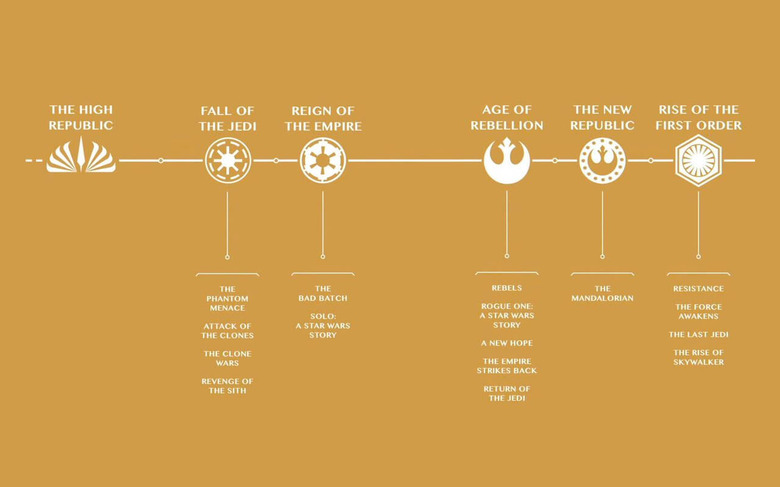 Between the first and second Disney films, Rogue One: A Star Wars Story was released in December of 2016, directed by Gareth Edwards. Solo: A Star Wars Story was released in May of 2018, directed by Ron Howard. There are plans for at least one more Star Wars film so far – one called Rogue Squadron. It'll be directed by Patty Jenkins.
Star Wars: The Bad Batch premiered on Disney+ on May 4, 2021. This episodic series is effectively the next chapter after the TV show The Clone Wars, following a group of rogue clones after Revenge of the Sith.
The live action series The Mandalorian was first released on Disney+ in November of 2019. The Book of Boba Fett is planned for release in December of 2021. Disney announced plans for additional series for the streaming platform, including Andor, Obi-Wan Kenobi, The Acolyte, Ahsoka, and Lando. And there'll be more, too!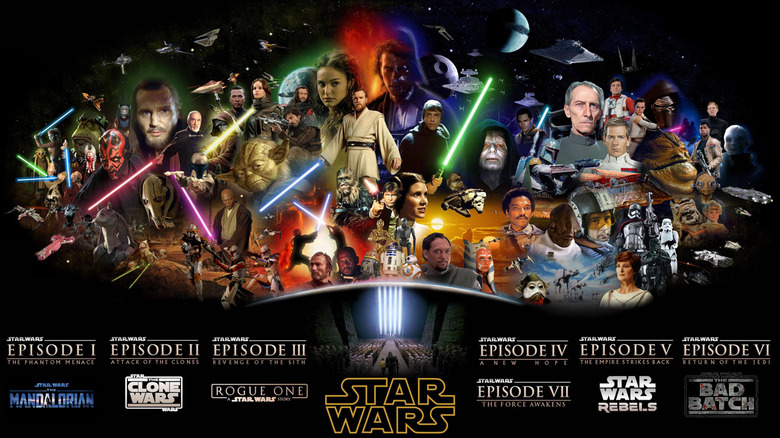 Star Wars total run time
If you combined the runtime of all the currently-released movies and watched them all back-to-back, you'd find yourself in front of a screen for more than 24 hours straight (actually approximately 25.16 hours). That includes all 9 Skywalker Saga films, Solo, and Rogue One.
A very rough calculation of the number of hours included in The Clone Wars based on average run time (movie and second show, all 7 seasons) adds up to approximately 2 days, 18 hours (or 56 hours). The entirety of Star Wars: Rebels clocks in at approximately 27.5 hours. The Mandalorian (seasons 1 and 2) total run time is around 10.5 hours. The Bad Batch (the first four episodes released so far) come in at a total of 2.7 hours.
As such, if you're looking to have the ultimate Star Wars marathon, you'd do well to carve out a full 5.5+ days for yourself. That's not an exact calculation, but as a general moment-in-time reference point, here in May of 2021, the total run time for all Star Wars movies and shows is 121.86 hours, which is a total of 5 days and 4 hours.
If you're adding breaks to get up and walk around once in a while, it's safe to assume you'll be able to EASILY fill up a full week with 100% official canonical Star Wars shows and movies – fun!