Hopsy SUB Compact Tap Review: Mini Beer Keg Machine In Effect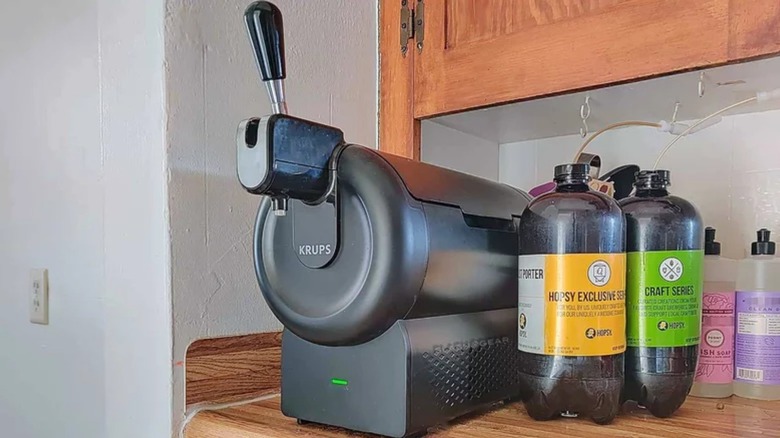 Over the last couple weeks we've had a Hopsy SUB Compact Tap on the review bench, and it's been pouring. This machine is a "compact home draft appliance", a machine that pours beer from miniature kegs. The kegs are delivered each month, and I would (if I'd actually subscribed) be sent six Mini-Kegs per month at approximately $15 USD a unit.
The Machine and Process
The Hopsy SUB Compact Tap is a beer containment, cooling, and pouring machine. It came to our door in just a few pieces – the main unit (with power cord), a cover for the head, and the tap handle. There's also a tray for spillage (not pictured here) that I've literally not needed a single time through several mini-kegs of beer.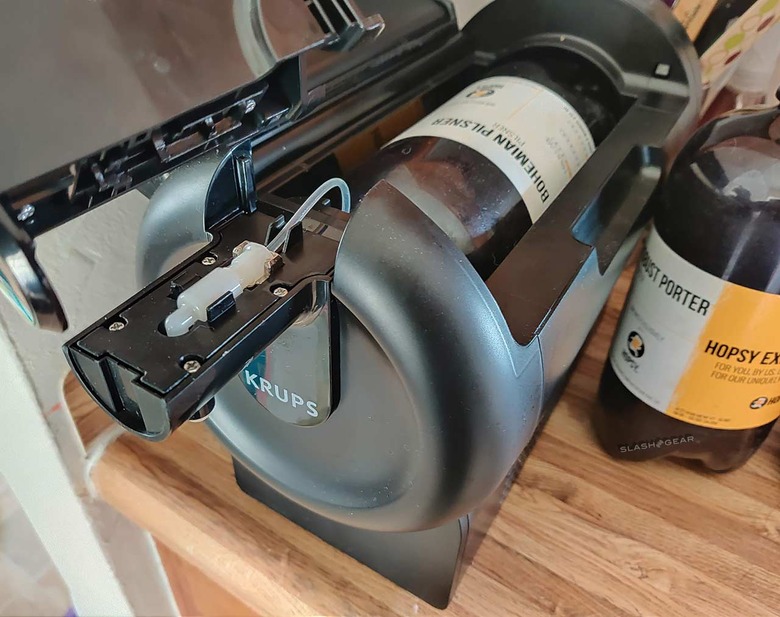 To get this machine working, all that's needed is a plug into a standard wall socket and a dropping-in of a mini-keg. The mini-kegs are delivered separate from the machine, and are so extremely simple to work with, I'd be SHOCKED if your grandmother couldn't figure it out.
Each mini-keg is said to stay fresh for 15 days after you first insert and tap it with the machine. I found that to be entirely true. So far as I could tell, no one beer got skunky or less-than-smooth even a half-week after the first 15 day guarantee. ALSO: If you find any of the beer kegs to be less-than-tasty, they've got a guarantee for just such a thing.
"We work very hard to protect your beer to keep the quality at the highest brewer-accepted standards, but sometimes we all get a beer we really don't like," writes Hopsy. "If that happens to you, contact us and we'll make it right."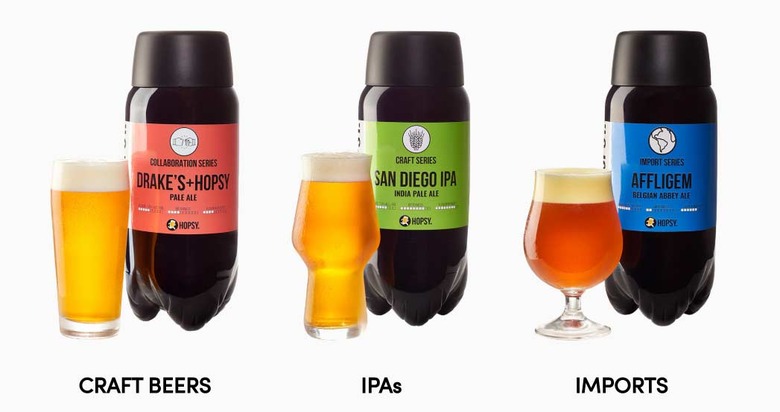 There's a surprising variety of beers in the mix, due in no small part to the Hopsy collection of partner breweries. On the list at the time of this review are Coronado Brewing Co, Sierra Nevada, Drake's Brewing Co, Lagunitas Brewing Company, Ommegang, High Water, Firestone Walker, Affligem, and quite a few more.
You might also recognize Yuengling (Americas Oldest Brewery), Iron Springs Pub, Spider Bite, Affligem, Cleophus Quealy, or Narragansett. Or maybe you've heard of Heineken (they're in the mix, too), or Bronx Brewery, The Lion Brewery, or the brewery in Gordon Biersch.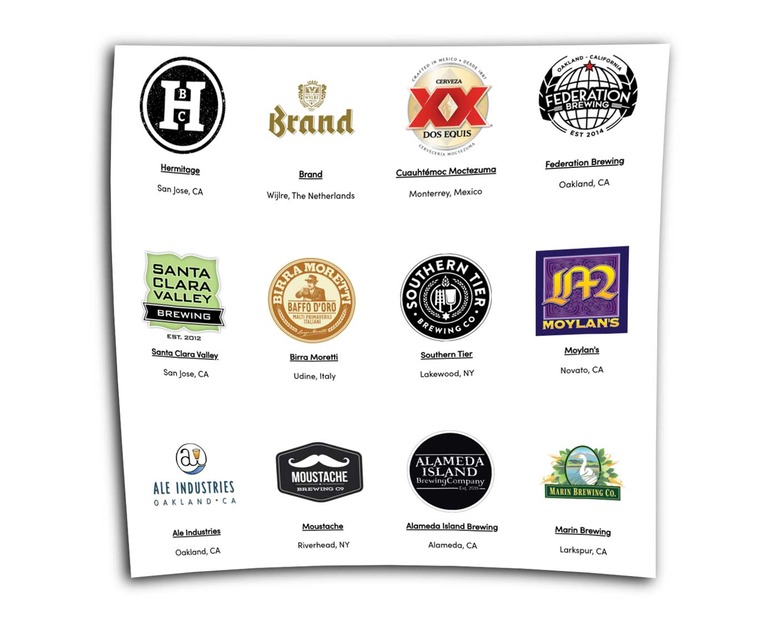 The list of Hopsy-partnered breweries continues with Cuauhtémoc Moctezuma (Dos Equis), Federation Brewing, Hermitage, Brand (Netherlands), Santa Clara Valley Brewing, Birra Moretti, Southern Tier, Moylan's, Ale Industries, Moustache (NY), Alameda Island Brewing, Marin Brewing, Strike, Epidemic Ales, Brew SA, Broken Bow, Empirical Brewery, Soundgrowler Brewing, Urban renewal Brewery, Strike (ATB), Blue Nose Brewery, Burnt City Brewing, and Hailstorm Brewing Company. There'll probably be more by the time you read this review, too.
During our review every beer poured without error (no sudden air blasts, spraying, etc), with a consistent speed, and with great ease. With such ease, in fact, that I've had to remove the handle while not in use, because that handle is just TOO tempting for small children and cats. I'm not joking.
My only complaint with the hardware is with the level of noise this thing requires in order to operate. There's air pressure involved in tapping beer, it turns out, and one of this machine's main functions is keeping each mini-keg pressurized. That can get loud – but it's not constant, and not a deal-breaker.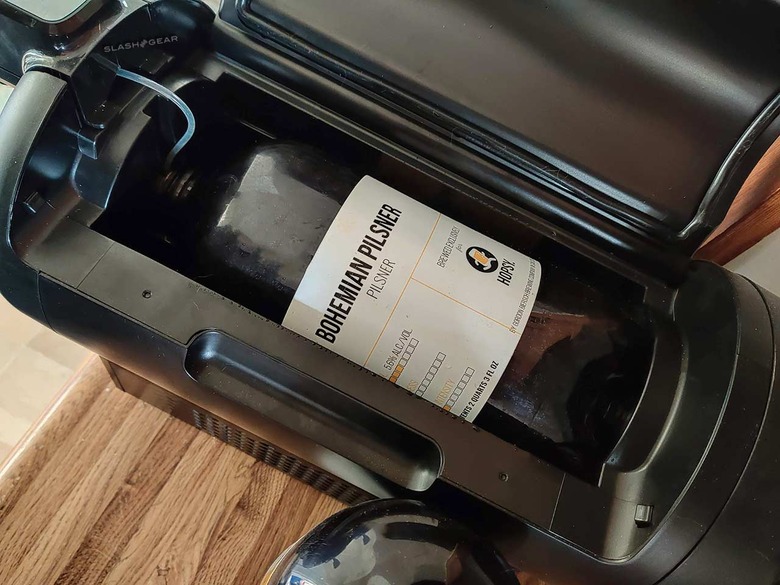 The cost of kegs
At six kegs a month and $14.99 per keg, we're talking a $90 per month subscription here. That's a substantial cost to the average young person – unless they've already got the drinking of beer figured in to their monthly budget.
Each mini-keg has around 67oz of beer – that's approximately 6 servings at 11.17oz per serving. Your average bottle of beer in the USA is 11.2oz (short-neck). If you're talking about a pint glass, you get just over 4 servings – with a tiny bit to spare.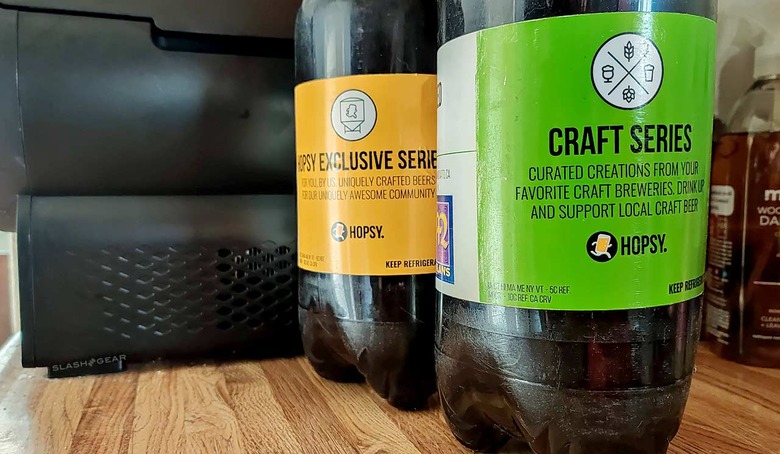 If you're buying 6 bottles of beer from the liquor store, you'll probably pay less than the $15 you'll pay per keg with Hopsy. If you're buying 4 pints of beer from a bar or pub, completely dependent on what bar or pub of which we speak, we're talking anywhere between $4 and $10 a glass.
With pints in public places, even during some SUPER happy hour, we're talking at least $16 for the amount of beer in one mini-keg from Hopsy. But we're not in public, we're at home. We're talking $90 a month for approximately 24 bottles or 16-glasses-worth of beer.
If you generally buy off-brand bottles of beer at home all month long, you'll probably pay less continuing to drop all your cash on your go-to brand. Of course you'll pay for gas and you'll need to take the time to go to the liquor store every time you're out – but that's on you.
Wrap-up
There's a bit of novelty involved in each pour, to be sure. You'll be the belle of the ball if you're hosting a Dungeons and Dragons session in your apartment – but is it worth the cash? If you're the sort of person who's all about trying a few different sorts of honestly really tasty beer each month – by all means, go for it.
The Hopsy SUB Compact Tap itself can be purchased through Hopsy for approximately $240 on its own – but you'll need to buy at least a couple mini-kegs if you actually want to drink beer. Right this minute there's a Father's Day sale going on, so you'll be able to purchase the Hopsy SUB Compact Tap and get a couple of Mini-Kegs for approximately $140. I'd recommend the same sort of deal with 6 Mini-Kegs right out the gate – that'll cost approximately $200 USD.
There are other similar solutions out in the wild, but none that've got their ducks in a row as well as the folks at Hopsy. Now, if only I could get them to make a very similar machine that was made specifically for root beer, I'd be happy forever.
NOTE: To review this product, Hopsy sent the Hopsy SUB Compact Tap and several different Mini-Kegs. SlashGear nor the author of this review received any sort of profit or bonus from the sale of units or anything of that nature. As it is with every review on SlashGear, our aim is to remain as unbiased and fair in our review of each product so YOU get clear guidance for the spending of your hard-earned cash.