2022 Toyota Prius Prime Review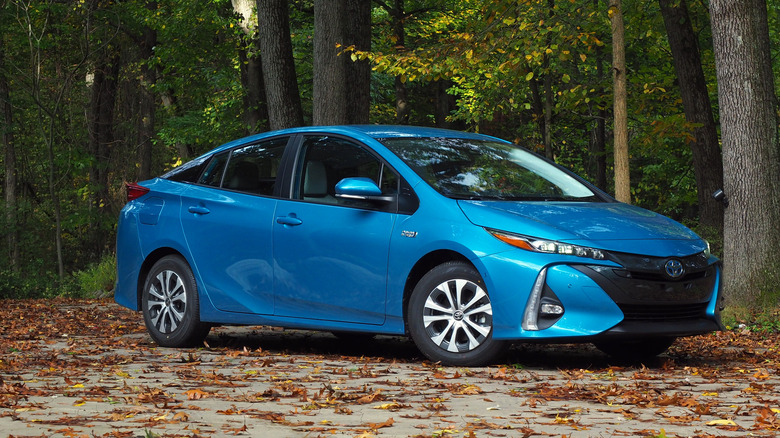 Chris Davies/SlashGear
Toyota's Prius may have first sold the world on hybrids, but that milestone has arguably become a millstone around its neck as rival automakers bring out their own, competing electrified vehicles. For the 2022 Prius Prime, the big advantage over its cheaper stablemates is the ability to charge up the battery externally: that means more electric-only range. While PHEVs (plug-in hybrid electric vehicles) can offer flexibility for those wanting to get their feet wet in zero-emissions driving, the Prius Prime may demand a few too many compromises along the way.
Until the Prius Prime, Toyota's approach to electrification in the Prius was a relatively closed loop. Electricity would be generated when you slowed, using regenerative braking, and then used to bolster performance via an electric motor. The result was more frugality from the gas engine, though with minimal electric-only range.
As a PHEV, though, the Prius Prime embraced external charging. Its bigger battery could still use regenerative braking for top-ups, but you can also pop open a second fuel door and find a charging port there. The result, for the 2022 Prius Prime, is 25 miles of electric only range according to the official EPA figures, and a not-unimpressive 133 MPGe for gas and electric combined. Fill the tank, and drive carefully, and you could go a whopping 640 miles, Toyota says.
PHEVs promise the best of both worlds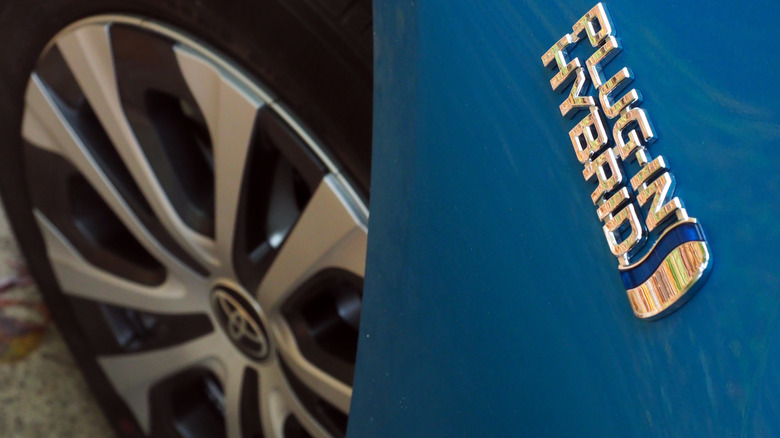 Chris Davies/SlashGear
There's a lot to like about plug-in hybrids, though they're arguably being left behind in the transition to full electrification. For those new to EVs, the reassurance of having a gas engine — and the flexibility of being able to top up the tank at a well-established infrastructure of gas stations — can help settle both practical constraints and mental ones. If you drive a relatively short distance each day, and have a charger at home or at work, you can do most of your motoring on electric power alone.
Some automakers opted to insinuate that duality into cars that otherwise feel like, well, regular gas engined models. Others, the Prius Prime one of them, wear their unusual nature clear on their metaphorical sleeve. Or, in the case of this Toyota specifically, in the form of a badge on the front fender.
The Prius has always been a controversial shape, honed by the wind tunnel for maximum aerodynamic slipperiness. The Prius Prime is no different, and remains a case of love-it-or-hate-it with swoops and creases aplenty. The exterior, at least, doesn't pretend to be a crossover, which makes a nice change. In this Limited trim (from $34,000 plus $1,025 destination), you get 15-inch alloy wheels, quad-LED headlamps and LED fog lamps, and rain-sensing wipers as standard.
Frugality before fun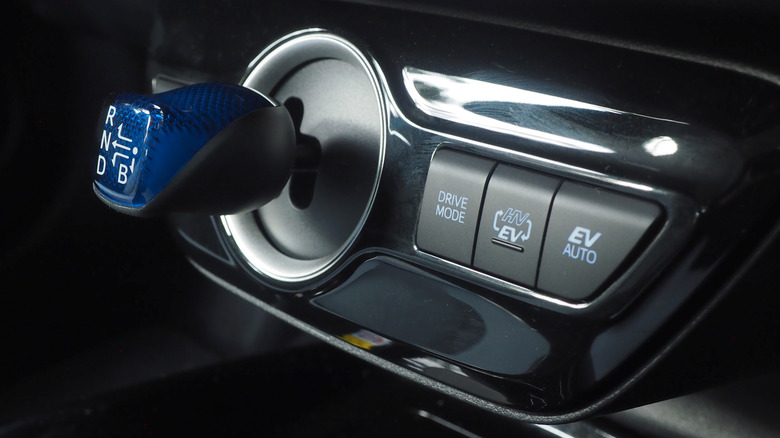 Chris Davies/SlashGear
We're a long way from the days where electrified cars were automatically presumed to be dull behind the wheel. Models like the Polestar 1 and Karma GS-6 have demonstrated that PHEVs are entirely capable of being fun to drive, while the ability of electric motors to provide a burst of instantaneous torque can make more affordable plug-in hybrids feel much more potent than on-paper specs might suggest. If you're writing off a hybrid just because it has green credentials, think again.
That's generally true, though the specifics of this 2022 Prius Prime don't exactly set your hair alight. The 1.8-liter inline-four gas engine contributes 95 horsepower and 105 lb-ft of torque; combined with the electric motor, you're looking at 121 horsepower in total. A CVT (continuously variable transmission) handles getting that power to the front wheels. Toyota has an AWD Prius, but not a PHEV version of that car.
The battery is an 8.8 kWh lithium-ion pack, and can be charged in about 5.5 hours with a 120V outlet. If you have a Level 2 240V charger, that gets trimmed to around 2 hours. There's no DC fast charging support, which isn't unusual for a PHEV; the reality is, if you're in need of more range while on the move, stopping at a gas station is an easier option.
This is not a driver's hybrid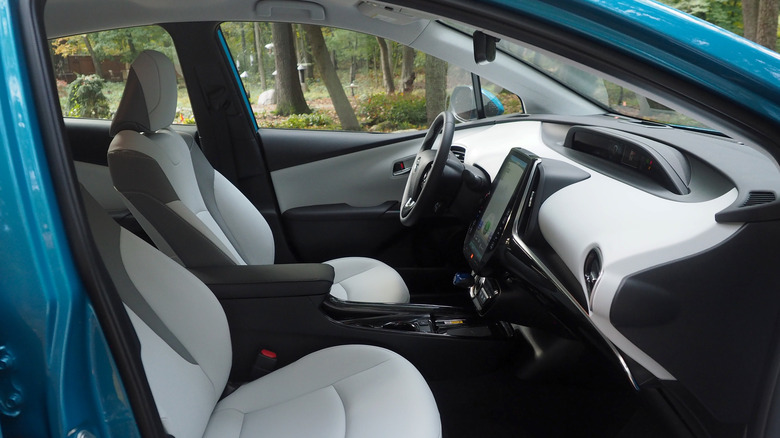 Chris Davies/SlashGear
Unsurprisingly, the experience in the driver's seat is slow and steady. The Prius Prime starts in Normal mode and, with a toggle of its oddly-shaped transmission selector — which looks like a high-tech tulip protruding from the dash — you're thrumming away neatly but not speedily. 0-60 mph arrives in 10 seconds or so, and if you have the patience it should keep going to a top speed of 112 mph.
Power mode trades some economy in favor of a little more urgency, but again, everything is relative. Nothing is going to make the Prius Prime feel sporty. There's also an Eco mode, which leaves acceleration and responsiveness feeling like they're wrapped in layers of cotton wool. Press the EV button and you can lock the Toyota into electric-only driving, though it'll revert back to using the gas engine when you drain the battery.
The other option worth noting is the two levels of regenerative braking. By default, it's a light-touch: lifting off the accelerator causes the Prius Prime to slow down much like a traditional gas car would. Tap the transmission selector down to "B" mode, however, and the regen becomes a little more aggressive; lifting off gets you more noticeable slowing.
As for the steering, that has a single setting and is highly assisted to the point of being remote. Given the urban commuter focus here, that's probably no bad thing, overall. Similarly, ride quality is fine for the most part, though you get a reminder of the Toyota's not-inconsiderable curb weight when it's faced with potholes. Things get bumpy and harsh.
A decidedly-weird dashboard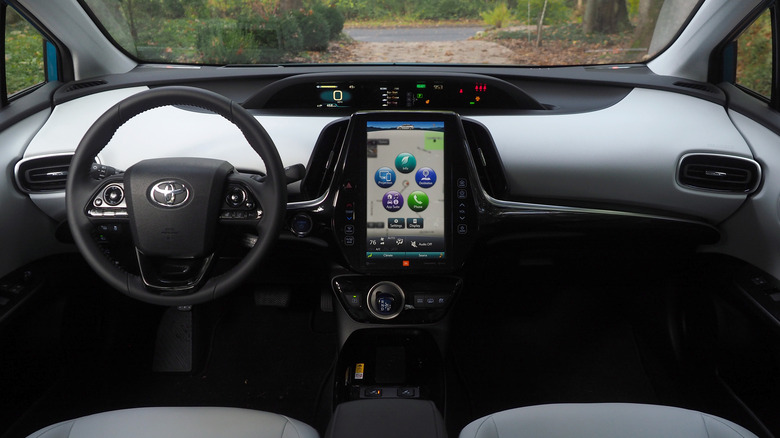 Chris Davies/SlashGear
Though the transmission shifter may be weird, it's only one part of a decidedly avant-garde cabin. That's been the Prius way from the outset, with the Prius Prime throwing in a sizable infotainment touchscreen along with the central row of gauges that bulges up from the top of the dash.
Not having speed information directly in front of you takes a little getting used to, though the Limited trim does project it into a color head-up display. It also enjoys blind-spot warnings, adaptive cruise control, park-assist, a 10-speaker JBL audio system, Apple CarPlay and Android Auto, wireless phone charger, and SofTex-clad heated front seats. Toyota's ample Safety Sense 2.0 suite is standard, too, on even the base $28,200 Prius Prime LE.
Toyota hasn't, thankfully, ousted all physical controls, and you can still tweak the HVAC and volume without diving into the 11.6-inch touchscreen that's standard on the XLE and Limited trims (the LE gets a smaller, 7-inch version). Unfortunately, Toyota's infotainment software feels awkward compared to what other big-screen rivals offer. There's no Android Automotive OS as in the Polestar 2, or Tesla's sleek Model 3 UI.
Instead, the graphics are chunky, and the split-screen layout doesn't really make the most of the real-estate on offer. It ends up still managing to feel crowded, and is more confusing to use on the move than either the Polestar or the Tesla's screens, despite both of those offering more functionality overall. It also suffers from "old Toyota Entune" syndrome, with aging UX elements that feel like they're designed for a landscape rather than a portrait display. The way the shifting UI for the navigation app ends up covering chunks of the actual map is particularly frustrating.
Toyota does, of course, have a new version of its software, and that seems much improved. Problem is, we'll need to wait for it to arrive on the Prius Prime: You can't just upgrade the infotainment stack to that new OS.
Space-age looks, humdrum appeal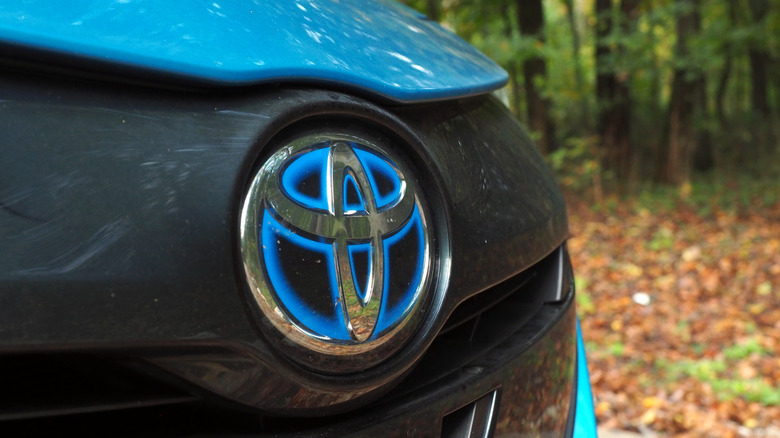 Chris Davies/SlashGear
The rest of the cabin is generally spacious and comfortable. There's sufficient room for adults in the second row, though you sacrifice some cargo space for that bigger battery. There, you're looking at 19.8 cu-ft with the rear bench up, or 36.6 cu-ft with it down.
I'm a fan of plug-in hybrids generally, though it's not hard to conclude that the auto industry is shifting away from them. Chevrolet's decision to axe the Volt, for example, arguably marked the big turning point for compact PHEVs. The irony is that, with its 53 miles of electric-only range, the ill-fated second generation Volt could actually be driven further in EV mode than most of the PHEVs that remain on sale today.
Even in a diminished line-up, though, the 2022 Prius Prime doesn't feel quite as ambitious as its space-age design. A Hyundai Ioniq plug-in hybrid, for example, is rated for 29 miles in EV mode and starts at $1,400 less. Toyota's own RAV4 Prime offers 42 miles of electric range and is far more rewarding to drive; unfortunately, it also starts at $39,800.
Nonetheless, given the choice between this $35k Prius Prime Limited tester, and a base RAV4 Prime, I'd have to dig a little deeper in my wallet and go for the crossover. Toyota's hatchback PHEV feels like the epitome of the "transportation appliance," only its frustrating infotainment leaves it less pleasant to live with than such straightforward motoring should be. With driving dynamics best described as dreary, it finds itself squeezed between cheaper rivals with more electric range, and Toyota's own – and far better – electrified alternatives.