Early Elden Ring Reviews Are Here And They All Agree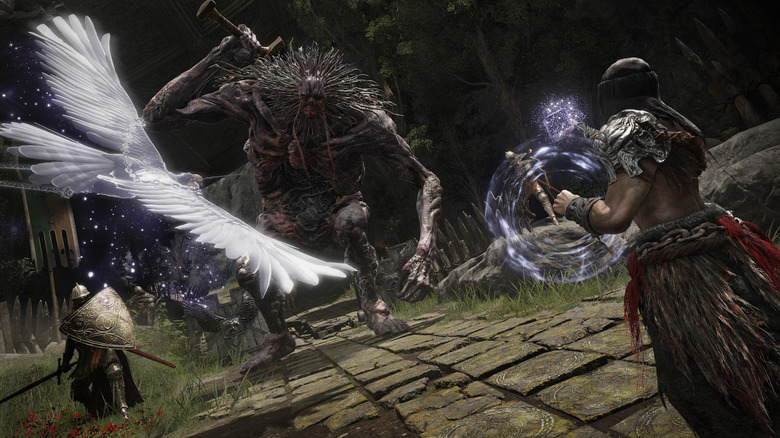 From Software/Bandai Namco
It's a big day for "Dark Souls" fans, as early reviews for "Elden Ring" have gone live. Quite possibly the biggest game of the year – and if not, "Elden Ring" is at least among the most anticipated – there are undoubtedly a lot of people wondering if From Software can stick the landing yet again and successfully drop "Dark Souls" gameplay in an open world.
With at least a few examples of highly-anticipated AAA games failing to meet expectations in recent memory, there's probably been a fair bit of anxiety among fans regarding whether or not "Elden Ring" can actually live up to the hype. Today's early reviews answer that question, so if you've been looking forward to the game, you'll definitely want to see what they have to say. If you're new to "Dark Souls" and wondering whether the upcoming title is a good jumping-off point, you can also look at SlashGear's first impressions post to get an idea of what it's like to play "Elden Ring" as a "Dark Souls" noob.
Elden Ring reviews don't disappoint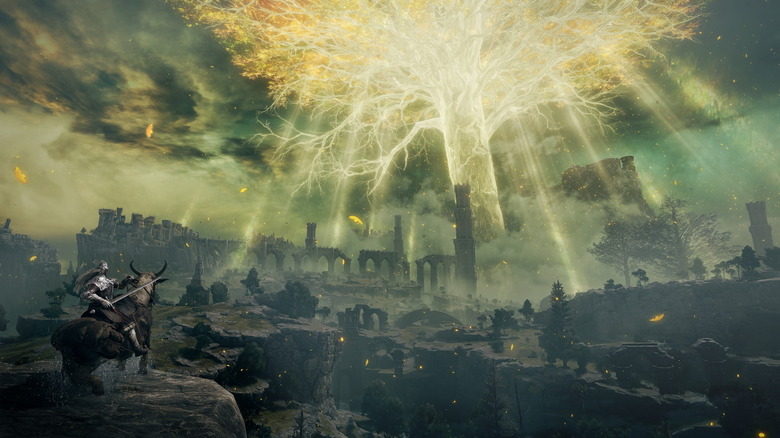 From Software/Bandai Namco
Surprise, surprise: it turns out "Elden Ring" is a pretty good game. In fact, according to these early reviews, it's more than good — it's fantastic. The PlayStation 5 version of "Elden Ring" is currently holding down a very impressive score of 97 on Metacritic with 44 reviews listed. While that score may fluctuate somewhat in the days to come as more reviews are published, a Metascore of 97 that counts 44 reviews is a big deal, to say the least.
"Elden Ring" isn't faring much worse on other platforms either — at least not by Metacritic's count. Both the PC and Xbox Series X versions of the game have scores of 95, though it's worth noting that while the PC version counts 36 reviews, the Xbox Series X version only has 8 listed so far.
To put this in perspective, these scores are enough to make the PS5 version of "Elden Ring" the 15th-best-reviewed game on Metacritic. With a Metascore in the high 90s, "Elden Ring" is enjoying some rarified air that it shares with other titles like "The Legend of Zelda: Breath of the Wild," "Grand Theft Auto IV," "Tony Hawk's Pro Skater 2," and both "Super Mario Galaxy" titles.
Metacritic isn't the only one saying Elden Ring is good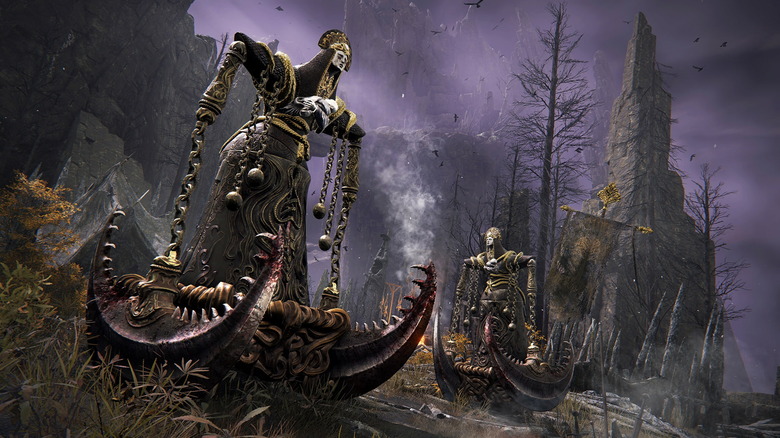 From Software/Bandai Namco
Over on OpenCritic, we see a very similar story. The website gives "Elden Ring" a Top Critic Average rating of 97, noting that a whopping 100% of critics recommend the game. That's more than enough to earn it an OpenCritic rating of "Mighty."
"Elden Ring is FromSoftware's best work yet and one of the highest rated games of all time," the website's critic consensus panel reads. "With refined, accessible, and satisfying combat in a vast, beautiful, and intriguing open world, players will find a lot to love."
So, if you were worried that "Elden Ring" would waste all of the hype and flop on release, it seems like you can breathe easy. Of course, there have been instances where critics and gamers end up disagreeing about a game, but having played "Elden Ring" ourselves, we're guessing that most "Dark Souls" fans will enjoy their time with the game. Look for "Elden Ring" to launch Friday, February 25, 2022, on PlayStation 4, PlayStation 5, Xbox One, Xbox Series X|S, and PC – you can check out our previous coverage of "Elden Ring" to find out when the game unlocks in your region of the world.