Elden Ring Launch Trailer Drops Release Times And Spoilers Aplenty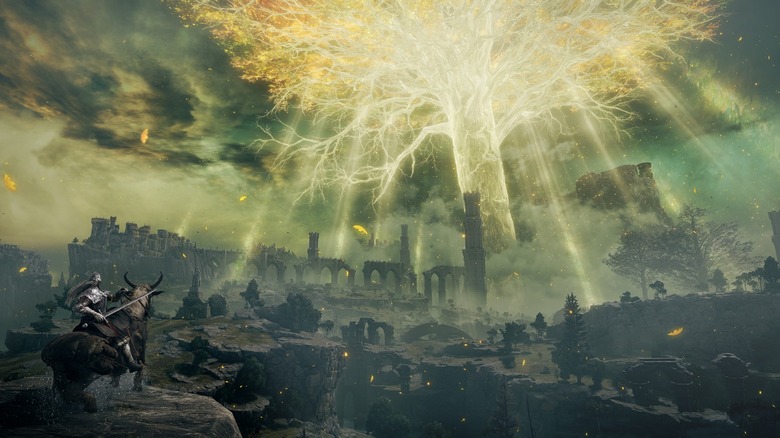 From Software/Steam
With just a couple of days left to go until the release of "Elden Ring," anticipation is clearly riding high. "Dark Souls" fans have been looking forward to this game's release for years at this point, and it promises to be the biggest game from Hidetaka Miyazaki and his team at From Software yet. With the countdown inching ever closer to release day, today From Software and Bandai Namco released the launch trailer for "Elden Ring," which is almost certainly the final trailer that will be released before the game's arrival on Friday, February 25th, 2022.
Not only that, but Bandai Namco has also shared the global release times for "Elden Ring," so you find out when you'll be able to start playing regardless of where you are in the world and which platform you're playing on. These global release times may be of particular use to gamers who own multiple gaming machines and simply want to play "Elden Ring" as soon as possible, because the game won't be available at the same time across all platforms.
Elden Ring's launch trailer revealed
The "Elden Ring" launch trailer is a lot of things all in one: it's dark, as we'd expect from most of From Software's games. It's epic with its sprawling landscapes and gigantic bosses. It's even a bit flashy thanks to its various combat showcases. It's definitely cryptic too, with mysterious voiceovers from various characters throughout. Basically: if you were excited for "Elden Ring" before, this will only serve to make you more excited as we approach release day.
However, some of you may not want to watch, and in fact, there seems to be a lot of "Dark Souls" veterans who want to go into "Elden Ring" unspoiled. If you're looking to boot up "Elden Ring" on Friday as unspoiled as possible, it's probably best that you skip this trailer for now. Even though the trailer consists of quick cuts that don't have a ton of context, there are still several enemies, locations, and weapon types that would probably be more fun to encounter throughout the course of your first playthrough. As cool as the trailer is, many might be pleased with the decision to sit this one out.
Elden Ring global launch times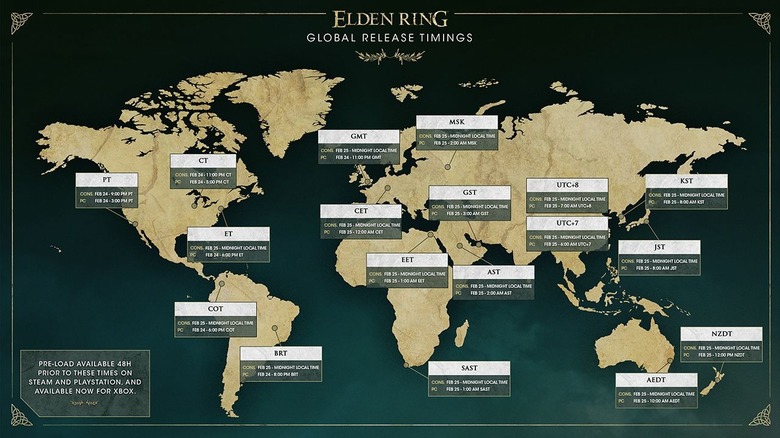 Bandai Namco
Going hand in hand with this launch trailer, Bandai Namco has also revealed the global launch times for "Elden Ring." You can see the launch times listed above, but if you're playing on console and you live outside of the U.S., the only thing you need to know is that Elden Ring launches on February 25th at midnight in your local time zone.
That makes it pretty easy for those playing on console, but on PC it's an entirely different story. For instance, here in the United States, The PC version of Elden Ring launches at 6 PM EST/5 PM CST/3 PM PST on February 24th. So, if you're playing on PC, you get to start playing a few hours earlier than our console brothers and sisters (it should be noted that the console versions of "Elden Ring" launch at midnight EST on the 25th in the U.S., which translates to 11 PM CST/9 PM PST on the 24th).
While the image above has all of the launch times on it, it may be easier just to check the "Elden Ring" website directly as launch times are listed there as well. It's important to keep in mind that "Elden Ring" pre-load will be available 48 hours before launch on PlayStation consoles and Steam, while it's already available on Xbox consoles. If you're looking to play "Elden Ring" the moment it goes live, you'll want to pre-load the game once it's available later this week.