The Xpedition Pro Xpro One Looks Like A Ruggedized Tacozilla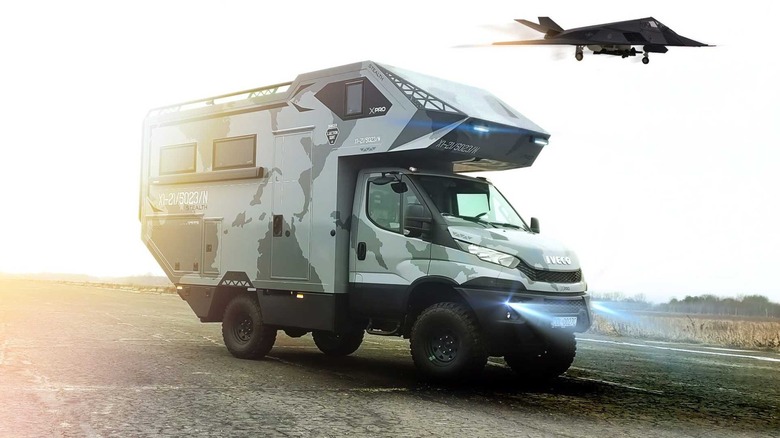 Xpedition Pro
Polish 4x4 motorhome builder Xpedition Pro has unveiled its first creation: the Xpro One. It's an overlanding camper van with sleeping quarters for three people and amenities for "10 days of existence without any resources," said Xpedition Pro. In addition, the Xpro One vaguely resembles the Toyota Tacozilla unveiled at last year's SEMA show. Still, we fancy the XPro One's military-inspired styling and livery that pay homage to the F-117 Nighthawk stealth fighter.
"We wanted to create something extraordinary on the already well-established ground," said the Xpro One design team. "Military vehicles, fighter jets, drone, tanks, velociraptor – all that creates the core of our extreme design language."
The resemblance is uncanny, don't you agree? Kidding aside, there's substance behind the XPro One's angular countenance. The angled rear offers a 27-degree departure angle, perfect for tackling inhospitable terrain. Meanwhile, the front has a 37-degree approach angle to forge over steep inclines or rocky terrain.
Diesel Power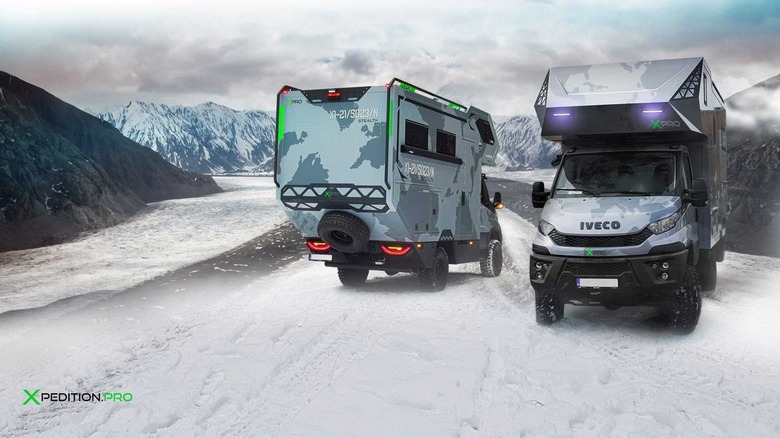 Xpedition Pro
The XPro One starts with the underpinnings of a Daily 4x4 from Italian commercial vehicle maker Iveco. Polish variants get a 3.0-liter diesel mill with 177 horsepower and 317 pound-feet of torque. The engine sends power to all four wheels via a six-speed manual or an eight-speed automatic gearbox.
The all-wheel drivetrain features locking front, center, and rear differentials, ensuring traction and grip over muddy, loose, or rugged terrain. Buyers can choose from three wheelbase lengths: 133.9-inches, 148.8-inches, and 164.4-inches. No matter which, the XPro One offers a pull-out gas grille and exterior panels that offer nifty storage spaces for all your stuff.
Friendly Accomodations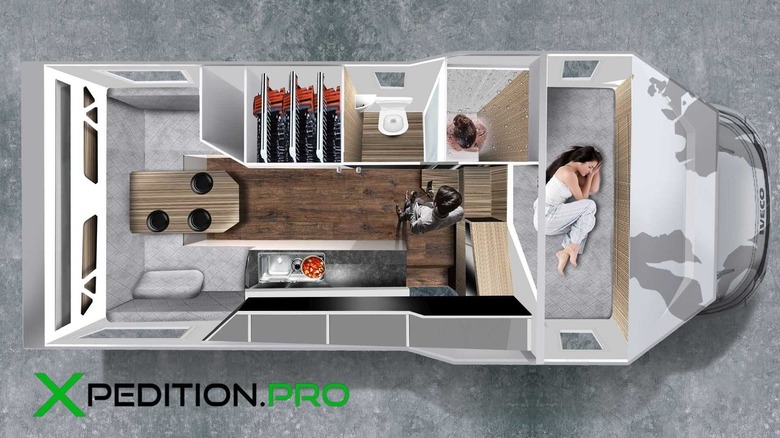 Xpedition Pro
The roomy interior offers sleeping for three – there's a mattress above the cab (accessible via a standard folding staircase), and the couch at the back is a sofabed for two. Of course, it has all the amenities you expect from a military-inspired motorhome like a two-burner stove, a 135-liter refrigerator, a bathroom with a separate shower, and a pair of 200-liter tanks for fresh and gray water.
Other hi-tech features include two 160ah lithium-ion batteries to provide power on the go. The XPro One has optional roof-mounted solar panels to trickle-charge the batteries if you're miles away from the nearest civilization. Meanwhile, tilt windows with tempered glass (and roller shutters) offer better privacy when out in the wild, and the vehicle's standard auxiliary high beams and LED daytime running lights
Pricing remains unannounced, but you can contact Xpedition Pro to know more. The company is also working on its second motorhome, the interestingly-named USS Enterprise. You can bet it's a larger iteration of the Xpro One, and we'll be here to share the details once it debuts later this year.